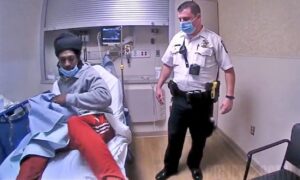 The police department in Columbus, Ohio, on Thursday released body camera footage after a 27-year-old man was shot and killed during a shootout inside a hospital on Tuesday.
According to a news release from the department, shows Columbus and Westerville officers attempting to search Miles Jackson in a hospital room at Mount Carmel St. Ann's Hospital in Westerville, a suburb of Columbus.
Officials said Jackson was taken to the hospital earlier in the day and was later brought back to the emergency room after finding him blacked out in the parking lot of a bank, the news release stated.
In the footage, officers are seen trying to pat Jackson down before helping him into an ambulance. Police were called back to the hospital after learning Jackson had a warrant out for his arrest, including weapons possession and domestic violence.
The footage showed an officer placing him in a handcuff before removing them and started to collect the suspect's belongings.
"You don't have nothing sharp in your pockets, do you?" the officer asked Jackson. "Hopefully somebody would have caught that earlier."
The footage then showed a bullet dropping from his pants. Officers then searched him.
As an officer noticed that Jackson had a gun concealed in his pants, officers started to struggle with him before one of the officers deployed a Taser or a similar device.
The news release stated: "After the initial shots were fired, Jackson is down on the ground with officers pointing guns at him. Jackson is ordered to put his hands in the air several dozen times over the course of the next five minutes. Jackson told officers that he was leaning on the gun at one point."
"A Taser is eventually used on Jackson again. After the Taser was fired, a gun was fired, followed by a series of gunshots. Officers are then heard calling for medics to assist Jackson. An initial investigation by the Ohio Bureau of Criminal Investigation confirmed that Jackson was armed with a gun and fired shots," the release said.
In the video footage, as officers have their guns drawn, a gunshot is heard coming from the direction of Jackson. Officers then opened fire.