Dr. Ben Carson at the helm of American Cornerstone Institute
Last year, Dr. Ben Carson coordinated a National Faith and Values Prayer Call the day before the midterm elections. He encouraged those listening to "vote our values" promoting faith, liberty, community, and life as foundational pillars.
"There is good news," he said on the call. "Our founders have a vision for truth."
It's these same values that anchor the American Cornerstone Institute, a non-partisan nonprofit that Carson founded focused on principles that have guided him personally and he believes what makes America a great country.
The former 17th secretary of the Department of Housing and Urban Development (HUD) under the Trump administration and retired pediatric neurosurgeon, Carson started the organization to offer solutions using these values as the guiding force.
In 2023, the American Cornerstone Institute will begin its third year of operation.
"We're rapidly expanding," said Carson in a December interview with the Epoch Times noting some 300,000 followers to date.
The American Cornerstone Institute offers a plethora of educational tools designed for adults and children all geared to inform, enlighten and inspire.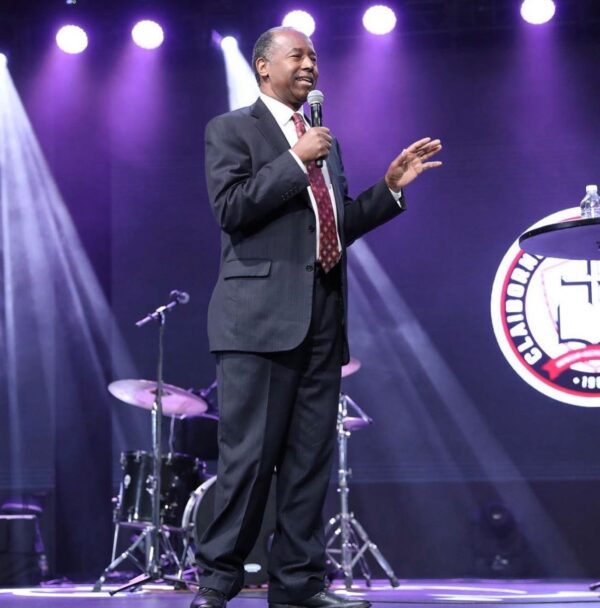 Poignant Programming
Carson serves as the interviewer in the program, "Cornerstone Conversations," where he talks with national figures on a variety of timely subjects.
Guests have included Sen. Thomas Tuberville (R-Ala.), a former football coach, discussing Title IX, transgender athletes, and the defense of women in sports today, as well as Terrence Schilling, president of conservative think tank American Principles Project, who discussed the important role the traditional family plays in American society.
In "My American Story," one of the programs in American Cornerstone Institute's "More Perfect Union Project," Carson spotlights those now living the American dream like Armando Chapelli, who migrated to the United States from Cuba. Chapelli talked about what it was like growing up in Cuba under Fidel Castro's communist regime. Lana Holder shared her story of growing up in Russia and coming to America after experiencing the fall of the Soviet Union in 1990.
"Many people come here from other places," said Carson, "part of the reason for 'My American Story' is for those people to explain what it was like" living in a socialist or communist country.
"We can learn firsthand about the failures of these systems … and what's happening in America," he added, noting that these lessons from abroad serve as a warning for what can happen to the United States if it continues down a path of socialism.
A conservative think tank, the American Cornerstone Institute tackles nationwide issues like the energy situation with its "Common-Sense Solution Papers."
"A few years ago, we were energy independent," said Carson, "these papers are written with commonsense solutions … there's no reason for these green wars … we can facilitate a transition to clean renewable energy."
"It's sad," said Carson about the mid-November decision by the Detroit school board to remove his name from the Benjamin Carson High School. "This action reinforces how much work we have to do."
"Most of the students were opposed to the idea," added Carson, emphasizing that children's education should be put ahead of politics.
"Dr. Carson's many accomplishments should be celebrated, not canceled. He is the embodiment of the American Dream, and the Detroit School Board wants people to forget him because they disagree with his political views," said American Cornerstone Institute Executive Director and CEO Andrew Hughes.
As a former pediatric neurosurgeon, Carson expressed concern about socialist forces' efforts to influence American children.
"They think they can gain control to reprogram our children into people who don't have patriotism and love for our country," he said.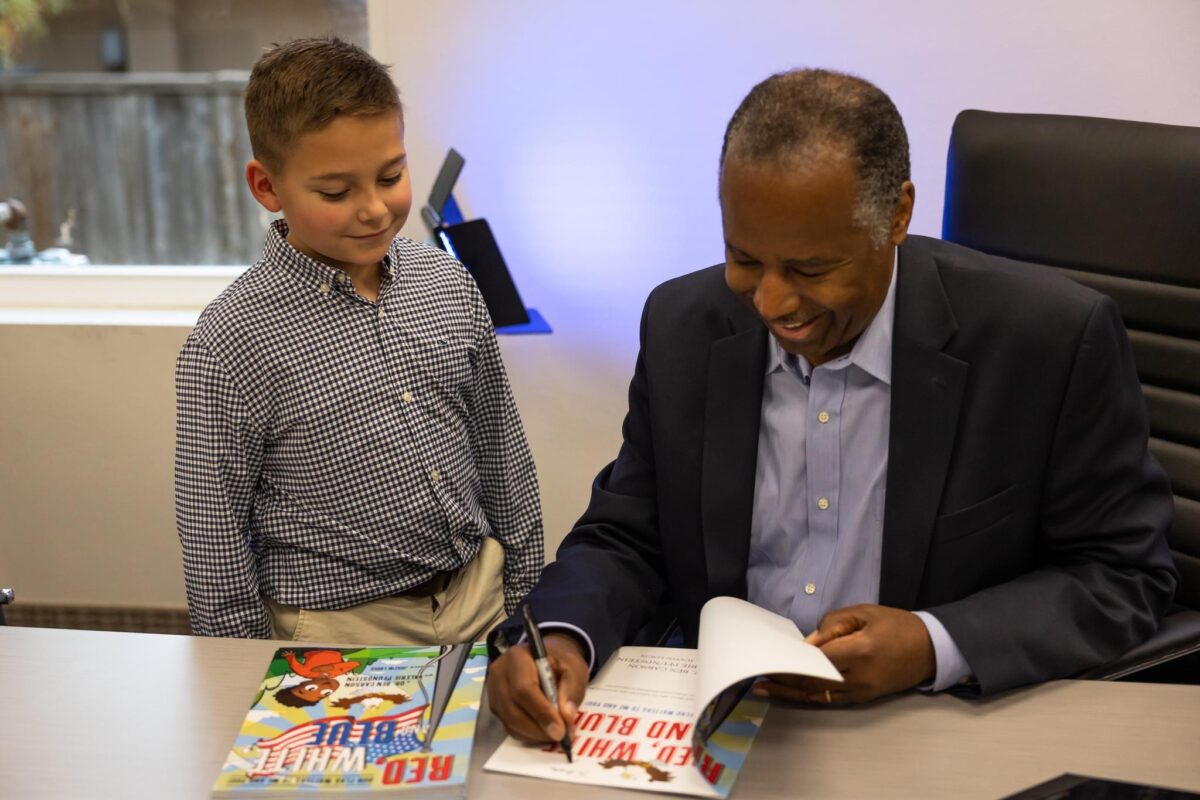 Little Patriots Bolsters American Pride
As a countermeasure and perhaps at the heart of the American Cornerstone Institute is "Little Patriots," an educational program geared toward children.
"We want to give the children what they need to be little patriots," said Carson adding, "to teach children about civic engagement and how fortunate we are to live in this country."
"We did a sample when we first started … to gauge interest [and] it took off," said Carson who has visited school auditoriums across the country talking about the importance of education, reading, and love for country.
"We retooled our whole budget in 2022 … bringing in some really good, top-tier talent, non-woke people," he added.
The online courses can be used in private or public schools as well as with homeschool communities.
"It's not meant to replace existing curriculum but to supplement," said Carson, "and there are teacher notes." We want to take a look at the good, the bad, and the ugly in history … I believe there is a lot more good than bad but there are entities out there that just want to take the bad and the ugly and build a future on that …we're going differently."
During the past six months, a new cartoon series called "Star-Spangled Adventures" has been added. Cartoons are accompanied by online curriculum programming. Geared for children in kindergarten through 5th grade, the courses encourage families to dive deeper into various history topics. Tailored to specific grades, courses feature instructional notes for parents or educators, interactive lessons, activity videos, and quizzes.
The cartoon's lead character is an eagle named "Liberty."
"We need people to not be each other's enemies," said Carson, "the eagle has a left wing and a right wing, when they work together, we can soar, we can operate together for the good of all."
Twenty-four cartoon episodes and courses are in the works and will be released now through the summer.
"We have wonderful underwriters," said Carson of the educational programs which are all free. "Many people see the country continuing to improve and want to be part of that … we have many individual donors as well."
Carson has published two children's books to go along with their educational programming: "Red, White, and Blue—Our Flag Matters to Me and You" and "Why America Matters."
Four more books are planned for this year, according to Carson. All proceeds from the children's books go toward funding the Little Patriots Program and educational materials.
"If not well educated, you're easy to manipulate," argues Carson who believes in an informed and educated populace.
"Our emphasis is on education, we're seizing upon it, not in an inflammatory way. History is the basis of identity; your identity is the basis of your beliefs."
Hughes, who worked with Carson at HUD, knows firsthand about his passion and commitment to today's youth.
"That's why the American Cornerstone Institute was founded, and that is why Little Patriots has become one of our flagship programs. We need to get back to the UNITED States of America—and that begins with properly educating our next generation of leaders," he said.
Virginia's Republican Gov. Glenn Youngkin, who has highlighted education as one of his key priorities, applauded Carson's efforts at reviving traditional American values.
"Ben Carson is an iconic American pioneer. His work as a neurosurgeon not only showcases his compassion, care, and dedication to helping others but his brilliance performing some of the first neurological procedures, transforming the medical community and saving lives. I am grateful that he continues to promote faith, liberty, community, and life," Youngkin told The Epoch Times in a statement.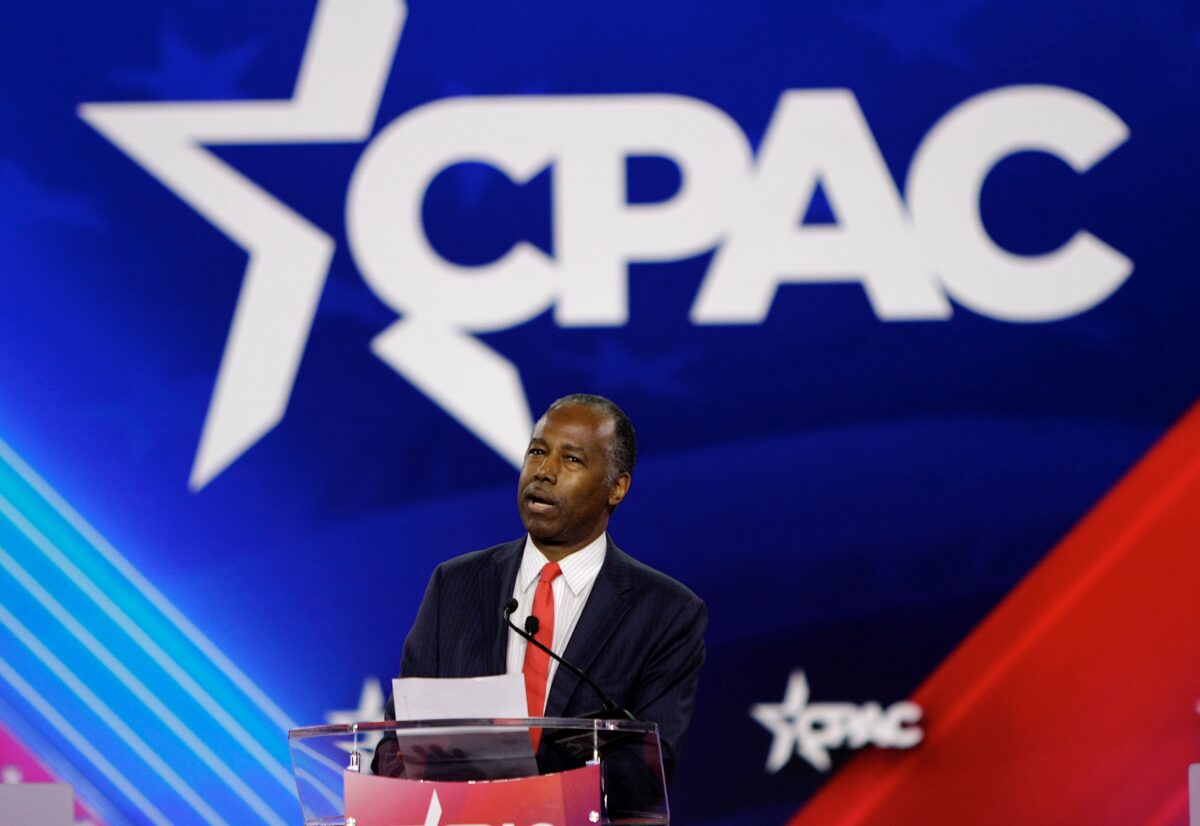 Leaving a Legacy
A new initiative for 2023 is "Executive Branch for America". Complimenting the array of educational offerings including the online curriculum, insightful conversations, podcasts, and position papers, this course will outline the functions, processes, and laws governing agencies so that a private citizen can learn to navigate and succeed in public service.
"My hope is that this organization will last far beyond my existence," said Carson. "Americans need to remember who we are … We've gone from a ragtag militia to the pinnacle of the world because of the pillars of our foundational beliefs."
"We take for granted that we are free people, but not so much anymore … It's been canceled by big tech and social media," he added.
"At [American Cornerstone Institute] we're sounding the alarm about what liberty is, who we are, we're an amazing nation. If you look at the writings of Marxists in the 50s and how strong they work to bring it [our society and culture] down, they strike at the pillars of faith and family."
Greg Schumacher, a retired major general in the U.S. Army, currently chairs the Fauquier County Republican Committee in Virginia. He was a former member of Carson's presidential campaign national security policy team.
"As he demonstrated in his run for President, and, in fact, always demonstrates, Dr. Carson represents an important voice for all Americans in this era of extreme political polarization, racial division, and distrust of the media and our institutions," said Schumacher.
"His single mom refused to be a victim, demanded academic excellence from Dr. Carson and his brother, and produced a son who rose to be one of the most renowned pediatric neurosurgeons of his time. Someone from his background was not supposed to be able to succeed, so his story decimates the narratives of racial victimization and provides hope for those from similar backgrounds," he added.
"Not content to simply be a role model, Dr. Carson has built an organization to educate, train and better equip Americans to govern themselves and work to unite a divided country. His is a much-needed voice – a voice of wisdom and common sense delivered with strength and compassion. If only America will listen."
Carson remains optimistic. "There is hope, it's always darkest before the dawn, we're going to win … Our first pillar is faith."
To learn more, visit www.AmericanCornerstone.org; www.littlepatriotslearning.com