Ten people have been killed in a mass shooting during Chinese Lunar New Year celebrations in California, police have confirmed.
During a news conference, Captain Andrew Meyer said at least another 10 people are being treated in local hospitals and their conditions were "anywhere from critical to stable".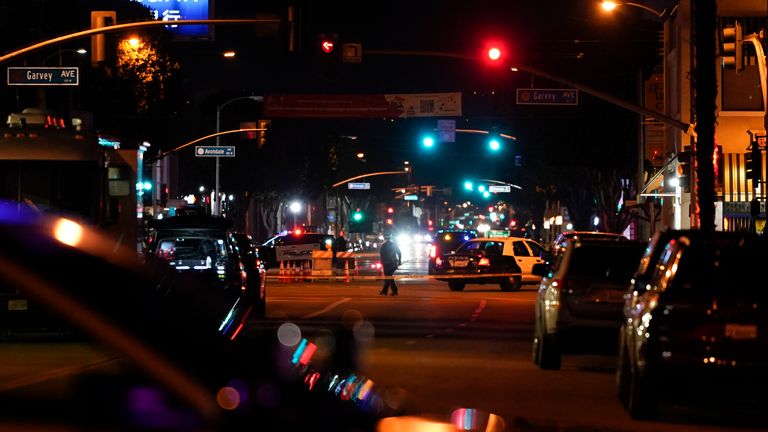 The gunman has still not been caught and a motive for the attack has not yet been identified, he added.
Officers responded to the shooting in Monterey Park, a city just east of Los Angeles, at around 10.20pm on Saturday night (around 6am UK time) after a local business reported shots had been fired.
They arrived to find people "screaming" outside a ballroom dance studio, reportedly the Star Dance Studio on Garvey Avenue, and several victims still inside.
Videos posted online showed officers swarming the area, firefighters attending to injured people and victims being put into ambulances on stretchers.
Seafood restaurant owner Seung Won Choi told the LA Times that three people rushed into his business and told him to lock the door because a man with a machine gun and multiple rounds of ammunition was outside.
Officers investigating second incident
Captain Meyer said: "The Park Police Fire Department responded to the scene and treated the injured and pronounced 10 of the victims deceased.
"There were at least 10 additional victims that were transported to numerous local hospitals and are listed in various conditions from stable to critical.
"The suspect, fled the scene and remains outstanding."
In an earlier update, police had said nine people were killed.
Captain Meyer also confirmed investigators are looking into another incident at another dance studio nearby and "trying to determine if there is a connection".
'Home to one of the largest Asian communities'
In a tweet, City Controller Kenneth Mejia, who is an official in the government of Los Angeles, said his "heart goes out to those who lost loved ones tonight" in the "mass shooting".
"Monterey Park is home to one of the largest Asian communities in Los Angeles County, and many were out celebrating the Lunar New Year," he added.
Tens of thousands of people had gathered on Saturday afternoon for a two-day festival, which is considered one of the largest in the region.
Earlier in the day, crowds were able to enjoy various activities, watch live entertainment and visit "hundreds of vendors" as part of the celebrations, according to a notice by the City of Monterey Park.