As Target deals with a boycott after featuring pro-LBGT clothing for children, some prominent conservatives on social media are targeting another company for its clothes.
North Face, the maker of jackets and hiking clothing, launched a campaign with a drag queen for its "Summer of Pride" ad blitz.
In a post, a drag queen says he's a "real-life homosexual" and is here "with the North Face to help you out," drawing a bevy of negative reactions on Twitter and other social media platforms.
Some also noted that the clothing company is selling "Pride Collection" clothes for children.
"We roar. We heal. We become," North Face says in one ad, adding, "Mother Nature guides us to where we need to be—and we dress up to honor her." Consumers are then offered to pay for rainbow-colored products, including kids' shoes.
Responding to the posts, Rep. Marjorie Taylor Greene (R-Ga.) wrote that "big name brands sexually targeting children makes me want to buy all generic brand clothing now. Besides … we can save a fortune NOT wasting money on labels that are grooming our children." She then suggested that people should boycott the company with the hashtag "#boycottgroomers."
Robby Starbuck, a former Republican congressional candidate in Tennessee, opined on the campaign by writing: "Can anyone explain how the heck this ad helps @thenorthface sell outdoor clothes? They're screaming at you to not buy their products if this violates your values. Accept their challenge."
Referring to the backlash against Bud Light for appearing to work with transgender activist Dylan Mulvaney and the Target boycott, Rep. Lauren Boebert (R-Colo.) declared Thursday, "I guess North Face wanted to get a taste of what conservatives did to Bud Light and Target."
"How many times do we have to explain to the woke marketing departments at these disgusting companies that America is not a nation of degenerates?" she wrote, adding, "Let's make it as shameful to wear North Face as it is to drink Bud Light!"
And another influencer wrote, "If you own any clothes made by North Face, go ahead and burn them."
Responding to the boycott calls, North Face issued a statement on social media: "We recognize the opportunity our brand has to shape the future of the outdoors and we want that future to be a more accepting and loving place. We're partnering with Pattie (the drag queen) because we believe the outdoors are for everyone."
It also wrote: "It's why we have a zero-tolerance policy against racist, discriminatory, threatening, abusive, harmful, vulgar or attacking social media comments, which will be removed immediately."
The Epoch Times has contacted North Face's parent company, VF Corporation, for comment.
Other Boycotts
It comes after critical comments and calls to boycott Target surfaced in the past week after the company released LGBT clothing for children, including for infants. Target responded to the backlash by moving some of its "Pride Collection" clothing to the back of its stores in some areas, according to a statement issued by the retailer.
"Since introducing this year's collection, we've experienced threats impacting our team members' sense of safety and wellbeing while at work," said a statement from the Minneapolis-based retailer. "Given these volatile circumstances, we are making adjustments to our plans, including removing items that have been at the center of the most significant confrontational behavior."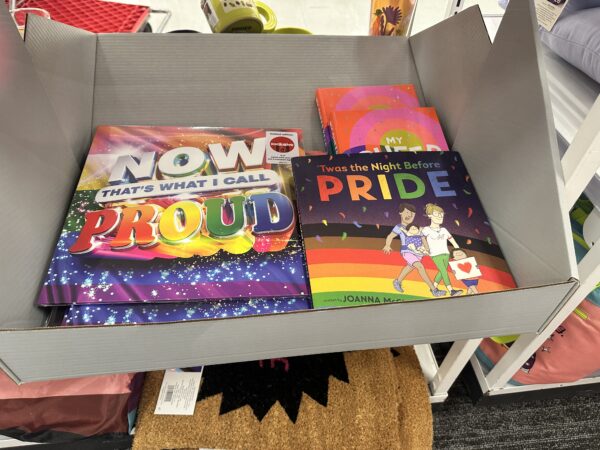 Products for infants, including onesies with pro-LGBT slogans and content, were part of Target's collection. One onesie includes the text "Bien Proud," and another features what appear to be LGBT rainbows and hearts along with the transgender flag colors, according to its website.
The Minneapolis-based retailer also is offering a range of child-oriented LGBT books in its inventory, such as "Bye Bye, Binary" and "What Are Your Words?" These books instruct children on the use of transgender pronouns. Some products for kids also appear to feature drag queens, according the retailer's website.
Before that, there were widespread calls to abandon Bud Light after it produced a personalized can with Mulvaney's face on it. Mulvaney, in several social media posts, posted the can with the hashtag "#budlightpartner," but Anheuser-Busch's chief executive told investors that there was no partnership or official sponsorship involving the transgender influencer.
Analysts say that more than $15 billion has been shaved off Anheuser-Busch's market value since early April amid the boycott. Other light beer makers, including Coors and Miller, have seen their sales increase in the meantime, while Bud Light's sales have diminished.