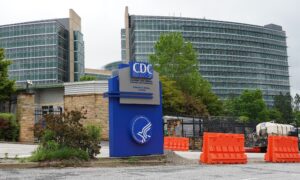 Thousands of people may have been exposed to measles during a recent gathering in Kentucky, the U.S. Centers for Disease Control and Prevention (CDC) said in an alert on March 3.
Kentucky officials have confirmed that a person with measles, who had not been vaccinated, attended a religious gathering at Asbury University in Wilmore during the weekend of Feb. 17 and Feb. 18.
Some 20,000 people were at the gathering.
"An undetermined number of these people may have been exposed," the CDC said.
The agency is advising people who attended the gathering, and are either unvaccinated or not fully vaccinated against measles, to quarantine for 21 days to try to prevent spreading the virus to others.
People should discuss getting vaccinated after the quarantine period is over, according to the CDC.
Health care professionals who see people who attended the event, or have had contact with an attendee, or have recently traveled abroad, should consider diagnosing measles if certain symptoms appear, including rash and cough.
Professionals should recommend the measles, mumps, and rubella (MMR) vaccine to patients who are unvaccinated or not fully vaccinated, the CDC also said. That could be within 72 hours of exposure.
The agency's recommendations are that a person traveling to another country should be vaccinated prior to leaving for the trip.
CDC officials said previously they were working with the Kentucky Department of Public Health to try to identify any additional measles cases that have arisen from the Asbury University gathering.
Third Case in Three Months
Kentucky health officials announced the confirmed case on Feb. 24, stating that the unvaccinated person attended a "large spiritual revival" at the university on Feb. 18.
"Anyone who attended the revival on Feb. 18 may have been exposed to measles," Dr. Steven Stack, commissioner of the Kentucky Department for Public Health, said at the time. "Attendees who are unvaccinated are encouraged to quarantine for 21 days and to seek immunization with the measles vaccine, which is safe and effective."
The person was described as a Jessamine County resident but no other details, such as age or gender, were given.
Asbury University said the confirmed case attended services in the university's Hughes Auditorium on Feb. 18. The university encouraged people to follow the quarantine guidance.
The case is the third confirmed in three months in the state. Officials confirmed a December 2022 case in Christian County that was linked to an outbreak in Ohio. Another case was confirmed in January in Powell County.
"These two previous cases were thoroughly investigated and neither presented a public health threat," officials said.
Measles
Measles is a highly contagious disease with symptoms usually appearing seven to 14 days after infection. Symptoms can include red, watery eyes, white spots inside the mouth, and a rash.
Most cases are recorded outside the United States.
Three cases have been recorded so far in the U.S. in 2023, according to the CDC. In 2022, there were 121 cases, up from 49 in 2021 and 13 in 2020.
Many outbreaks were recorded in 2019, when more than 1,200 cases were confirmed.
Most children receive the MMR vaccine when they are young. Fully vaccinated means two doses. The first dose is typically administered between the ages of 12 months and 15 months. The second dose is typically given when a child is at least age 4, and before turning 7.
Childhood vaccination rates have been declining in recent years, including rates of MMR vaccination. Some experts attribute the decline to a drop in public trust in health agencies and officials, due in part to how they've promoted leaky COVID-19 vaccines.