CDC Lowers Speech Standards for Children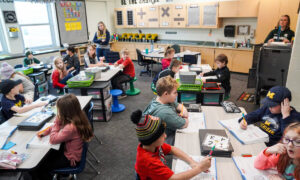 The U.S. Centers for Disease Control and Prevention (CDC) has lowered its standards of childhood speech development, a decision that has many people worried about the way mental progress is measured in kids.
CDC added two new child development milestones at 15 and 30 months. Earlier, children aged 24 months were expected to know about 50 words. But in the new update, the CDC raised the time period to 30 months, lowering the established standard of speech development. In the update, the CDC linked to research published by the American Academy of Pediatrics (AAP) which influenced the organization in setting up the modified milestones.
"Application of the criteria established by the AAP working group and adding milestones for the 15- and 30-month health supervision visits resulted in a 26.4 percent reduction and 40.9 percent replacement of previous CDC milestones," reads an abstract of the AAP study. "One-third of the retained milestones were transferred to different ages; 67.7 percent of those transferred were moved to older ages."
The AAP, based on recommendations from the CDC, convened experts and revised child developmental checklists. The original milestone followed standards that only 50 percent of children were expected to achieve, said the organization. These guidelines were deemed not helpful to families who were worried about their kids' development.
Milestones were updated to ensure that at least 75 percent of kids are able to achieve them, according to Jennifer Zubler, an author of the study. As many children were unable to achieve the previous milestones, it was decided to establish new, lower milestones.
Literacy advocate Karen Vaites points out that, according to the American Speech-Language-Hearing Association, children speaking fewer than 50 words by 24 months is still a worrisome situation.
Vaites had previously spoken against forcing kids to wear face masks, highlighting the negative effects these masks have on speech and learning.
"Masks impede language development and they also impede the process of kids learning how to read," Vaites said in a Jan. 18 tweet. In another Twitter thread from late July, Vaites shared her experience of observing a kindergarten room during a reading class. In the thread, Vaites insisted on the importance of children seeing the movement of a teacher's mouth and vice versa.
In some situations, parents and clinicians chose a wait-and-see approach regarding children's development, which ends up delaying diagnosis.
"The earlier a child is identified with a developmental delay the better, as treatment as well as learning interventions can begin," Paul Lipkin, a member of the AAP Section on Developmental and Behavioral Pediatrics and Council on Children with Disabilities, said in a press release. "At the same time, we don't want to cause unnecessary confusion for families or professionals. Revising the guidelines with expertise and data from clinicians in the field accomplishes these goals."
Lea Themea, who has practiced speech pathology for close to three decades, believes that the CDC guidelines have been updated to better clarify what parents should look for as developmental progress in their kids.
"I think these guidelines look at how the language is used, because you could have a 2-year-old that can label all their colors and count to 10, but they're not saying them to actually communicate," Themea said to ABC6.
Dr. Nicole Saphier, a Fox News medical contributor, drew parallels between the CDC quietly lowering speech standards to an incident from last summer when the AAP began "deleting stuff" from their website about the importance of facial recognition in childhood development while also pushing masks on children.
Saphier insisted that face masks were "negatively impacting children" and cited studies conducted in the UK, United States, and the Netherlands to point out that kids during the pandemic are performing poorly on "gross motor skills, fine motor skills, and overall communication."