The Virginia General Assembly convened in Richmond on Wednesday to take up a new session with legislative priorities largely divided along party lines. The issue of voting is no different, with Republicans filing dozens of "election integrity" bills and Democrats staying on the defensive to preserve "voting rights" laws they passed when they fully controlled the legislature.
At the onset of the pandemic, Democrats made major changes to state election procedures, bypassing existing legislation in an effort "to make voting easier," they said, including allowing 45 days of no-excuse early voting and eliminating a mandatory photo ID.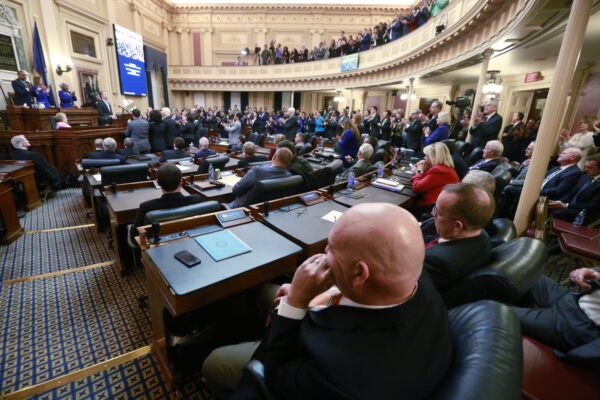 Virginia Republicans vehemently opposed the changes, claiming that these changes would open the door to voter fraud. After Republican governor Glenn Youngkin's victory, however, Democrats doubled down and took the Republican's win as a sign that there were no flaws in the voting system.
Republicans believe otherwise, and continue to advocate for election laws that they believe will make elections more secure and trustworthy. In this legislative cycle, the GOP members are trying to repeal many of the Democrats' voting rules.
Despite Democrats' majority in the Senate, the Republicans have filed dozens of election integrity bills, in an effort, they say, to prevent cheating and voter fraud.
HB 1377 aims to remove the dead, non-citizen, or disqualified voter from Virginia's voter registrations, and HB 1444, would require photo ID when voting. Currently, voters in Virginia need ID but it does not mandate a photo. Another key election bill from the GOP side is HB 1499, which aims to limit absentee voting to two weeks, from the current 45 days.
The Senate GOP has introduced corresponding election bills, SB 794, which would require photo ID to vote, SN 878, which would make it illegal for non-citizens to be on voter registration lists and HB 1648, which would make campaign contributions from foreign-influenced corporations illegal.
Meanwhile, Virginia Democrats have bypassed the legislative process and filed Senate Joint Resolution 223 (pdf) which proposes to amend the state constitution to automatically restore voting rights to prisoners upon release from jail.
According to the Heritage Foundation, Virginia ranks better for overall election integrity than 70 percent of other states, with low scoring in the area of ballot harvesting and absentee ballot management.
AG's Election Integrity Unit
Virginia's Attorney General Jason Miyares formed the election integrity unit after taking office. "The purpose of the unit is to provide advice, support, and resources to ensure that Virginia election law continues to be applied in a uniform manner, and increase confidence in our state elections," read an earlier press statement from the AG's office.
The Virginia State Conference of the NAACP (National Association for Advancement of Color People) took legal action against the AG's effort, saying they have "grave" concerns about the "Election Integrity Unit."
"Given the lack of information and transparency, we've requested records related to the establishment of this new Election Integrity Unit, its organization, mission, staffing, activities, and financial expenditures," NAACP President Robert N. Barnette, Jr said in a statement when they filed their FOIA. "We will not back down. We will hold the Attorney General accountable and shine a light on this Election Integrity Unit."