Chicago Concealed Carry Holder Shoots Gunman Who Killed 1, Injured 2: Police
A concealed carry permit holder shot a gunman who allegedly opened fire at a Fourth of July party near Chicago over the weekend.
Calvin Gonnigan, 34, is accused of opening fire at the party, killing a woman, and injuring two more. The deceased victim was identified as 45-year-old Janina Ford, officials told the Chicago Sun-Times.
After he opened fire, an unnamed man who has a permit to carry a concealed weapon shot Gonnigan in the hip and both arms, police and prosecutors told the paper. According to officials, after Gonnigan was shot, he still allegedly shot Ford as she was trying to render aid to the other victims.
Gonnigan was charged with one count of murder, two counts of attempted murder, and one count of aggravated assault with a firearm, according to the Chicago Police Department.
Prosecutors said that Gonnigan got angry after he was told to stop shooting his gun in the air as children played outside, the newspaper reported. Officials said he was previously convicted on felony charges, including unlawful use of a weapon by a felon and aggravated robbery.
At one point during the incident, Gonnigan allegedly approached one of the victims, stood over him, and shot him around 10 times as he lay on the ground, officials said in the report.
The names of the other victims and the concealed carry permit holder weren't identified. The two injured victims were identified as a 32-year-old male and a 49-year-old male.
The shooting was part of a paritcularly violent Fourth of July weekend in Chicago that saw more than 100 people get shot, including 19 fatally, in separate incidents.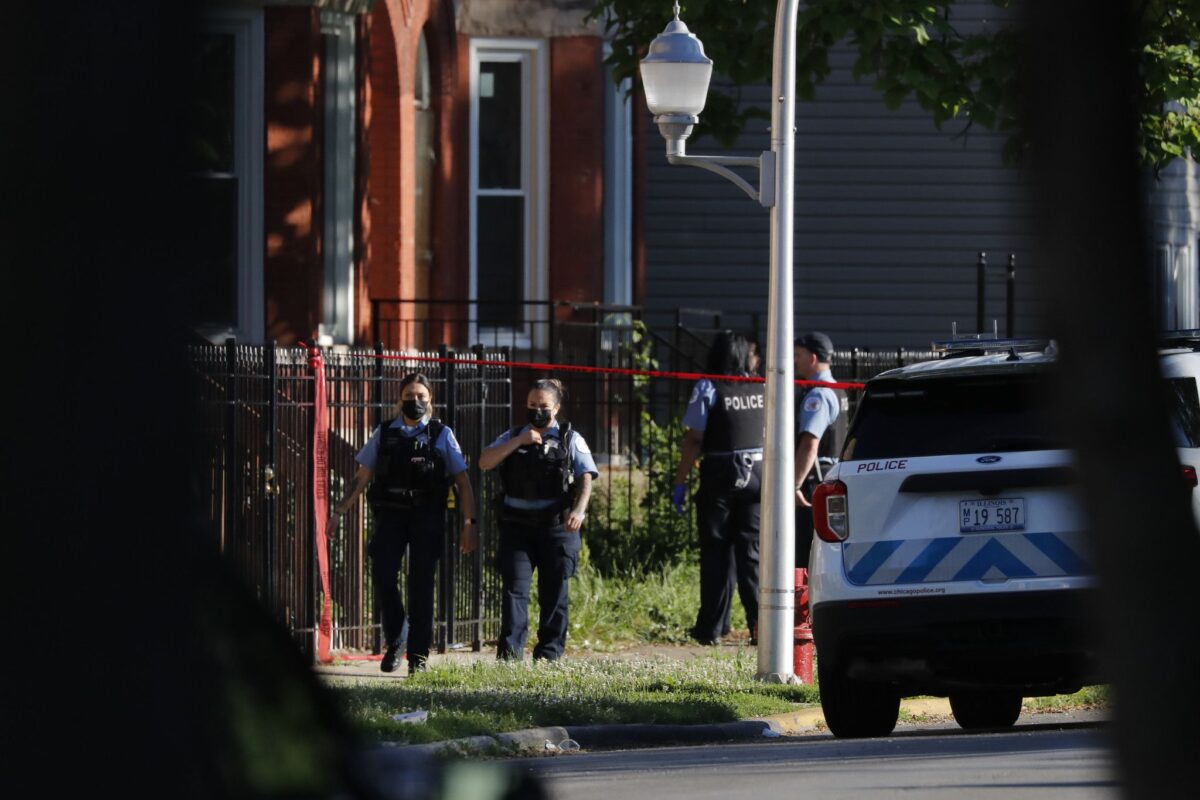 About 13 children were wounded, including a 12-year-old girl and a 13-year-old boy injured by gunfire in a single incident, and a 5-year-old girl shot in the leg, according to a tally from the Sun-Times.
"There's been a lot of large crowd gatherings tonight, a lot of celebratory fireworks going off, kind of spontaneous," police Superintendent David Brown said about the weekend violence. "They were dispersing a crowd when they heard shots and felt pain."
On Wednesday, three undercover police officers were shot while driving onto an expressway on Chicago's South Side, police told The Associated Press.
The three were in an unmarked undercover vehicle on their way to an assignment when they were shot, Chicago police Superintendent David Brown told reporters. Two of the officers are agents from the federal Bureau of Alcohol, Tobacco, Firearms and Explosives, and one is a Chicago officer, Brown said. Their injuries were not considered life-threatening. No arrests have been reported.
The Associated Press contributed to this report.