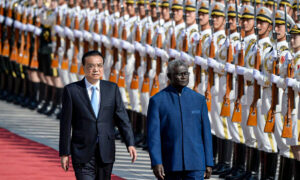 Concerns have been raised about Chinese propaganda spreading through Pacific island nations with little oversight in order to stir up unease around Australia's security alliances.
A new report by the Australian Strategic Policy Institute says Beijing is trying to stir up a negative perception of the trilateral AUKUS alliance between Australia, the United States and the United Kingdom.
The report said while China also tried to drum up support for its own security arrangements in the region, it fell short on both occasions.
"The Chinese Communist Party is conducting coordinated information operations in Pacific island countries," the report says.
"Those operations are designed to influence political elites, public discourse and political sentiment regarding existing partnerships with Western democracies."
The report says Beijing is exploiting current affairs, like the signing of the AUKUS pact and Pacific Islands Forum meetings.
"The Chinese Communist Party wants to create a Pacific region that … reflexively defers to China as a global power when Pacific island countries make economic, diplomatic and security decisions," it says.
"The CCP also wants to foster global acceptance of norms that favour its authoritarian system and actions at the expense of current democratic norms and partnerships."
The federal government is set to announce the pathway to acquiring nuclear submarines through the AUKUS alliance in mid-March.
Australian Defence Minister Richard Marles has echoed the language used by his U.S. and UK counterparts that the new submarines would be "a genuine collaboration between all three countries".
Western partners are being urged to work more closely with media outlets and security organisations in the Pacific to counter disinformation coming out of Beijing.
"Doing so will debunk some of the CCP's narratives regarding Western support and legitimacy in the region," the report says.
It also recommends engaging more closely with the region on countering malign efforts and foreign interference online as well as encouraging Pacific nations to develop a media bargaining code similar to Australia's so media outlets can benefit from independent revenue