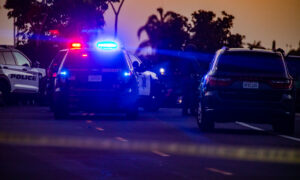 CHULA VISTA, Calif.—An investigation was underway Friday, Jan. 27, after a Chula Vista woman was struck by two vehicles and died at the scene.
Shortly before 7 p.m. Thursday, Chula Vista Police (CVPD) received a call about a woman who was struck by two cars while walking in the road in the 1100 block of Palomar Street. The first car to hit her was a black Toyota Corolla, and not long after, a white Scion iA also hit her, according to CVPD.
Officers and paramedics rushed to the scene and attempted life-saving measures on the woman, but she died at the scene due to her injuries, according to authorities. The woman has not yet been identified pending notification of her family.
Both drivers stopped after the fatal collision and were cooperating with law enforcement. Alcohol or drug impairment was not believed to be a factor in the accident, according to authorities.
Anyone with additional information is asked to call CVPD at (619) 691-5151.
City News Service contributed to this story.