'Collapse Could Occur at Any Time'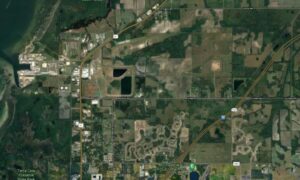 Florida Gov. Ron DeSantis declared a state of emergency and county officials evacuated residents near a phosphate processing plant over the weekend as officials warned that a pond filled with toxic wastewater could collapse "at any time."
"A portion of the containment wall at the leak site shifted laterally," said Manatee County Director of Public Safety Jake Saur to WSTP after a "significant leak" was discovered at the Piney Point processing plant. Saur further cautioned that  "structural collapse could occur at any time."
Officials on Saturday night and Sunday morning unsuccessfully tried to repair the leak, the report said. Crews used heavy equipment to use rock and earth to "kind of plug the hole in the dam" of the breach, Manatee County acting county administrator Dr. Scott Hopes said. About 800 million gallons of process water, rainwater runoff, are kept in several retention ponds near Highway 41.
DeSantis declared a state of emergency around the area on Saturday afternoon "due to a possible breach of mixed saltwater from the south reservoir at the Piney Point facility." The emergency order, he said, will enable Manatee County officials to respond.
Separately, the Manatee County Public Safety Department urged people near the processing plant to evacuate due to an "imminent uncontrolled release of wastewater."
.@MCGPublicSafety just sent out an emergency evacuation notice to any persons in the half-mile radius of Piney Point. The evacuation notice was issued due to the imminent uncontrolled release of wastewater at Buckeye Road and Bud Rohden Road. pic.twitter.com/qqFuMVNFlv

— Manatee County Public Safety Department (@MCGPublicSafety) April 2, 2021
The main concern is the amount of phosphogypsum, which is "radioactive waste" that is left over in the pond from processing phosphate into a state that it can be used for commercial fertilizer, according to the Center for Biological Diversity.
"In addition to high concentrations of radioactive materials, phosphogypsum and processed wastewater can also contain carcinogens and heavy toxic metals," the Center for Biological Diversity in a statement on Saturday in response to the possible breach. "For every ton of phosphoric acid produced, the fertilizer industry creates 5 tons of radioactive phosphogypsum waste, which is stored in mountainous stacks hundreds of acres wide and hundreds of feet tall."
The pond near the old Piney Point phosphate mine sits in a stack of phosphogypsum, which is considered radioactive. It also contains radium and uranium, which are also considered highly radioactive, while the stacks can release large amounts of radon gas—which can cause lung cancer.
The water being pumped out of the site is a mix of seawater, rain runoff, and storm water, said state and county officials.
"The water meets water quality standards for marine waters with the exception of pH, total phosphorus, total nitrogen and total ammonia nitrogen," the state said in a statement. "It is slightly acidic, but not at a level that is expected to be a concern, nor is it expected to be toxic."
Florida Commissioner of Agriculture Nikki Fried noted that the water that is leaking is "contaminated, radioactive wastewater," according to her letter to DeSantis.
She added: "There have been numerous, well-documented failures — which continue today — of the property's reservoir liner, including leaks, poor welds, holes, cracks, and weaknesses that existed prior to purchase by the current owner, HRK Holdings, and exacerbated since."