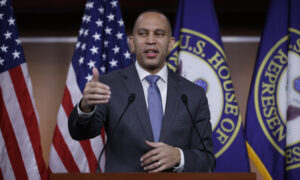 House Minority Leader Hakeem Jeffries (D-N.Y.) said Congressional leaders believe the recent data breach at DC Health Link could have an adverse impact on thousands of people and is "highly problematic."
Jeffries said in a March 9 press conference that he and House Speaker Kevin McCarthy (R-Calif.) would "continue to work on this issue in a bipartisan way, get to the bottom of what happened, [and] figure out the implications of what has occurred.
"It doesn't just impact members of Congress and senators, it will have an adverse impact on hundreds, if not thousands of staff members, their families, and/or the people of the District of Columbia, and that is highly problematic," Jeffries said of the breach that was announced on March 8.
The lawmaker went on to say that the House leaders are going to "need some real reassurance as to guardrails that are put in place to prevent this type of data breach from ever happening again."
A spokesperson for Capitol Police told The Epoch Times that their agents are "assisting the FBI with the ongoing investigation."
When asked for more details about those impacted and where someone concerned about their information could check to see if their data has been accessed, Capitol Police said, "There is more work to do before law enforcement can provide more information.
"The House Chief Administrative Officer [CAO] will be providing helpful information to those who may be impacted."
The House of Representatives CAO Catherine Szoindor stated in a letter circulated on March 8 that the U.S. Capitol Police and DC Health Link had informed her office of a "significant data breach," as The Epoch Times previously reported.
Szoindor said she expected to compile a list of those affected soon and notify the individuals whose information was stolen directly. Additionally, DC Health Link would likely contact the enrollees.
"It is important to note that at this time, it does not appear that [DC Health Link] members or the House of Representatives were the specific target of the attack," Szoindor said.
"Speaker McCarthy and Democratic Leader Jeffries have formally requested additional information from DC Health Link on what data was taken, who was impacted, and what steps they are taking—including providing credit monitoring protections—to protect House victims of this breach."
In response to a request for more details, a CAO spokesperson told The Epoch Times, "We are deeply concerned about DC Health Link's data breach and the impact on our members and staff.
"We will continue to communicate any updates we receive from law enforcement to impacted members and staff."
The letter ended with the officer assuring recipients they would be updated when more information is available.