Congress Unites on Punishing the CCP for Organ Harvesting; COVID Origin Info to Be Declassified
[ad_1]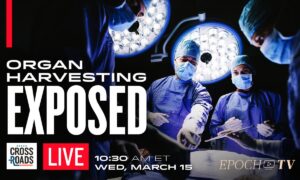 Republicans and Democrats have joined together to hold the Chinese Communist Party (CCP) accountable for organ harvesting. The CCP has been exposed for using prisoners of conscience and religious believers as living sources for its trade in human organs.
Meanwhile, U.S. agencies are past due to release details on the origins of COVID-19, after a bipartisan bill called for the information to be made public. This follows news that the FBI and Department of Energy have assessed that the most likely origin of the virus is a lab leak.
In this live Q&A with Crossroads host Joshua Philipp, we'll discuss these stories and others, and answer questions from the audience.
*Sponsor Special: Up to $2,500 of free silver with American Hartford Gold. Call 877-260-2764, text "JOSHUA" to 6-5-5-3-2, or visit: https://ept.ms/3rshean
[ad_2]

Source link