Consumers Warned Over Faulty Carbon Monoxide Detectors Sold on Amazon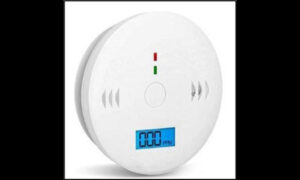 The U.S. Consumer Product Safety Commission (CPSC) is warning consumers not to purchase or use two popular carbon monoxide detectors being sold on Amazon as they do not work.
In a press release, the independent agency said that testing showed the two detectors, made by manufacturers GLBSUNION and CUZMAK, can fail to alert consumers to the presence of hazardous carbon monoxide.
During testing, the two detectors did not alert users when exposed to air that had 400 parts per million of carbon monoxide, in violation of safety standards, the agency said.
According to regulators, carbon monoxide alarms should alert users within four to 15 minutes of the device being exposed to carbon monoxide levels above 400 parts per million (PPM).
"If a CO detector that does not alert to the presence of an elevated level of carbon monoxide is installed in a home, and carbon monoxide enters the home, the consumer will not be warned of this harmful gas, making injury or death very likely," the agency said.
The detectors are made of white plastic and feature a digital display on the front.
Product Details
They are sold on Amazon from anywhere between $16 and $40 and are advertised as being able to detect dangerous levels of carbon monoxide and alert with a flashing red LED and a loud alarm pattern.
One model sold on Amazon has the Standard Identification Numbers B093Y1KK5Q and B093Y637CM, and the other model sold on the site has the Amazon Standard Identification Numbers B07MPVK6HG and B07K44HLCV.
Both devices are listed as being made in China, according to reports. 
The CPSC did explicitly mention a possible recall of the products but urged customers not to purchase or sell the two carbon monoxide detectors and to stop using them if they already own one.
Consumers who currently have either of the two products are asked to dispose of them immediately and install new, working detectors.
Carbon monoxide is an odorless, colorless, flammable gas that is produced whenever a material or fuel such as wood, coal, propane, or natural gas is burned.
Homes with fuel-burning appliances such as water heaters, clothes dryers or gas stoves, and ovens may be more likely to have problems with carbon monoxide and are thus advised to install detectors.
Symptoms of Carbon Monoxide Poisoning
Identifying carbon monoxide poisoning is difficult and it is often referred to as the "silent killer" because early signs, such as mild headaches, breathlessness, and fatigue, are typically ignored until an individual eventually loses consciousness. In some cases, this can lead to death.
Other most common symptoms of carbon monoxide poisoning include dizziness, weakness, nausea, vomiting, chest pain, and confusion.
The CDC estimates that at least 430 people die from unintentional carbon monoxide poisoning in the United States every year, and approximately 50,000 people are hospitalized due to accidental poisoning.
In a statement to DailyMail.com, an Amazon spokesperson said: "Safety is a top priority at Amazon and we require all products offered in our store to comply with applicable laws and regulations.
"We have proactive measures in place to prevent prohibited products from being listed and we continuously monitor our store and remove any such products and take corrective actions when we find them."
'The products in question, in this case, have been removed and we have notified customers of the CPSC's concerns and issued refunds," the company said.
The Epoch Times has contacted Amazon for comment.