Crowd Protests Disney's 'Woke' Agenda
BURBANK, Calif.—"Go woke, go broke" was a central message from protesters who gathered outside The Walt Disney Company's Burbank headquarters April 6.
Some 150 people attended the rally in opposition to the family entertainment company's stance against a recently passed Florida law that prohibits schools from teaching their youngest students about sexual orientation and gender identity.
Carrying a tall pole adorned with the American flag, political organizer Charles DiMauro, of Santa Barbara, drove hours to attend the protest. He said he didn't agree with the company's stance decision to strip its parks of gender identification.
"I really hope they be able to go and see what we're doing today, and what we're going to continue doing, and that they're going to change their ways and not be 'woke,'" DiMauro told The Epoch Times.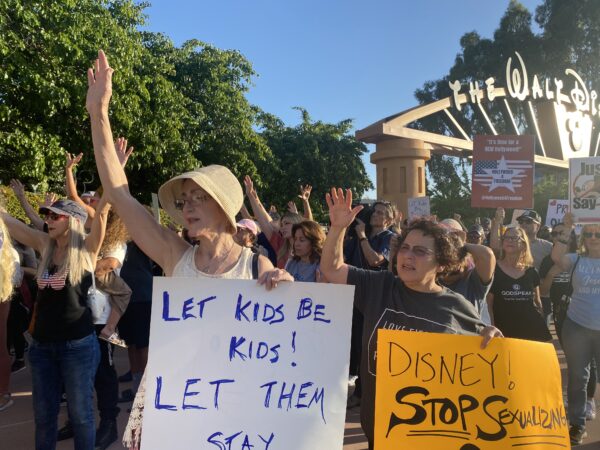 Florida passed a parental-rights law in March that prohibits public school teachers from teaching lessons on sexual orientation or gender identity, or any instruction that is not "age-appropriate or developmentally appropriate," with children in kindergarten through third grade.
Ohio and Texas are considering similar legislation.
Disney took a stand against the passage of the Florida legislation March 28 after company employees staged a walk-out protest against the bill at its Florida resort.
"Florida's HB 1557, also known as the 'Don't Say Gay' bill, should never have passed and should never have been signed into law," according to a statement issued by a Disney spokesperson. "Our goal as a company is for this law to be repealed by the legislature or struck down in the courts, and we remain committed to supporting the national and state organizations working to achieve that."
The family entertainment company was standing up for the rights and safety of LGBTQ+ members of the Disney family, as well as the LGBTQ+ community in Florida and across the country, according to the spokesperson.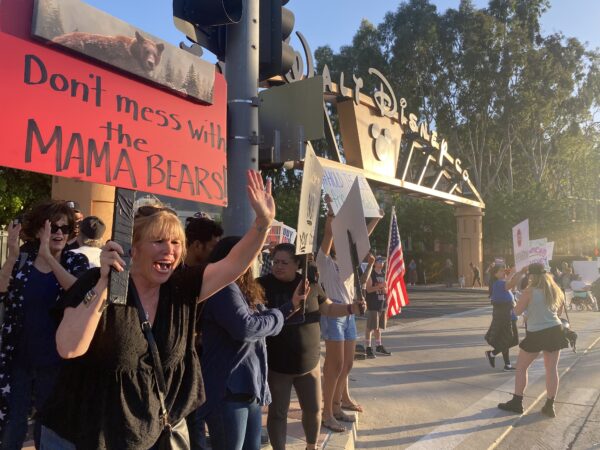 The crowd grew steadily as the rally developed outside of Disney's Studio Lot on Alameda Avenue in Burbank April 6.
A handful of Disney employees watched as parents, children, and others held signs and chanted "Boycott Disney" and "USA!"
Two men used bull horns to shout at employees and security guards through a black wrought-iron entrance gate.
"It's absolutely a necessary event," Rob McCoy, the former mayor of Thousand Oaks, California, and pastor at Godspeak Calvary Chapel, told The Epoch Times.
Many people were raised on Disney films but now the iconic family entertainment company has been taken over by a "woke" agenda, McCoy said, using the term first coined by progressive liberal activist.
"This is a government of the people, by the people and for the people," McCoy said. "If they want to try to infuse this, they're a company that has a bottom line.
"You go 'woke,' you go broke," he said.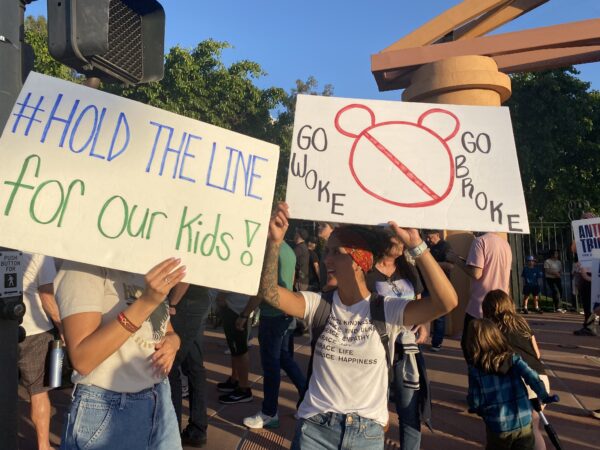 The group plans to continue protesting Disney and any elected official who supports extending the company's copyright license for its mascot character Mickey Mouse, which is up for renewal by Congress, McCoy said.
Disney's mascot character was first copyrighted in 1928. The copyright is set to expire and enter the public domain in two years.
The crowd prayed as speakers read Bible verses and spoke about fighting for the country.
"There's no middle ground anymore," one speaker told the cheering crowd. "You're either for us or against us."
Steve West, of Moorpark, California, said he attended the event because he wanted to be a part of the change.
"It's not enough to say you know something's wrong and things aren't how they should be," West said. "You've got to put some skin in the game if you want to make a change. This is amazing."
Matt Burr, of Victorville, California, drove about 90 minutes to support the cause.
"I don't mind driving to things," Burr said. "This kind of was bugging me. I looked into it a little bit … the thing that makes it weird for me, it's not really a gay rights bill. It's pretty clear."
Kennedy Lindsey, of Los Angeles, said she believed children shouldn't be sexualized.
"They're children and they should be able to have their childhood and their innocence," Lindsey said.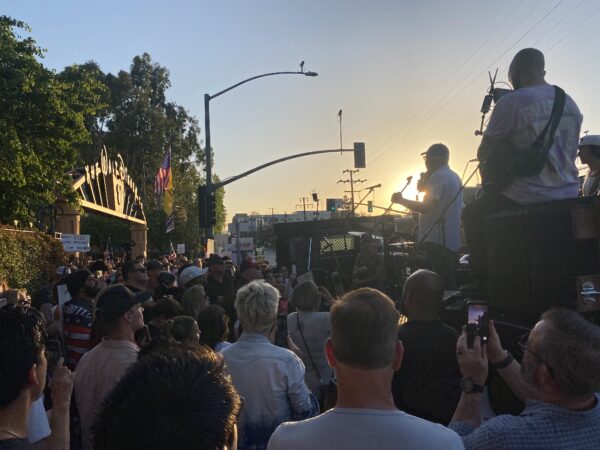 Anna Vina, of Santa Paula, California, said it was not Disney's place to sexualize children.
"I don't agree with what they're doing," Vina said. "Kids need to be kids."
Rocco Romano, of nearby Glendale, California, told The Epoch Times it was nice to see such a large number of people turn out in Burbank.
"It's the capital of entertainment on the West Coast," Romano said. "It's encouraging to see people standing up for family values and encouraging to see people standing up for Christ. It's encouraging to see people standing up for the country."
Marci Donovan, of Rosemead, California, participated because she thought it was important.
"I think everybody is making this about 'left' and 'right' and it really isn't about that," Donovan told The Epoch Times. "It's about the 'woke' theology that's being indoctrinated into corporations and into children. I feel like children are so susceptible and vulnerable. It really upsets me that they're trying to fight [Florida Gov. Ron DeSantis] on a bill that makes complete sense. Even some Democrats I've spoken to say the bill is logical."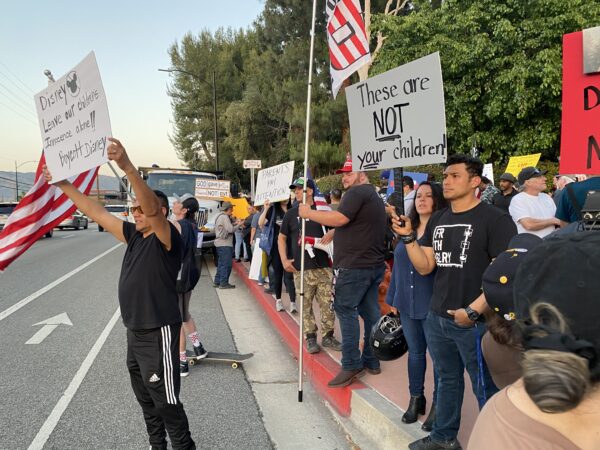 About 150 people gathered on both sides of the busy street, according to an estimate by a Burbank Police officer who watched the protest from a patrol car across the street.
Additional motorcycle officers patrolled the area but no incidents were reported.
Protesting at that location was allowed but the live music, speakers and bull horns that could be heard in the nearby residential neighborhood might have crossed the line, the officer told The Epoch Times. However, police were giving the group some leeway, the officer said.
The department had not received complaints about the nearly two-hour protest that started at 6 p.m., the officer said.
A request for comment from Disney was not received by press time.