Cruz, 17 Senators to Visit Donna Overflow Facility on Friday Amid Surge in Illegal Immigration
Sen. Ted Cruz (R-Texas) said that he and a delegation of 17 Republican senators will visit the temporary migrant overflow facility in Donna, Texas, as part of their upcoming tour of the U.S. southern border on Friday.
Cruz had previously announced that he would lead the delegation of lawmakers to visit the U.S.-Mexico border amid an influx of illegal border crossing, particularly by unaccompanied minors. The overflow facility in Donna made headlines this week after photos of children at the facility sleeping in crowded conditions, either on floor mats or on the floor, were released to the media.
"Tomorrow night, 18 senators are going to be traveling down to the Southern border, traveling down to Texas, to see first-hand the crisis that is unfolding, to see firsthand the over 100,000 illegal immigrants who were detained last month, to see the over 15,000 children that are in [the] custody of the Biden administration right now," Cruz told reporters at a news conference on Wednesday.
He continued to lament over the Biden administration's decision to continue barring reporters from going to the border to observe the conditions and operation of the migrant processing facilities.
"There is a reason they don't want the press there. And I ask all of you to think for a moment how you would react, how your network would react, how MSNBC would react if the Trump administration said, 'No press at the border,'" Cruz said. "You would have lost your mind. You would have lit your hair on fire and been screaming air all day long. That's what Joe Biden is doing to you right now, and he's doing it because he's terrified of people seeing the inhumane conditions, seeing the human tragedies."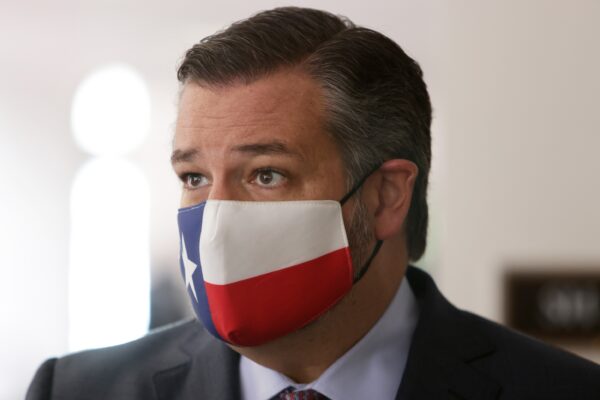 The White House has said that they remain committed to providing transparency about the situation at the border but have not yet finalized the details on when greater media access would be granted. Only one television crew on Wednesday was allowed to join a congressional delegation into a facility in Carrizo Springs, Texas, which is housing about 700 unaccompanied teenagers.
A group of Democratic lawmakers will also be touring migrant processing facilities on Friday. The group, which will be led by Rep. Joaquin Castro (D-Texas), will visit the Carrizo Springs facility.
"On Friday, I'll lead a delegation to the Carrizo Springs facility for unaccompanied children at the border—oversight to ensure humane treatment and orderly process to unite kids with families," Castro said earlier this week.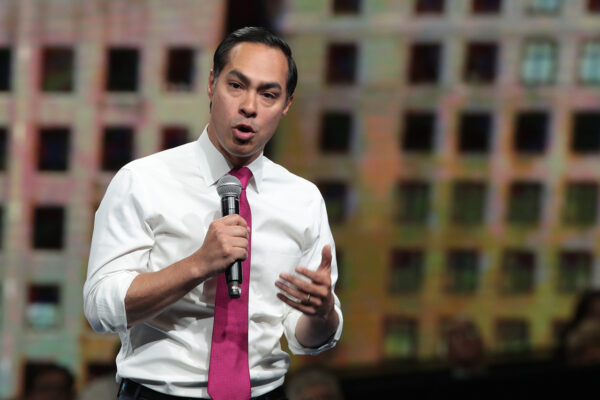 The administration is racing against time to address the burgeoning crisis as illegal border crossings continue to rise. Mayorkas acknowledged last week that the United States is "on pace to encounter more individuals on the southwest border than we have in the last 20 years."
President Joe Biden, who vowed to reverse his predecessor's immigration policies during his campaign, recently pleaded to Central American migrants to stay put in their "town or city or community" instead of making the dangerous trip to illegally cross into the United States.
Upon taking office, Biden reversed several Trump-era immigration policies, including his predecessor's key Migrant Protection Protocol, which sought to end the problematic "catch and release" policy and is credited for significantly stemming the flow of illegal immigrants in 2019. In a return to the Obama-era policies that facilitate "catch-and-release," unaccompanied minors are being released into the country.
Biden on Wednesday delegated the main responsibility of attempting to address the border crisis to Vice President Kamala Harris, saying that she is the "most qualified" person to handle the situation.
"This increase has been consequential but the vice president has agreed … to lead our diplomatic effort and to work with those nations to accept the returnees and enhance migration enforcement at their borders," Biden said.
"It's not her full responsibility job, but she is leading the effort because I think the best thing to do is to put someone who … speaks for me, doesn't have to check with me. She knows what she's doing, and I hope we can move this along," he added, according to pool reports.
As of March 23, over 16,500 unaccompanied migrant children were in the custody of either Customs and Border Protection (CBP) or the Department of Health and Human Services (HHS), according to the HHS Administration for Children and Families.
Cruz said that he's been down to the border many times and has observed the human tragedies occurring amid the crisis, including assault and cramped conditions.
"The purpose of this trip is to help the American people understand the tragedy that's unfolding," he said.