Days after his on-field collapse, Buffalo Bills safety Damar Hamlin remains in critical condition but wrote Sunday that he was thankful for the outpouring of prayers and support.
"It's GameDay & There's Nothing I Want More Than To Be Running Out That Tunnel With My Brothers," he wrote alongside a video on Sunday. "God Using Me In A Different Way Today! Tell Someone You Love Them Today!"
The Bills are hosting their AFC East rival, the New England Patriots, on Sunday at 1 p.m. ET. Across the NFL, players, coaches, and fans expressed their support for the Bills' safety with signs, shirts, and jersey patches, and, meanwhile, more than $8 million was donated to his charity
"The love is felt, & extremely real. No matter race or religion everybody coming together in prayer!" Hamlin wrote a day before.
During last week's game against the Cincinnati Bengals, Hamlin suddenly collapsed after tackling Bengals receiver Tee Higgins. Medical personnel rushed to his aid, giving him CPR and using a defibrillator to restore his heartbeat. After about 15 minutes, he was taken to a Cincinnati hospital where he is currently recovering.
Days later, doctors said Hamlin has made significant progress while his team confirmed he is able to breathe on his own. Doctors, who conducted a news conference on Jan. 7, said their goal is for Hamlin to return to the state he was in before he took the field before Monday's game against the Bengals.
While Hamlin's doctors called his recovery "remarkable," they have also cautioned much more treatment is needed. On Saturday, the Bills said he "remains in critical condition," according to a Twitter post, adding that he continues to breathe on his own and has "excellent" neurological function.
The U.S. Centers for Disease Control and Prevention (CDC) says (pdf) that cardiac arrests that occur outside of a hospital setting are generally fatal: between 70 percent and 90 percent of those who suffer the condition die. Those who survive, the agency says, tend to have brain damage and neurological impairment.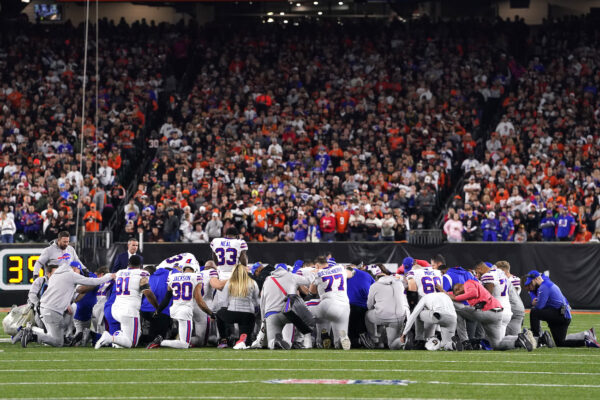 In last week's news conference, doctors said they have not determined why Hamlin underwent cardiac arrest on the field, an exceedingly rare occurrence during an NFL game. The last time such an incident occurred was in 1971, when Detroit Lions player Chuck Hughes died on the field after suffering a heart attack.
A "workup is ongoing" into the cause of Hamlin's cardiac arrest, said William Knight, lead physician and professor of emergency medicine at UC Health, on Thursday. "We do not have definitive answers as to the etiology of the arrest, and tests will continue to progress," he added.
"We want to see him continue to breathe more on his own, and we want to get him breathing completely on his own. That will be the next big milestone for him," Knight said. "The focus right now in terms of helping him to recover, liberate (from the ventilator) and continue to get stronger and rehabilitate, but it is entirely too early to project into the future," Dr. Timothy Pritts said.
Knight said the quick medical response was what helped save Hamlin's life, adding that a doctor was at Hamlin's side within a minute of him collapsing and recognized that the defensive back didn't have a pulse. Previously, officials said Hamlin was revived on the field.
Public Prayer Blitz
All 32 NFL teams have included "Pray for Damar" on their Twitter avatars. ESPN's Dan Orlovsky prayed for the Buffalo Bills' safety on live TV. Countless fans and other concerned observers said on social media they were praying, and dozens linked arms outside his Cincinnati hospital.
After Hamlin's collapse, players from both teams knelt on the field in prayer, not an uncommon scene in a sport that has seen plenty of serious injuries. Each week after every game, many players from both teams join together in a prayer circle, holding hands and kneeling.
"It is new in terms of the scale and the scope," said Paul Putz, assistant director of the Faith & Sports Institute at Baylor University. "It's not common to see someone on a national television network who opens in prayer or just issues a prayer during the broadcast. That certainly is something that's new, but it also does reflect this broader Christian subculture in the NFL."
The Associated Press contributed to this report.