Defendant 'Hums' in Courtroom to Avoid Hearing Fentanyl Murder Advisement
SANTA ANA, Calif.—A man who had pled guilty to possession for sale of fentanyl and methamphetamine was directed by his public defender to hum inside the courtroom to avoid hearing an advisement that he could be charged with murder if someone dies from drugs he sells, according to the Orange County district attorney.
In court, the defendant was instructed to continue humming as a legal maneuver to not hear the advisement, even after being instructed multiple times by the judge to stop.
"I'm not going to let these drug dealers get away with murder," Orange County DA Todd Spitzer said in a statement. "This defendant – and his deputy public defender – don't want to hear it. The judge wasn't having it, telling the public defender in no uncertain terms she was not going to allow humming in her courtroom. It was inappropriate, she scolded."
The defendant then withdrew his guilty plea, where he was going to be given a plea deal of 2 years and 8 months for the crime, and if he is later convicted, the DA's Office will have "another opportunity to read him the advisement" that he could be charged with murder.
"You can hum all you want, but it doesn't change the fact that drug dealers are killing people by selling them fentanyl and at some point they will face the music," Spitzer said.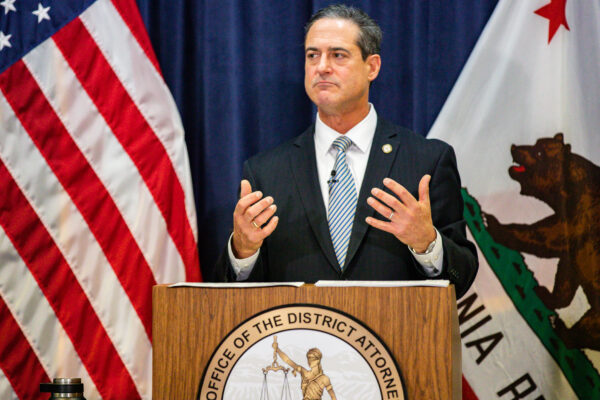 Due to skyrocketing fatal fentanyl-related poisonings, the DA's Office announced in November that they will now issue an advisement to individuals convicted of drug trafficking crimes that if they sell fentanyl and other drugs to someone who dies as a result of the drug, the dealer can be charged with murder.
The move comes amid a fentanyl epidemic across the country and California communities as a whole. In Orange County, fatal fentanyl poisonings have increased over 1,000 percent over the last five years and are projected to only get worse going into 2022, according to the DA's Office.
Most fentanyl victims are unaware that they are even taking the substance, as many illicit drug manufacturers put fentanyl inside of fake prescription pills that appear to be oxycodone and Percocet. The drugs are then sold on the street to victims who believe they are buying legitimate pills, causing them to be poisoned by the fentanyl they did not know it was laced with.
The drug is highly dangerous and is 50 to 100 times more potent than morphine. As little as 2 milligrams can kill someone.
"These are not overdoses. These dealers are essentially handing a loaded gun to unsuspecting victims knowing that they will probably die, and they don't care," Spitzer said.