Defense Officially Rests and Closing Arguments Begin
WASHINGTON—The defense for the Oath Keepers trial rested its case on Nov. 17 at the federal courthouse, and closing arguments began the following morning.
Jessica Watkins, the last defendant to testify, underwent intense cross-examination by prosecutor Alexandra Hughes.
Hughes focused on Watkins' messages and other communication about her willingness to fight in a war during the January 6 event.
"Half this country still feels this way [referring to the 2020 presidential election]. Half of this country feels disenfranchised by that election. All the COVID stuff, we didn't have a free and fair election," Watkins told the jury.
However, she denied wanting to fight with the U.S. government and having planned an alleged conspiracy to storm the Capitol on Jan. 6, 2021. She explained that she would have used force only against foreign powers that would invade the country.
The prosecution displayed a video where protestors were violent and breached the Capitol doors on Jan. 6. Watkins said that at the time she was on the Capitol steps, there was no violence around her, and the doors were already open.
Hughes questioned Watkins' intention to provide medical help on Jan. 6 and asked why she did not help any law enforcement officer that day.
Watkins denied witnessing police officers being injured or attacked on Jan. 6, 2021.
"If I had seen police officers being maced or beaten, that would have [expletive] me off," she said.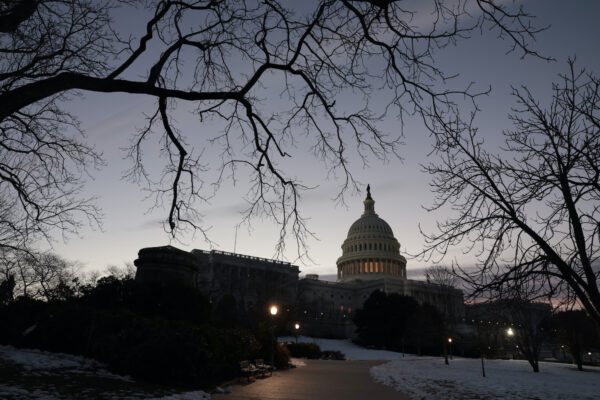 The government lawyer repeatedly showed footage of Watkins saying, "push, push, push, get in there, they can't hold us" inside the Senate hallway.
During direct examination, Watkins told the jury that while in the Senate hallway, she told people to push out of anger because of her injured arm and broken ribs. Watkins explained that she injured them in an accident in Ohio.
While Hughes doubted her testimony, Watkins turned her head toward the judge presiding the trial and said with a shaking voice:
"I accept responsibility for what happened in that hallway. I know it opens me up to criminal liability. I know I'm going to get charged for it. Why do you think I said it?"
Justice Department Closing Arguments
U.S. attorney Kathryn Rakoczy emphasized—especially while showing a painting of George Washington—that since the founding of the United States, no one has delayed the certification of Electoral College votes and conspired to interrupt a peaceful presidential transfer other than the Oath Keepers.
She urged the jurors that the only way to end this was to indict the defendants on all counts.
The reason the Oath Keepers are on trial, Rakoczy said, is because they placed themselves above the law.
Three among the multiple charges against the defendants on trial, including Watkins, Rhodes, Kelly Meggs, Kenneth Harrelson, and Thomas Caldwell, are seditious conspiracy, conspiracy to obstruct an official proceeding, and conspiracy to impede members of Congress from doing their duty.
According to the government, the first charge of seditious conspiracy started in November 2020, immediately after the 2020 presidential election results, and ended in January 2021, sometime after Inauguration Day. Rakoczy explained that the other two conspiracy charges began in December 2020 and lasted until January 2021.
Rakoczy showed the defendants' text messages, Signal (phone app) messages, video footage, Zello (phone app) communications, and other evidence of the alleged conspiracy to support her arguments.
The U.S. attorney told the jury that even though the defendants argued that they provided security detail on Jan. 6, "a defendant's unlawful intent is not negated by the simultaneous presence of another purpose for the defendant's conduct."
Closing arguments will conclude on Nov. 21. Jury deliberation could last through Thanksgiving.