In a bid to bring down prescription drug prices in Florida, Gov. Ron DeSantis, on Jan. 12, announced initiatives aimed at drug manufacturers and pharmacy benefit managers (PBMs), the companies that act as middlemen in the process.
The measures, which he'll work with the legislature to carry out, "will protect consumers and increase accountability," the governor said at The Villages, a large retirement community in Central Florida
Inflation has hit prescription drugs hard, DeSantis said. Their costs went up more than 31 percent from July 2021 to July 2022, "over and above even the general inflation rate."
The initiatives will aim at middlemen most consumers don't know about—pharmacy benefit managers who act as go-betweens for manufacturers, insurers, and retailers—he said, adding that three big companies control 80 percent of the market.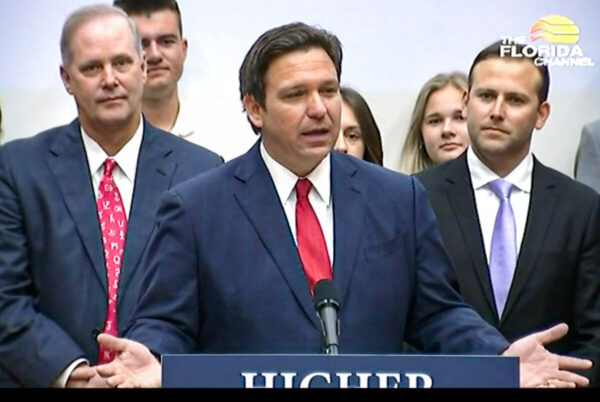 At the start of 2021, according to Becker's Hospital Review, the three leading PBMs—CVS Caremark, Express Scripts, and UnitedHealth Group's OptumRx—controlled 79 percent of the market.
"They're not seen by the public. Most people have no idea who this is," DeSantis said. "I didn't know until we started looking at health care reforms."
The governor said the new initiatives will require greater transparency of PBMs; they will have to disclose all organizations they affiliate with, including pharmacies or companies within their corporate umbrella. They will have to disclose complaints or settlement agreements they've been party to before operating in Florida.
He has directed the state's Office of Insurance Regulation to hold accountable PBMs that have violated the law.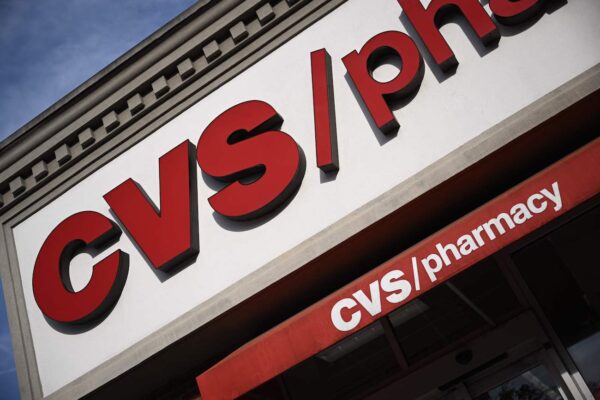 And DeSantis is seeking public disclosure requirements for all proposed drug price increases, and for manufacturers to submit an annual report outlining and justifying any price hikes over the past year.
The PBM regulations target several pricing practices. One is "clawbacks," where prescription prices are raised after the fact, and the PBMs demand the retailers pay more for sales already made, and the retailers must raise prices as a result, DeSantis said.
'That's Basically Just Skimming Money'
In another practice, spread pricing, PBMs charge pharmacies more for the drugs than they paid the manufacturer.
"That's basically just skimming money. It's not really offering value," DeSantis said.
Because PBMs often require consumers to fill their prescriptions via mail order, severing the personal relationship with community pharmacists and limiting consumers' ability to shop for the best deal, he said he wants to protect community-based pharmacies.
"So [what] we're going to say is, you're free to use that mail-in pharmacy that they're telling you to use, but you do not have to use that, and you have the ability to make your own decisions if it's best for you."
DeSantis detailed the obstacles Florida has faced from the FDA in expanding its ability to fill prescriptions at much lower cost in Canada.
"Biden himself claimed this is something he wants, and yet the FDA has stonewalled us for two years. This is basically ready to go. Literally, all they have to do is sign on the dotted line," he said.
"What they're saying is, 'Well, you know, if you buy the same drug in Canada, we're really concerned about safety and all this other stuff.' You know, the FDA wasn't as concerned and isn't as concerned about safety when they're authorizing mRNA shots for 6-month-old babies," DeSantis said. "They didn't have data to support that."
"What the FDA is doing is they're running interference for the pharmaceutical companies."
Appearing with DeSantis was Katie Scanlon, senior director of pharmacy administration for Florida-based Publix Supermarkets.
With 785 pharmacies in the state, "we are keenly aware of the issues highlighted and the access issues that Floridians faced with these unchecked PBM practices," she said.
"We have customers come in that say, 'You know, this is the pharmacy that's closest to my house. The pharmacist knows me and my family. But I can no longer come there because I have to send my prescriptions to the mail-order pharmacy where . . .even getting in touch with someone is often a bit of a challenge.'"
Scanlon spoke about Publix's difficulties trying to help during Hurricane Ian, which devastated the Fort Myers area. Working at shelters with evacuees who desperately needed prescriptions, Publix often could not fill them because "we're no longer the network pharmacy," she said. "Our hands are tied."
"We really believe that it's important for consumers who wish to have that face-to-face relationship with their local pharmacist (to) have that option," she said.
Health Industry 'a Big Tangled Mess'
Surgeon General Joseph Ladapo, who also appeared with DeSantis, called the health care industry "a big tangled mess. . . . It's one ugly, upside down, complicated, convoluted system."
He noted the PBMs would blame the pharmaceutical companies for high prices, and the latter would acknowledge them but say, "we do all this research for all these medications."
Ladapo agreed that drug research is important, and people want their benefits. But he called it a "myth" that pharma companies are now primarily responsible for that research. Most of it nowadays, he said, is taxpayer-funded through the National Institutes of Health and done by universities.
Steve Waterhouse, a resident of The Villages, candidly discussed his family's experience with prescription drug costs. He and his wife, Gina, who accompanied him, had owned several businesses, but he realized in 2016 when problems emerged that they weren't business problems. A trip to the Mayo Clinic confirmed that Gina had Alzheimer's disease, which runs in her family.
They decided to enroll her in a drug trial, hoping it would at least benefit people in the future. They sold their company and moved to The Villages. Stunningly, the drug in question, now marketed by Biogen, appeared to work, as her mental functioning had improved.
A Mayo Clinic researcher "came into the room, and he said, "I have waited an entire career to tell one person what I'm about to tell you: Your cognition improved,'" Waterhouse said.
The drug, Aduhelm, has been approved, and Waterhouse estimated it had added five years to his wife's cognitive ability. She had beat him at golf that morning, he said.
The problem? The drug costs $58,000 a year. "Now, if I had to pay that for five years to save my wife, $250,000, I'd sell anything I had to come up with that money. But what about people who can't do that? I mean, I've got the resources to be able to do that. But what happens to those people who can't come up with that?"
'These PBMs Are Killing His Business'
DeSantis talked about an experience he had recently.
"Over the Christmas holidays, I have some kids that are under the weather, and the First Lady was under the weather. So she sends me out to fill a prescription. So I go, and the guy's telling me, like, these PBMs are killing his business, and I'm like, 'Well, we're going to do something about it.'"
DeSantis has gotten off to a fast start in his second term following his inauguration on Jan. 3. He's announced new initiatives in different fields nearly every day.
Many have a national angle. The governor is widely talked about as a presidential candidate for 2024 and, in some polls, runs ahead even of former President Donald Trump, who announced his candidacy in November. DeSantis often contrasts Florida's actions with those of the federal government, or his own administration's with the Biden administration's in the same area.
Drug pricing is a nationwide problem. Requiring state universities and colleges to report how much they're spending to promote critical race theory and diversity, equity and inclusion addresses a subject with a growing national audience. Florida's water quality efforts centered on the Everglades are specific to Florida but also highlight DeSantis' taking popular environmental action.
The state's struggles with a recent surge of Cuban rafters landing in the Florida Keys highlight the Biden administration's troubled border and immigration records. So did state Attorney General Ashley Moody successfully pressing Biden late last week to add immigration to the agenda of his recent two-day North America summit with Mexican President Andres Manuel Lopez Obrador and Canadian Prime Minister Justin Trudeau.
DeSantis, twice in the last few days, has, in taking questions from reporters after a presentation on other topics, found the opportunity to discuss his opposition to the Chinese Communist Party's efforts to acquire land in states like Florida, another national issue.