Despite Hormone Therapy, Transgender Athletes Have Unfair Advantage Over Biological Women: Doctors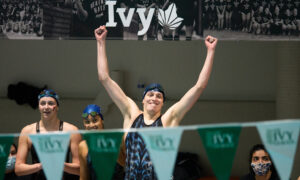 Male-born transgender athletes retain their physical advantages over biological female opponents, even after taking testosterone suppressants, doctors said.
In an interview with The New York Times, a Mayo Clinic doctor, an international physiologist, and a Harvard University evolutionary biologist offered their take on the performance of transgender swimmer Lia Thomas, who competed as a woman and won the 500-yard freestyle national college swimming championship this March.
A senior at the University of Pennsylvania, Thomas finished the race with a time of 4:48.25, beating out the second-place finisher, Tokyo 2020 Olympic 400-meter medley silver medalist and University of Virginia freshman Emma Weyant, by more than one second.
However, Thomas was ranked 65th in the 500-yard freestyle during the 2018–2019 season at UPenn while competing on the men's team. Among men, Thomas also ranked 554th in the 200-yard freestyle and 32nd in the 1,650-yard freestyle.
"There are social aspects to sport, but physiology and biology underpin it," Dr. Michael J. Joyner of the Mayo Clinic told NY Times. "Testosterone is the 800-pound gorilla."
"You see the divergence immediately as the testosterone surges into the boys," he added. "There are dramatic differences in performances."
Thomas' dominance in the pool has renewed the debate over whether male-born transgender athletes should be allowed to compete against biological females.
The National Collegiate Athletic Association, which oversees America's college athletic contests, previously required transgender female athletes to have undergone one year of testosterone suppression treatment in order to compete on a women's team in any sport. It is now shifting toward a sport-specific approach, relying on governing bodies of individual sports to determine what kind of biological advantages transgender athletes might have in their respective sports.
When it comes to competitive swimming, the USA Swimming updated the guidelines earlier this year to require a 36-month testing period where transgender female athletes must obtain less than five nanomoles per liter of testosterone to compete.
Dr. Ross Tucker, a sports physiologist, questioned the idea that hormone therapy could negate the unfair physical edge, saying that Lia Thomas is "the manifestation of the scientific evidence" that "the reduction in testosterone did not remove her biological advantage."
While progressive groups advocate for the inclusion of transgender athletes in women's sports, Dr. Carole Hooven, who teaches on hormone and sex differences in behavior at Harvard, said activists "conflate sex and gender in a way that is really confusing."
"There is a large performance gap between healthy normal populations of males and females, and that is driven by testosterone," Hooven told NY Times. Last year, Hooven sparked a backlash at Harvard after she defended using the terms "male" and "female" to refer to biological sex in a scientific context.
In the wake of the NY Times report, Thomas insisted that transgender women are women and therefore, their participation is not a threat to women's sports.
"It's not taking away opportunities from cis women, really," Thomas said in an interview with ESPN. "Trans women are women, so it's still a woman who is getting that scholarship or that opportunity."