Under frequent scrutiny from Republican opponent Mehmet Oz and multiple media outlets regarding questions about his health, Pennsylvania Democratic Senate candidate John Fetterman released a letter on Oct. 19 from a doctor who wrote that the lieutenant governor "is recovering well from his stroke" and "has no work restrictions and can work full duty in public office."
What the Oct. 15 letter did not disclose is that the author—Dr. Clifford Chen—has donated to Fetterman's campaign at least four times, according to Federal Elections Commission records.
Chen, who is Fetterman's primary care physician, specializes in family medicine and practices at the University of Pittsburgh Medical Center. He wrote the letter after meeting with Fetterman on Oct. 14, describing the appointment as a follow-up to an examination in May.
FEC records show that Chen's first contribution to Fetterman was $500 in June 2021. The doctor donated an additional $500 on July 8 of this year, gave another $230 on July 28, and then provided $100 on Sept. 23.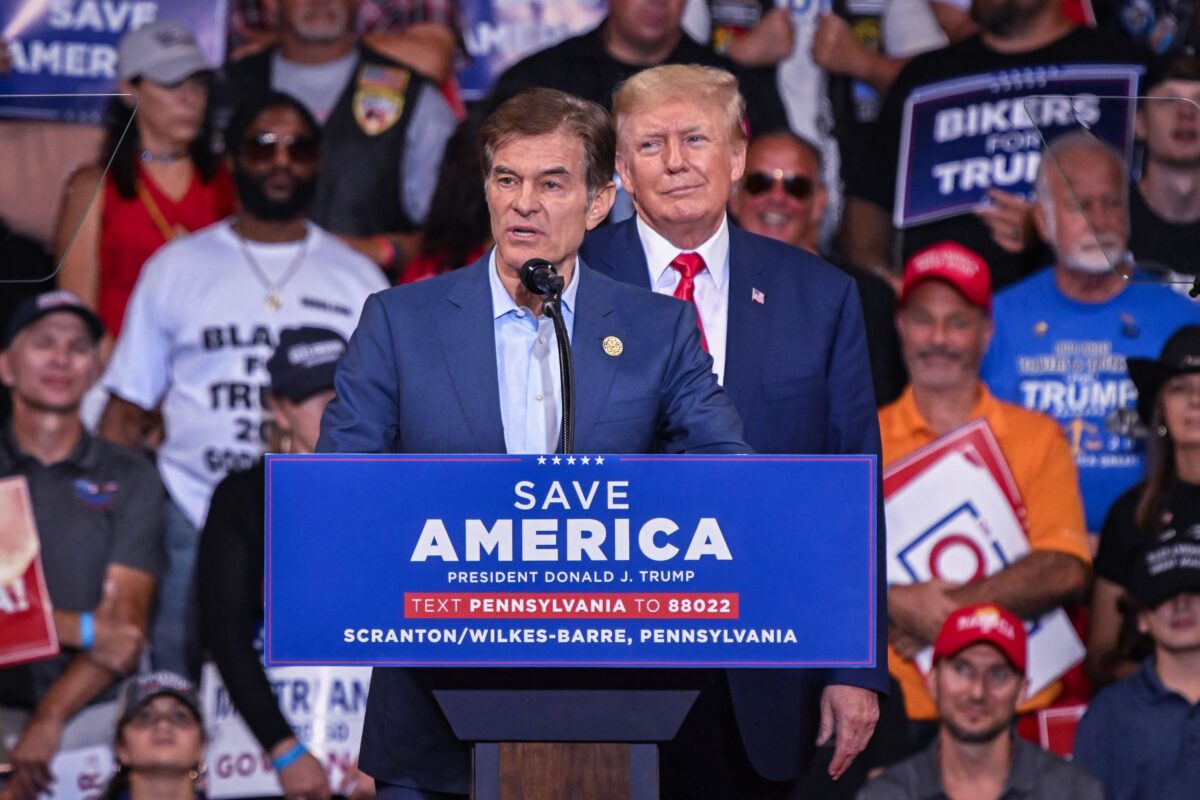 Chen has donated more than $2,000 to Democratic organizations in 2022, FEC records report.
Among the groups receiving Chen's support include the Democratic National Committee, the Democratic Senatorial Campaign Committee, and the Democratic Congressional Campaign Committee.
Joe Calvello, a spokesman for Fetterman's campaign, released a statement and said the letter from Chen wasn't "about politics."
"It's an independent, detailed medical report written by John's primary care doctor based on his latest office visit from last week," Calvello wrote.
The Pittsburgh Post-Gazette editorial board called on Fetterman and Oz to release their medical records in September. Oz agreed, and the results indicated he is in "excellent health," according to his doctor.
Fetterman had repeatedly refused to reveal medical information until the report from Chen.
Fetterman's physical exam was normal and his blood pressure, heart rate, and pulse oximetry readings are within normal range, according to the report.
Chen also said that Fetterman's lung exam was clear and his strength and coordination were normal.
"I have spoken with his neurologist and cardiologist, and he will follow up with them routinely," Chen wrote. "The lieutenant governor takes appropriate medications to optimize his heart condition and prevent future strokes."
Fetterman is exercising and can walk four to five miles regularly without difficulty, Chen noted.
Addressing Fetterman's cognitive abilities, Chen explained that he "spoke intelligently without cognitive deficits" and added that his speech was normal but he demonstrates auditory processing issues that can appear like he is having difficulty with hearing.
"Overall, Lt. Gov. Fetterman is well and shows strong commitment to maintaining good fitness and health practices," Chen said in the report. "He has no work restrictions and can work full duty in public office."
In a  post on Twitter, radio host and political commentator Mark Davis wrote that it is "not a huge problem" that Chen contributed to Fetterman's campaign, adding he "would hope my doctor would contribute to me if I ran for something,"
"The problem is the letter is a joke," Davis explained. "He still has a language processing impediment, with no clue as to when it will resolve."
The letter was released days after Fetterman stumbled over his words and used a closed-captioning monitor to read questions in an interview with NBC News reporter Dasha Burns that aired on Oct. 11.
"I sometimes will hear things in a way that's not perfectly clear," Fetterman said in the interview. "So I use captioning, so I'm able to see what you're saying on the captioning."
During the interview, Burns asked Fetterman if there are any other symptoms or health conditions that he has not disclosed.
"I'm sorry. No, no, I don't in terms of the auditory processing and things in terms of any, any symptoms related to the stroke or any other conditions," Fetterman said.
Burns also asked, "Can voters trust that you will be able to do this job on day one?"
Fetterman hesitated for a moment, and then said, "Yeah, of course."
When asked if the stroke would affect his ability to fulfill his duties as a senator if he wins, Fetterman told Burns, "I don't think it's going to have an impact. I feel like I'm gonna get better and better—every day. And by January, I'm going [to] be, you know, much better."
After the segment, Burns told MSNBC that "our campaign team did notice a difference between the conversation when the closed captioning was on versus when it was off."
"Just in some of the small talk prior to the interview, before the closed captioning was up and running, it did seem that he had a hard time understanding our conversation," Burns added.
After Fetterman's interview, Oz told Fox Business Network that "I don't think there's closed captioning on the floor of the Senate, and maybe he doesn't need closed captioning when he's actually moving around. But maybe he does. Again, lot​s​ of question marks, and voters deserve better​."
Fetterman's wife, Gisele, urged Burns and NBC to apologize.
"If this happened in a school, if this was a child that was ableist towards another child or a teacher, there would've been issues stated. There would have been new training done," Gisele Fetterman told the Independent.
"What is being done at the media after a reporter came out so openly ableist towards a person? I think shocked and appalled, but sadly not surprised," she continued.
"I know there's still so much to do, but it would be great to see some accountability, to actually see real change. I would love to see an apology toward the disability community from her and from her network for the damage they have caused."
In a statement last May, Fetterman said, "I had a stroke that was caused by a clot from my heart being in an A-fib rhythm for too long. The good news is I'm feeling much better, and the doctors tell me I didn't suffer any cognitive damage."
Fetterman's interview with NBC News was followed by a campaign ad where he claims "doctors tell me I didn't suffer any cognitive damage."
"After my stroke, I was just grateful to see Gisele and our kids. Across Pennsylvania, I keep seeing families that don't have enough time to focus on each other. They're struggling, left behind," Fetterman said in the TV spot.
"We've got to make it easier for people to spend time with those they love. Politicians spend so much time fighting about the things that don't matter. I'll always be focused on what does; access to health care, lower costs, good jobs, more time with those we love," he added.
On Aug. 12, Fetterman made his first public appearance since his stroke. Oz immediately challenged him to appear on the debate stage, requesting five debates from Sept. 6 to Oct. 5. Fetterman agreed to one debate—on Oct. 25, two weeks before election day. Early voting started in Pennsylvania on Sept. 19.
During the Oct. 25 debate in Harrisburg, Fetterman is expected to use closed captioning, which he has relied on in interviews and public appearances as he continued to recover.