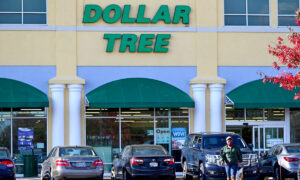 Low-end retailer Dollar Tree on Sunday confirmed it pulled eggs from store shelves as prices for the staple food item remain relatively high.
"The cost of eggs is currently very high," Dollar Tree spokesperson Randy Guiler told multiple news outlets, adding that eggs will be brought back at the chain's thousands of stores when "costs are more in line with historical levels."
Federal Reserve Bank Of St. Louis data has shown that egg prices have sharply increased over the past year. Dollar Tree, meanwhile, sells most of its products for $1.25, although it also sells other items for $3 and $5.
As of February 2023, the price for a dozen eggs averaged $4.21 across U.S. cities, the Fed's data show. A year before, in February 2022, a dozen eggs cost $2.05.
Egg prices hit record highs of close to an average of $5 a dozen in January, according to economic data, due to a global outbreak of the avian flu. In consumer pricing data released by the government on Tuesday, egg prices fell 6.7 percent in February.
The chain, which is increasingly a go-to grocery destination for cash-strapped shoppers, has roughly 8,000 Dollar Tree stores across the United States and Canada. The chain announced it would raise prices to $1.25 from $1 in 2021, and in some stores is offering goods like frozen meals for $3 and $5.
A Dollar Tree spokesperson told Reuters that the retailer does not anticipate bringing eggs back until the fall of this year. Competitor Dollar General currently has "solid in-stock levels" of eggs at its roughly 19,000 stores, the company said in a statement to Reuters.
What Comes Next
With Easter approaching, some anticipate that the price of eggs will again rise.
"Wholesale prices continue to rise, which indicates retail egg prices have not peaked. The teetering flock numbers couldn't come at a worse time for consumers," Texas A&M University said in a blog post several weeks ago, before prices dropped in February. "The January USDA egg report showed prices were steady to slightly lower than December, but yearly prices for eggs often peaks each spring due to Easter holiday egg hunts and baking."
The U.S. Department of Agriculture (USDA) has estimated that some 43 million egg-laying hens were cut from the U.S. flock through December of last year due to avian influenza. The disease particularly impacts layer hens harder because those birds are in production for a longer period of time than broiler chickens, which are used for meat, and increases their risk of exposure to the virus, the university said.
Late last month, the USDA forecast that egg prices will drop dramatically this year if the United States doesn't see a rebound in bird influenza outbreaks. USDA Chief Economist Seth Meyer predicted that wholesale prices will drop by 26.8 percent in 2023, while the agency said egg production will increase 4 percent this year to 9.4 billion dozen and that the number of egg-laying hens will rebound.
"While not quite there yet, a full recovery in the laying flock is expected," USDA said in a recent  livestock and poultry forecast. "Hatching egg production is expected to remain flat in 2023 with generally slow growth in broiler production."
The Centers for Disease Control and Prevention on Feb. 22 reported that 58 million chickens and other birds have died or were culled in the current flu outbreak. According to the health agency, the "highly pathogenic avian influenza viruses cause severe disease and high mortality in infected poultry" and that "virus infections can cause disease that affects multiple internal organs with mortality up to 90 percent to 100 percent in chickens."
At the same time, decades-high inflation is also impacting egg prices, according to the Bureau of Labor Statistics. The recent Producer Price Index, an inflation measure for manufacturers and producers, showed an overall increase of 6 percent from January 2022 to January 2023, while also showing a 210 percent increase in the price of eggs.
Reuters contributed to this report.