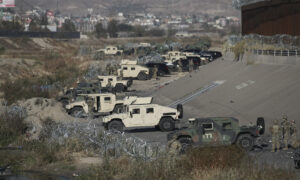 Rep. Wesley Hunt (R-Texas) has joined a growing number of legislators calling for military action against Mexican cartels due to the growing fentanyl crisis in the United States.
Hunt was asked if, because of his military background, he believes that the United States should use its military against the cartels in Mexico. The Texas Republican told Stuart Varney during the March 17 interview on Fox Business, "That's something that we absolutely should take a look at."
The lawmaker went on to say that there are some legislative steps that have to be followed, "but the idea of U.S. drones striking these fentanyl plants in Mexico sounds like a pretty good idea to me."
"Americans are dying," Hunt added. "It's the federal government's responsibility to keep our citizens safe, and we are failing them. If it takes military action and if we do it the right way, legislatively, then sign me up. I'm ready for that."
The National Sheriffs' Association (NSA) said it supports recent attempts in Congress to undercut and dismantle the drug cartels, which have caused havoc at the border and are responsible for the smuggling of illegal immigrants and deadly narcotics such as fentanyl into the United States.
"NSA is calling on Congress to take immediate action on cartels, especially considering the Americans killed in Mexico last week," the group said in a statement sent to The Epoch Times.
Sens. Lindsey Graham (R-S.C.) and John Kennedy (R-La.) made a statement about the importance of designating Mexican drug cartels as Foreign Terrorist Organizations (FTOs) and authorizing the U.S. military to retaliate.
The senators argued in their March 8 press briefing that these cartels are responsible for the deaths of thousands of Americans every year and that the United States needs to take drastic action to stop them.
"Drug cartels in Mexico have been terrorizing Americans for decades. We're going to destroy their business model and their lifestyle because our national security … depends on us."
The bill proposed by Graham and Kennedy would include the following cartels in the FTO designation: Sinaloa Cartel, Jalisco New Generation Cartel, Gulf Cartel, Los Zetas, Northeast Cartel, Juarez Cartel, Tijuana Cartel, Beltran-Leyva Cartel, and La Familia Michoacana.
Graham noted that law enforcement could bring Chinese chemical companies with known ties to the cartels into court in the United States to stand trial.
"Here's what I hope will happen: we're going to terrorize the terrorists," Graham said. "If you get on the cell phone, it may be the last call you make. The terrorists live in caves; they're committed to their cause. The narco-terrorists live in mansions out in the open, buying fancy cars.
"We know where you live, and we know how you make your money. My goal is to make sure that you don't sleep well at night. That the cost of doing business—when it comes to poisoning America—goes up."