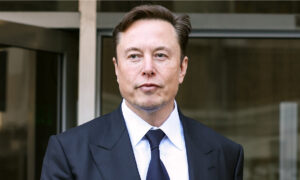 Billionaire entrepreneur Elon Musk has regained the title of "World's Richest Person," according to the latest Bloomberg Billionaires Index ranking.
Musk—whose portfolio includes the electric car company Tesla, the private space company SpaceX, and the Twitter social media platform—has been in and out of the number-one spot on the Bloomberg index in recent years. Musk's leading competitor in recent months has been luxury goods tycoon Bernard Arnault, the founder and CEO of LVMH, a conglomerate representing dozens of luxury brands, including Louis Vuitton and Dior.
Arnault briefly overtook Musk on the Bloomberg index in December. The French billionaire pulled ahead again before Musk regained the number-one spot in February.
Musk's net worth had stood above $340 billion in November 2021, but slipped below the $200 billion mark in November. By the end of the year, Musk's fortune had fallen all the way to $137 billion, making him the first person to ever lose more than $200 billion in estimated net worth, according to Bloomberg.
Much of the decline in Musk's wealth last year came as he shifted attention away from his largest asset, Tesla, and toward his purchase of Twitter. The electric car company lost nearly half its market value and Musk lost about $70 billion between April 2022 and November, as he moved to acquire and revamp Twitter.
Musk's overall net worth improved this year following a rebound in Tesla stock. Shares in the electric car company have rallied 66 percent, and Musk's assets have gained $55.3 billion in value this year.
Musk's position in the billionaire ranking has also improved at the expense of the luxury goods sector. The value of LVMH shares has fallen about 10 percent since April amid declining faith in the luxury sector. Arnault lost an estimated $11 billion in net worth last week, and LVMH took another hit on Wednesday, allowing Musk to claw back the lead.
As of Wednesday, Musk had opened up a $5.7 billion lead over Arnault in Bloomberg's ranking system. His fortune measured out to $192.3 billion compared to Arnault's $186.6 billion. Amazon founder Jeff Bezos currently holds the third-place ranking, with a net worth of $144 billion.
Twitter's Value and Future
Musk has sunk a large portion of both his attention and his net worth into acquiring Twitter. In October, as he closed in on the $44 billion deal to buy out Twitter, Musk admitted he felt he was overpaying, but still sees untapped potential for the social media platform.
"I think it's an asset that has just sort of languished for a long time, but has incredible potential, although obviously myself and the other investors are overpaying for Twitter right now," he said.
This week, Fidelity revised the market value of its ownership stake in Twitter down to just one-third of what it was when Musk took over the platform, suggesting the company's overall value had fallen by two-thirds since October.
In the lead-up to his Twitter acquisition, Musk suggested that acquiring the Twitter social media platform would serve as a springboard for a bigger "X" app.
While Twitter began as a microblogging site where users shared their thoughts and provided updates about personal events or developing news stories, Musk has suggested that Twitter could eventually provide a far broader set of features. He has repeatedly compared his plans for Twitter to the popular Chinese app WeChat, which allows for text messaging, voice messaging, broadcasting, video conferencing, mobile gaming, and mobile payments.
But even as Musk has been revamping the social media platform, he has been open about his plans to hand off responsibility for the site to someone else. Musk had posted in December that he would resign as CEO of the platform as soon as he could find a suitable replacement. On May 12, he confirmed he had chosen outgoing NBCUniversal advertising chief Linda Yaccarino to take over as CEO.