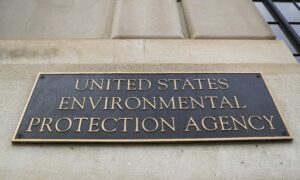 The Environmental Protection Agency (EPA) has not complied with House Oversight Committee's request for documentation and testimony on alleged waste, fraud, and abuse in the Biden administration's billion-dollar environmental justice award program.
Oversight Chairman James Comer (R-Ky.) and Chairman of the Oversight Subcommittee on Economic Development, Energy Policy, and Regulatory Affairs Rep. Pat Fallon (R-Texas) made their requests in a Feb. 27 letter.
Along with records and information they requested to be delivered to their committee by March 13, the lawmakers had asked that EPA Administrator Michael Regan schedule a briefing with the committee by March 6.
A spokesperson for the committee told The Epoch Times that—as of March 13—none of their requests had been met.
"The Oversight Committee has been in conversations with the Environmental Protection Agency to fulfill requests from Chairman Comer and Subcommittee Chairman Fallon for documents, information, and a staff-level briefing related to applications and disbursements of environmental justice grants," a spokesperson for the House Committee on Oversight and Accountability told The Epoch Times in a statement.
"To date, the Committee has not received any documents from the EPA in response to this letter or any of the letters the Committee has sent them during this Congress, nor has it received a date for a staff briefing on environmental justice grants. It is crucial that we conduct oversight of the EPA's administration of grants to ensure the EPA is mitigating risks of waste, fraud, and abuse of taxpayer resources."
The agency was asked to provide the needed documentation related to the Environmental Justice Collaborative Problem-Solving Program (EJCPS) Cooperation Agreement Program and the Environmental Justice Government-to-Government (EJG2G) Program, as The Epoch Times previously reported.
When the EPA responded to The Epoch Times's request for comment at the time, it said it received the letter and that it "plans to fully engage with Reps. Comer and Fallon on their request for more information."
The lawmakers' requests included documents and information regarding the two programs' case study grantees to the EPA, communications between EPA staff containing the term "environmental justice" or the initials "EJ."
In addition, the committee asked for all documents and communications referring or relating to EJ grants between staffers and third parties, and communications with the White House Environmental Justice Advisory Council, among other things.
"The committee … is conducting oversight of Environmental Protection Agency's [EPA] administration of environmental justice [EJ] grants. On Jan. 10, 2023, the EPA published two Requests for Applications for approximately $100 million in grant funding to support EJ initiatives—the largest allocation of its kind," wrote the Republican lawmakers.
"However, despite this 'unprecedented level of funding,' the EPA's own case studies for EJ grant programs demonstrate weak standards for grantees to practically address environmental concerns.
"To better understand the applications and disbursements of EJ grants—particularly those included in the $60 billion dollars allocated to EJ initiatives under the Inflation Reduction Act (IRA)—we request the EPA provide documents, information, and a staff-level briefing."
The EPA responded to The Epoch Times's March 13 request for comment, saying, "We have nothing new to share at this time."