Portions of Southern California were evacuated on Tuesday after yet another winter storm hit California, coming days after thousands of people were evacuated hundreds of miles to the north.
Officials in Santa Barbara County, located along the central-southern coast, said in an alert that residents who live near several burn scars should evacuate and said that roads could be cut off or destroyed. Combined with rain, burn scars from fires can trigger flash flooding and mudslides.
"An EVACUATION ORDER has been issued for the identified properties and areas in south Santa Barbara County associated with the Alisal, Cave, and Thomas Fires," the alert said. "Residents in these areas should leave now."
It advised to residents: "DO NOT attempt to drive while it is dark or raining heavily, roads may be damaged or your car may be swept away by moving water or debris" and that "roads leading in and out of the Sisquoc and Tepusquet areas could be damaged by this storm. Residents of those areas should either leave or prepare to sustain themselves in case roads become impassable.
A map posted by Santa Barbara County shows the evacuation orders currently in effect, including creeks, rivers, streams, and other waterways in Solvang, Carpinteria, Summerland, Santa Barbara, Montecito, Toro Canyon, and others. It appears that several hundred to thousands of people are impacted.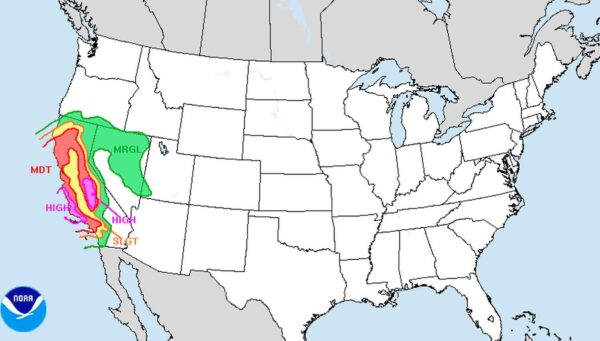 Meanwhile, in Ventura County, officials issued evacuation warnings due to floods and possible debris flow. That warning is set to last until Tuesday at 10 p.m. ET.
The National Weather Service (NWS) forecast rainfall totals of two to four inches for coastal areas and three to six inches in the foothills around Santa Barbara County and western Ventura County. Seven inches of rain could fall in the the Santa Barbara and Ventura mountains, it warned, adding that high winds ranging from 20 to 50 mph could also be expected.
A forecast issued by the U.S. National Oceanic and Atmospheric Administration warned there is a "HIGH RISK OF EXCESSIVE RAINFALL" in Central and Southern California on Tuesday.
"An ongoing atmospheric river event is forecast to continue through today into Wednesday, producing widespread heavy precipitation across California, with considerable to locally catastrophic flooding impacts expected for portions of the coast, Central Valley, and the Sierra Nevada foothills," the bulletin added.
That flooding will mainly occur in areas below 5,000 feet elevation and will shift across the coast, said the NWS in a Tuesday morning warning. Creeks and streams will be subject to flooding from the rain and  snowmelt.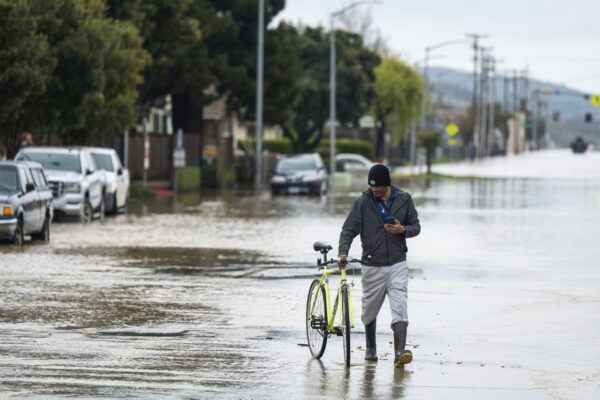 Outside of Southern California, a high-risk area covers the central part of the Sierra Nevada range, spanning from Yosemite National Park to east of Fresno in California's Central Valley. Rainfall totaling 3 to 6 inches will fall—and in tandem with snowpack—will cause widespread flooding. Some spots could get upwards of 8 inches of rain.
"Areas that normally do not experience flash flooding will flood. Lives and property are in great danger from Tuesday into Wednesday," the NWS said. "On Wednesday, the threat of excessive rainfall decreases to a Marginal Risk over parts of Southern California and the Southwest through Thursday morning."
Flood warnings, watches, and advisories have been issued for much of the California coastline, according to a map posted by the NWS on Tuesday.
Levee Breaks
Crews rushed to repair a levee break on a storm-swollen river in California's central coast after it failed over the past weekend. The Pajaro River's first levee rupture grew to at least 400 feet since it failed late Friday, officials said.
More than 8,500 people were forced to evacuate, and about 50 people had to be rescued as the water rose that night. A second breach opened up another 100 feet of the levee closer to the Pacific coast, providing a "relief valve" for the floodwaters to recede near the mouth of the river, officials said Monday during a news conference.
The river separates Santa Cruz and Monterey counties, about 70 miles south of San Francisco. Several roads were closed including a stretch of coastal Highway 1, a main route between the two counties. Monterey County officials also warned that the Salinas River could cause significant flooding of roadways and agricultural land, cutting off the Monterey Peninsula from the rest of the county. The city of Monterey and other communities are located on the peninsula.
Gov. Gavin Newsom on Sunday declared a state of emergency in six more counties after earlier making declarations for 34 counties.
The Associated Press contributed to this report.