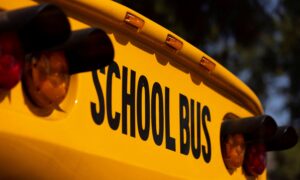 Several experts shared their perspectives with The Epoch Times about the nationwide surge of violence among children in schools and the legal challenges of prosecuting minors who commit violent crimes.
A report (pdf) released by the National Center for Education Statistics (NCES) in June 2022 showed that "several crime and safety issues have become less prevalent at elementary and secondary schools" over the past decade. However, while the rate of nonfatal crimes decreased, "there were a total of 93 school shootings that resulted in casualties at public and private elementary and secondary schools in 2020–2o21—the highest number since 2000–2001.
Simultaneously, the number of videos popping up on social media showing students brutally attacking other students at school and on school buses seems to be increasing at a rapid pace.
As previously reported by The Epoch Times, surveillance video of a Feb. 10 incident at Kenwood Elementary School in Springfield, Ohio, shows a number of black students physically attacking white students, forcing them to kneel and reportedly instructing them to say "black lives matter."
Law enforcement and school officials in Ohio are also investigating the brutal Feb. 14 assault of a 13-year-old student at Trotwood-Madison Middle School by eight other students, WHIO TV reported. The victim—who was knocked to the ground, punched, and kicked until he was unconscious—nearly had his ear detached.
A video surfaced online in February of a 9-year-old girl being viciously beaten on a school bus in Homestead, Florida, by two boys. One boy was 15 and twice her size. The girl's brother was simultaneously attacked by other students. The 15-year-old was arrested and charged with criminal battery.
Some argue that there is no increase in school violence and that it's only being shared more often online, but there is the data showing that a large number of incidents go unreported.
The NCES report confirmed that while "some 77 percent of public schools recorded that one or more incidents of crime had taken place" during the 2019–2020 school year, "47 percent of schools reported one or more incidents of crime to sworn law enforcement."
A review of the Florida Department of Education's School Environmental Safety Incident Reports for the 2019–2020, 2020–2021, and 2021–2022 school years confirms two things: incidents of school violence are escalating in the Sunshine State, and a staggering number of those incidents go unreported to law enforcement.
Of particular concern is the number of times a weapons possession incident goes unreported, as required. For example, one weapon brought to Challenger Middle School, one weapon brought to Paul Laurence Dunbar Middle School, and five weapons brought to Fort Myers Middle Academy in Lee County went unreported in the 2021–2022 school year, and this was just a small number of similar unreported weapons possession incidents in the reports for the past three school years.
This is but a fraction of the unreported weapons possessions. Incidents of unreported fights, physical attacks, and aggravated battery cases are much higher.
Student Violence and the Teacher Shortage
Cases of students assaulting teachers have also become more common.
In a 2022 report by the American Psychological Association (APA), almost half of the 15,000 teachers, school psychologists, school social workers, and administrators surveyed wanted to quit or transfer jobs. More telling, the majority cited "reports of verbal or threatening victimization" and the fear of "physical violence from students" as the primary reason for that decision.
In September 2022, an eighth-grade student at Bowie Middle School in Odessa, Texas, was charged with felony aggravated assault after savagely beating his female teacher for confiscating his cell phone. A video shows the student repeatedly punching the teacher in the face before shoving her to the ground. A high school teacher and baseball coach at Langham Creek High School in Houston suffered a broken arm after he was attacked by four middle school students from Aragon Middle School after he told them to stop riding their dirt bikes on school property.
A ninth-grade female student at Heritage High School in Rockland County, Georgia, is facing criminal charges after breaking her teacher's leg in a brutal attack in the classroom on Jan. 26.
A 6-foot-6-inch, 270-pound 17-year-old student named Brendan Depa will be charged as an adult on one felony count of aggravated battery after he violently attacked a teacher's aid on Feb. 27 at Matanzas High School in Palm Coast, Fla., for taking his Nintendo Switch. Fox News reported that Depa had three prior misdemeanor battery charges.
The U.S. Department of Education (DOE) recently issued a call to action, pleading for "state policymakers, higher education leaders, and school districts to use pandemic relief and recovery funds to increase the number of teacher candidates." For all of the "teacher preparation programs" suggested and outlined by the DOE, there is no mention of programs to protect teachers from violent students.
Violent Children and the Law
Wendy Patrick believes school violence has always been a significant challenge. Another challenge is how to handle minors who commit acts of violence from a legal perspective.
Patrick is a San Diego County deputy district attorney who has completed over 150 trials ranging from hate crimes to first-degree murder.
"What happens on campus often ends up in court," Patrick told The Epoch Times. "Prosecuting juveniles as adults is approached differently in different jurisdictions, but always requires an analysis of age and conduct."
She said prosecutors must also balance whether potential penalties in adult court will appropriately reflect the seriousness of the conduct with a child's potential for rehabilitation.
"Many of the hearings in this arena involve a battle of mental health experts discussing the fitness of the minor to be tried as an adult," Patrick said.
According to the National Governor's Association, 27 states have no minimum age for juvenile adjudication. In these states, prosecutors and judges often have discretion as to whether a minor will be prosecuted through juvenile courts or be remanded to social service systems. This discretion is based on the severity of the crime, accountability of the child offender, any safety concerns the juvenile may pose to the public, and any treatment the youth may need. The state with the lowest set minimum age for which a minor can be processed through juvenile court is North Carolina, which has set the age at 6 years old.
California, Massachusetts, and Utah have the highest minimum age requirement, which is 12 years.
There are 23 states that have no set minimum age for which a child offender can be transferred from juvenile to adult court. Iowa and Wisconsin have the lowest set age minimum at 10 years. California's minimum, set at 16 years, is the highest.
Greg Woods, a senior lecturer in criminology, criminal justice, and legal studies at San José State University in California, says it's rare that a juvenile will be tried as an adult.
"Our justice system presumes juveniles are inherently salvageable," Woods told The Epoch Times. "Therefore, if the source of school violence is a person below the age of 16, they will not likely be charged as an adult."
"While there are crimes for which a minor will be charged as an adult in California," he said, "these are typically felonies where others are likely to suffer great bodily injury or death."
What Is Causing School Violence?
Larry Dershem, an attorney and co-host of the radio program "Today with Dr. Wendy" with Patrick, says part of the reason for increased violence in schools is the breakdown of the family.
Dershem—who is also practice lead at Policy Management and Consulting Group—believes another contributing factor to school violence is the teaching of critical race theory.
"I've studied this," Dershem told The Epoch Times, explaining that similar efforts to divide the country were made during the '60s. He then noted how the tremendous strides that had been made during the civil rights movement are being systematically and intentionally dismantled.
"Every time those wounds begin to heal they reopen the wound to keep the division going and to keep us fighting," Dershem asserted, suggesting that "critical race theory is nothing but communism and Marxism" propaganda that "should be kicked out of every school."
Rebecca Engle is a teacher in Uvalde, Texas. On May 24, 2022, 19 children and two adults were shot and killed by 18-year-old Salvador Ramos at Robb Elementary School in Uvalde. Engle, who is also part of the Uvalde Foundation for Kids and director of the Student Advisory Board, says school violence is a "nationally occurring tragedy" that is on the rise.
"This year alone we have seen a ridiculous amount of bullying incidents and school shootings," Engle told The Epoch Times, adding that "there is a giant, emotional behavior factor missing" in the education of children these days, which she believes started during the COVID-19 lockdowns.
"Kids weren't taught how to regulate themselves emotionally for two years and they had no social communication among their peers, except for the internet," she said. "We took their entire social life and pushed it to the side, so for two years they weren't socialized or learning how to act in class."
Engle said she can "see why teachers would be afraid to go back."
Just as incidents of violence go unreported at schools, Tracy Lince is convinced that the secrecy of a child's violent history—whether intentionally kept hidden or not—is also contributing to the escalation of school violence.
In February, Lince sent a video to a local news station showing her twin boys being beaten by two students on a school bus in Charlotte County, Florida.
Lince said the boys that attacked her sons had been kicked out of a school in Orange County for similar conduct just three months before being transferred to her sons' school. The attackers, held back multiple times, were much older and much bigger than her 12-year-old boys. However, she said that the school records for these boys from Orange County never transferred with them to Coconut Palm K–8 Academy in Homestead because the Orange County school "was also having issues getting the records" from a previous school.
WINK reported that the Charlotte County Sheriff's Office issued citations to the aggressive teens.
"They obviously had issues at the prior school and prior disciplinary issues," Lince said. "They had prior disciplinary issues with them at the other school. Of course, they don't provide that information so I don't know what those issues were. The principal simply told us that their prior record was 'atrocious.'"
"Even the bus driver had issues with these boys and couldn't keep them under control," Lince said. "We feel this could have been prevented."
The Epoch Times reached out to Coconut Palm K–8 Academy and Charlotte County School District Superintendent Steve Dionisio for comment.