Some FBI officials have warned Americans against traveling to Mexico after four U.S. citizens were kidnapped and two were killed in a Mexican border city last week.
"If you're driving there, which most people will from Arizona, stay on the main highways. Try not to veer too far off course. That's where you can kind of get into sticky situations," FBI Phoenix spokeswoman Brooke Brennan told FOX10 in Phoenix. "Have an emergency contact, make sure you're checking in with them and make sure they know how often you plan to check in with them."
The bureau recommends that travelers keep the contact information for American embassies and consulates in Mexico on hand in case of an emergency, she said.
"Only use official forms of travel … so official taxis, shuttles, maybe for the resort that you're staying at. Unofficial travel and unauthorized travel usually can make you an easier target and that's where some of these kidnappings have occurred," Brennan added.
A retired agent told a Tampa station that Americans shouldn't drive across the U.S.-Mexico border if they want to visit the country. Instead, they should fly and remain in the tourist areas, he said.
"Do not drive across the border if you want to go to Mexico. Certainly go to Mexico, but be careful. Fly in. Go to the tourist areas. That's where you're going to be the safest," former FBI Special Agent Richard Kolko told Fox 13. "Carry that cell phone. Let people know where you are. Don't wear jewelry. Don't flash cash. Don't dress so much like an American wearing uniforms from baseball teams or football teams."
The warnings comes as the U.S. State Department on Thursday reiterated that it has a "Level 4" travel advisory in effect for portions of Mexico, including in Tamaulipas state—where the four Americans were kidnapped. Level 4 is the highest warning in the agency's travel advisory system.
State Department spokesman Ned Price told reporters that "Americans should not travel to this particular Mexican state, because it is dangerous … we have seen incidents of criminality, of violence, and we certainly don't want to see Americans unnecessarily in harm's way."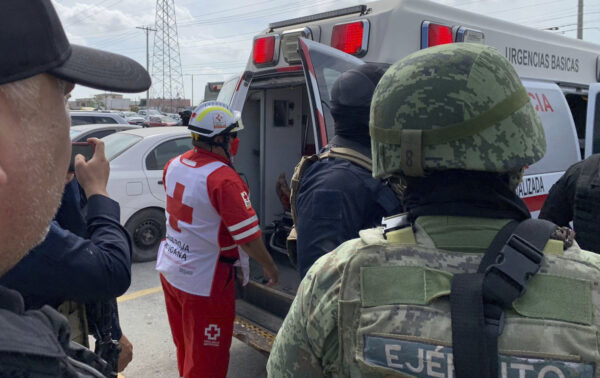 "It is our place to remind all Americans of the travel advisories that are on our website and that we have pointed to a number of times when it comes to this incident and when it comes to the threat risk more broadly," Price said.
Update on Case
Cheryl Orange, who did not cross into Mexico with the others, told The Associated Press in a text message that her three friends were supposed to return within 15 minutes after dropping off their companion, Latavia McGee, for cosmetic surgery in the Mexican border city of Matamoros last Friday. Orange stayed behind at a motel in Brownsville, Texas, and said she grew concerned as the hours passed and she did not hear from the others.
The five friends had driven a rented minivan from South Carolina on Thursday to the southern tip of Texas, according to a police report based on Orange's account. Four of them left Friday morning around 8 a.m. to go to Mexico.
"She simply went for a cosmetic surgery, and that's it. That's all, and this happened to them," Orange said.
Mexican authorities have said the group was fired on and crashed their van soon after they crossed into Matamoros Friday, as drug cartel factions tore through the streets.
The Americans were hauled off in a pickup truck, and Mexican authorities frantically searched as the cartel moved them around—even taking them to a medical clinic—"to create confusion and avoid efforts to rescue them," the region's governor, Américo Villarreal, said Tuesday.
It's unclear how the FBI, which is leading the investigation on the U.S. side, was first informed of the kidnapping. A spokeswoman for the agency had no immediate comment Wednesday.
"The surviving two victims were transported to the Port of Entry in Brownsville, Texas, where they are receiving medical care at a local hospital, as one of the surviving victims sustained serious bodily injuries during the attack," the bureau said in a statement earlier this week. "This is still an ongoing criminal investigation and the FBI will continue to work with … other federal and international partners to determine the facts of what happened and to hold those responsible for this horrific and violent attack accountable for their crimes."
The Associated Press contributed to this report.