The FBI raided the home of Roy McGrath, Maryland Gov. Larry Hogan's former chief of staff after he failed to appear in Baltimore to stand trial on federal corruption charges.
The raid on McGrath's home in Naples, Florida, was conducted on Wednesday morning. McGrath was found not to be there, but his wife was present as agents conducted the search, his attorney, Joseph Murtha, told the Associated Press.
Murtha said he was surprised that his client didn't show up at the trial on Monday.
"I haven't a clue. I didn't see this coming," Murtha told the Washington Times. Murtha said that he had "a substantively productive conversation" about the trial with his client late Sunday.
McGrath was supposed to board a plane in Florida later that night.
Murtha added that he was unable to reach his client via cellphone or email. "This behavior is so out of the ordinary for him. Obviously, his personal safety is a concern," the attorney stated.
U.S. District Judge Deborah Boardman issued an arrest warrant for McGrath after he failed to show up on Monday. The judge canceled the scheduled jury selection, and the prospected jurors were dismissed.
On Tuesday, the U.S. Marshals Service launched an interstate manhunt for McGrath, who received an eight-count federal indictment in 2021. A wanted poster was released as well.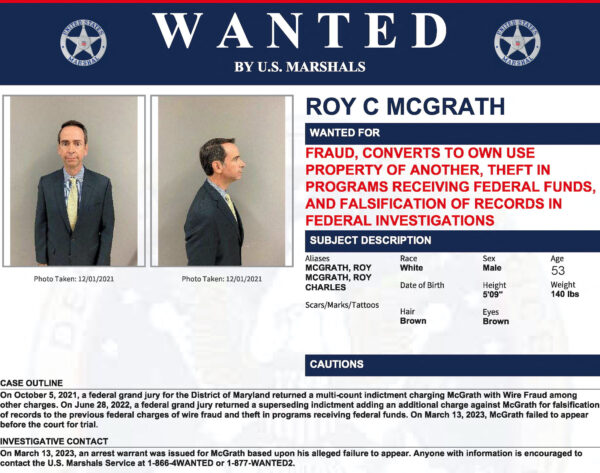 Federal and State prosecutors have accused McGrath of personally enriching himself by taking advantage of his positions of trust as the executive director of Maryland Environmental Service. The state-owned company provides environmental services, including water and wastewater management, to government entities and private partners.
Faces Fraud, Embezzlement Charges
Prosecutors accuse McGrath of falsifying time sheets to claim he was at work while on two vacations in 2019. He allegedly used state funds for personal expenses and now faces fraud and embezzlement charges connected to roughly $170,000 in expenses.
In June 2020, McGrath left his position as executive director of Maryland Environmental Service to become Hogan's chief of staff, upon which he then tricked the environmental agency's board into approving a $233,648 severance payment—a year's worth of salary—by falsifying a document to make it seem that the governor had already approved the payment, according to a grand jury indictment.
McGarth was 11 weeks on the job as Hogan's chief of staff when the news of his unusual severance payment became public. He resigned from Hogan's administration in August 2020.
Following his arrest, McGrath was released on bond. He was required to turn in his passport as a condition of release, according to his attorney.
McGrath later moved to Naples, Florida.
McGrath has pleaded not guilty. The most serious charge that he faces carries a maximum penalty of 20 years in prison.