Fight Over Mobile Betting Pits Tribal Operators Against Digital Sportsbooks
Georgia's 2022 legislative session concluded April 4 without lawmakers adopting a resolution that would have placed a proposed constitutional amendment on the ballot in November calling on voters to legalize online and mobile sports betting in the state.
Similar ballot referendum efforts have faded this year in Alabama, Missouri, and South Dakota. Californians will vote in November on at least two, and perhaps as many as five, competing proposals to legalize sports gaming.
Meanwhile, as of April 6, bills seeking to legislatively establish legal online or mobile sports and daily fantasy sports programs remained technically alive in six state legislatures, including Missouri.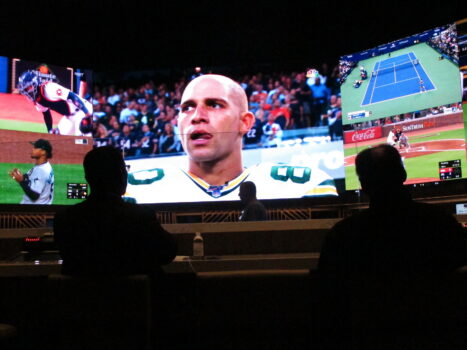 According to the American Gaming Association, 33 states have legalized sports betting since the U.S. Supreme Court's 2018 ruling in Murphy v. NCAA lifted the federal prohibition on it.
Of those 33 states, at least 20 began the year with fully encoded regulatory systems that include online and mobile sports betting. Most of the remaining states generally restrict legal sports gaming to casinos on Native American lands.
Proponents spent $200 million in California and Florida on efforts to legalize sports betting. The battle lines between proponents and opponents in states like these do not include the traditional anti-gambling lobby versus casinos-create-jobs conflict, at least not up-front and center.
The primary clash in California and Florida pitted entrenched tribal coalitions fiercely opposed to legalizing online sports betting beyond their casinos against a growing mobile gaming and daily fantasy sports industry led by DraftKings, FanDuel, Yahoo, and Fantasy Draft among others.
In other words, it's not about perceived right and wrong. It's about who gets the money because billions are at stake regardless of legality.
In 2021, U.S. commercial gaming revenue hit a record $4.3 billion on sports betting, according to the American Gaming Association, which said the 2022 NCAA March Madness basketball tournament generated more than $3 billion in bets, with about 75 percent made via mobile gambling or sportsbooks.
Online sports betting is expected to account for between 85 percent and 90 percent of the sports betting market, according to an Oklahoma State University study. Goldman Sachs projects that the market will top $40 billion a year in the United States by 2033.
What is happening in California and not happening in Florida—at least until 2024—is illustrative of that clash between entrenched tribal gaming operations and newly established, but well-monied, digital platforms. They are competing for a share for their share, or the whole pie, of the $40 billion projected market.
State By State
California: Slot machines, blackjack, and other games of chance gave been available in California tribal casinos for more than 20 years, while gambling at horse race tracks has been legal since 1933. But online and mobile sports betting—an estimated $3 billion annual market—is illegal.
California voters will see at least two constitutional amendments seeking to legalize sports wagering on their November ballots. Up to three others are vying for the 933,000 signatures needed by June 30 to qualify. The two that are on the ballot, they propose legalization in different ways.
The Legalize Sports Betting on American Indians Lands, or Tribal Sports Wagering Act, sponsored by the Coalition to Authorize Regulated Sports Wagering has qualified for the ballot. The 40-tribe coalition had at least $25 million in its coffers in early April.
The California Solutions to Homelessness and Mental Health Support Act has also qualified to go before voters in November. The proposed constitutional amendment is sponsored by seven sportsbooks, including FanDuel and DraftKings, which staked the sponsoring Californians for Solutions committee to $100 million in campaign contributions.
The tribal coalitions measure would only legalize in-person sports betting on tribal lands, as well as four authorized racetracks where revenues would be taxed at 10 percent to fund "problem and responsible gaming programs, enforcement, and the general fund."
The proposed amendment sponsored by sportsbooks would allow online mobile sports gaming on digital platforms with operators paying hefty license fees to the state and 85 percent of tax dollars directed to fund programs to combat homelessness and mental illness.
Several other similar proposals are vying for the ballot. One measure backed by licensed gambling establishments, such as card rooms, does not appear likely to qualify. The other, which would legalize in-person sports betting on tribal lands and online sports betting with tribal oversight, faces a June deadline to qualify for the ballot.
Florida: You need a scorecard to track the players involved in the Sunshine State's decades-long gaming debate. In its latest chapter, sports gaming has already generated more than $200 million in contributions to proponents and opponents of two prospective constitutional amendments that have both failed to qualify for the 2022 ballot and are re-arming for 2024 campaigns.
As things stand now, sports gaming is not legal in Florida. In May 2021, Florida lawmakers adopted a 75-page gaming compact with the Seminole Tribe of Florida that was signed into law by Gov. Ron DeSantis. The deal grants the Seminoles exclusive control of blackjack, craps, fantasy, and sports betting at its seven casinos and on non-tribal pari-mutuels or pool betting.
In exchange, the Seminoles will pay Florida $500 million annually over the first five years of the 30-year pact.
The Florida-Seminole deal's "hub-and-spoke" mobile betting deal circumvents a 2018 constitutional amendment passed by voters requiring a statewide referendum to approve "any expansion of gambling" in the state.
The state and the tribe say the amendment, supported by the Seminoles, doesn't apply to Native American tribal lands, which are regulated by the federal government. They contend mobile sports bets occur where the platform's server is—in this case, on tribal land, which is exempt from state regulation—and therefore doesn't require a statewide ballot measure to approve.
The pact induced lawsuits in Washington, D.C., and Tallahassee.
West Flagler Associates, which owns Miami's Magic City Casino and the Bonita Springs Poker Room, filed a 43-page complaint in August and No Casinos, which has stymied casino expansion in Florida since 1978, filed a 40-page lawsuit in September claiming the pact is "a clear violation" of federal law and the Florida Constitution.
The Seminoles rolled out their mobile betting app, Hard Rock Sportsbook, on Nov. 1, 2021. On Nov. 22, however, U.S. District Court Judge Dabney Friedrich in Washington, D.C., dissolved the compact claiming she "cannot accept that fiction" that mobile sports wagers occur only in servers on tribal land instead of wherever the person placing the bet actually is.
The Seminole Tribe of Florida appealed against the ruling, which was denied on Nov. 24. On Dec. 4, Friedrich issued an injunction that pulled the plug on the Hard Rock Sportsbook. It remains dark now. The United States 11th Circuit Court of Appeals has agreed to hear the Seminoles and Florida's appeal, but no timeline is set.
Meanwhile, in an effort to adhere to 2018's Amendment 3 requiring a statewide vote to expand gambling a proposed constitutional amendment was filed in June 2021 by Tallahassee-based Florida Education Champions, a committee supported by DraftKings, FanDuel, and other digital platforms, to legalize sports gaming statewide beyond Seminole casinos.
The two digital bookmakers kicked in $10 million each to launch the initiative, which would authorize sports gambling statewide and dedicate tax revenues to the state's Educational Enhancement Trust Fund.
Another group, Jacksonville Beach-based Florida Voters In Charge, filed two prospective proposed constitutional amendments that would ask Florida voters to approve new non-Seminole "Las Vegas-style casinos and allow North Florida cardrooms to offer casino games.
Voters in Charge received $17 million from a powerful wannabe player in Florida — the Las Vegas Sands Corp. After selling its Las Vegas properties this year, Las Vegas Sands is allegedly interested in a North Florida gaming operation and in opening a Pensacola-area casino with the Poarch Band of Creek Indians.
None of the prospective ballot measures garnered the required 891,000 signatures by Feb 1 to qualify for the ballot despite at least $200 million being spent last summer and fall promoting the various angles of the issue. It is not over, only paused, waiting for court decisions and the clock to begin ticking for initiatives to begin signature-gathering for 2024's ballot.
When all is said and done proponents and opponents could spend $1 billion trying to convince Floridians to expand or restrict gambling in 2023 and 2024.
Across the country bills legalizing online mobile sports gaming remain viable in North Carolina, Kansas, Maine, Oklahoma, Kentucky, and Missouri, although encroaching timelines make adoption "iffy" prospects.
Missouri: The Missouri House on March 24 passed HB 2502 and HB 2556 in 115-33 votes and they are now set to be heard in Senate committees.
The bills and their Senate companions legalize sports betting at the state's 13 riverboat casinos and create 39 online licenses for mobile wagering. Missouri's six casino operators will receive 33 of the licenses, or "skins," with the remaining awarded to the state's six professional sports teams.
There is doubt that the bills will be passed by the Senate, which appears more favorable to a third bill, SB 643, that includes many of the same features but allows the state's lottery to offer retail parlay bets and imposes a 21 percent tax rate.
North Carolina: The Senate in 2021 approved SB 688, which has advanced through the House Commerce Committee and awaits hearings before the House Judiciary Committee before qualifying for a final floor vote. Sports gambling is already allowed at tribal casinos in the state. The bill would allow mobile bets and wagers. Lawmakers convene their spring session on May 18 which is scheduled to adjourn on June 30.
South Dakota: A South Dakota House committee in February rejected Senate Joint Resolution 502, essentially killing this year's attempt to establish a digital sports gaming system in the state. The Senate had endorsed the resolution, which would have asked South Dakota voters to adopt a constitutional amendment approving sports gaming.
Alabama: SB 294 seeks to place a constitutional amendment before voters asking them to legalize a state lottery and allow for online and retail sports betting at several Alabama casinos. SB 294 would need to be approved by a three-fifths majority of both Alabama chambers to get on November's ballot. The bill has been approved by one Senate committee but is unlikely to be approved before the session adjourns on April 8. Alabama is only one of five states in the country not to have a state lottery system.
Hawaii: HB 1815 would make sports betting legal for residents and tourists in Hawaii. Right now, only Hawaii and Utah prohibit all forms of legal gambling. HB 1815 was introduced in January and referred to four House committees. It remains unheard and will likely remain so before the legislative session adjourns May 5.
Kansas: The Kansas House on April 1 approved a bill legalizing digital sports gaming after the Senate endorsed the measure, a compromise between competing versions cobbled together by House and Senate negotiators. But the House sent SB 84 back to the Senate with amendments certain to draw opposition.
The Senate is expected to take up the House-amended SB 84 when it returns convenes in late April for the final part of the session that ends May 20.
Maine: The House Judiciary Committee on March 16 advanced LD 585 in a preliminary 8-6 vote. The bill creates four mobile gaming licenses for the state's federally recognized tribes and retail sportsbook licenses for commercial gaming operators in the state. The measure goes before the committee again in a May 4 public hearing. Democratic Gov. Janet Mills vetoed bills adopted by state lawmakers legalizing digital sports gaming in 2020 and 2021.
Oklahoma: HB 3008 would allow sports betting in state's 131 tribal casinos. It has been approved by two House committees and now awaits debate on the House floor.
If passed, the bill moves over to the Senate, which has expressed no interest in adopting any changes to state gaming laws. HB 3008's restrictions on online gaming beyond sports betting has drawn criticism from the Oklahoma Indian Gaming Association.
The bill is likely to idle unheard in the Senate and die when Oklahoma's 2022 session adjourns May 27.
Kentucky: The Kentucky House approved HB 606 in a 58-30 vote on March 18 and it has been heard twice before the Senate Licensing and Occupations Committee. HB 606 would legalize online sports betting, poker, and daily fantasy sports gaming. When a 10-day veto period ends April 12, the measure faces tight deadlines and resistance from "rural area" Republican senators in being adopted before the 2022 session adjourns April 14.