Firefighters Rescue Women Wedged Between Two Concrete Walls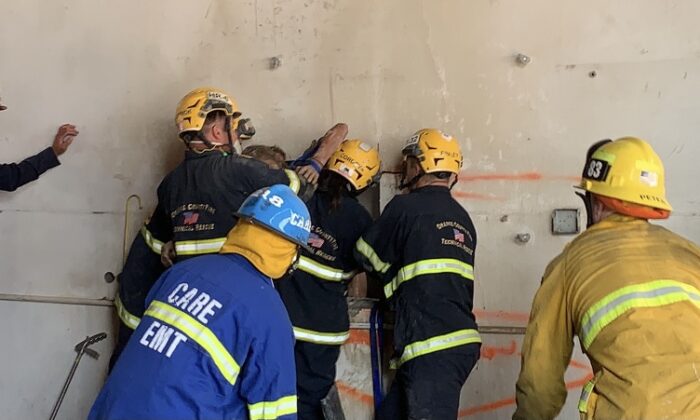 Firefighters rescued a woman trapped between two concrete walls in Santa Ana, Calif., July 13, 2021. (Courtesy of the Orange County Fire Authority)
Firefighters in Orange County, Calif. worked to free a woman July 13 who was inexplicably trapped between two concrete walls.
The woman was discovered shortly after 2 p.m. when she began calling for help in Santa Ana, where she was trapped between the walls of two N. Harbor Blvd. commercial businesses.
Firefighters removed the woman from her predicament about 4:30 p.m. in what they called a "cautious and technical operation."
"She's awake… and she's been talking to our firefighters," Capt. Thanh Nguyen told The Epoch Times
The location the woman got stuck is an automotive repair facility that generates an abundance of noise. Around 1:30 p.m., workers heard the cry for help but couldn't locate where the screams were coming from.
"She's wedged in there and we can't physically get in there and she can't crawl out, "Nguyen said.
It wasn't clear how long the woman was trapped before being discovered.