An Alabama man who had reached the Senate floor of the U.S. Capitol on Jan. 6, 2021, has become the first Jan. 6 defendant to be acquitted of obstruction of justice, which is a felony charge.
Joshua Matthew Black, 46, was cleared of the charge on Jan. 13 while also being found guilty of other charges, including felonies, following a trial in the U.S. District Court in the District of Columbia.
They include: entering and remaining in a restricted building or grounds with a deadly or dangerous weapon; and disorderly and disruptive conduct in a restricted building or grounds with a deadly or dangerous weapon. The two charges carry a maximum sentence of 10 years.
Black was also charged with unlawful possession of a dangerous weapon on Capitol grounds or buildings, which carries a maximum sentence of five years.
Other charges—entering and remaining on the floor of Congress; and disorderly conduct in a Capitol building—carry a maximum sentence of six months.
The above charges also carry potential financial penalties.
U.S. District Court Judge Amy Berman Jackson has scheduled a sentencing hearing for May 5.
According to the Department of Justice, Black was illegally on Capitol grounds and entered the building, eventually making it to the floor of the Senate chamber. The DOJ said he was captured in photos and video on social media platforms.
"Black later posted a video to YouTube in which he discussed entering the Capitol and the floor of the Senate chamber on Jan. 6, 2021," according to the DOJ's account. "He explained that 'once we found out Pence turned on us and that they had stolen the election, like officially, the . . . crowd went crazy. I mean, … it became a mob. We crossed the gate, we got up."
"He also admitted carrying a knife to the Capitol because 'you're not allowed to carry guns in DC and I don't like being defenseless,'" according to the DOJ.
The FBI, at a search of Black's residence in Leeds, Alabama, on Jan. 14, 2021, recovered the knife that Black admitted he carried into the Capitol. They arrested him later that day at a police station in Moody, Alabama.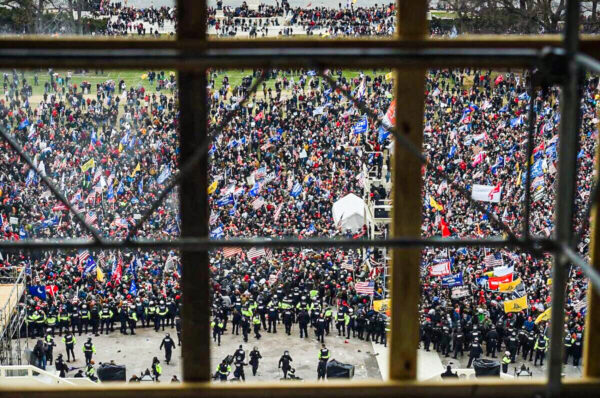 The joint session of Congress on Jan. 6, 2021, was temporarily interrupted when a sizable group of protesters entered the Capitol building and its surrounds. Outside were thousands of other mostly peaceful protesters who had gathered in Washington on the day to express their concerns about election integrity.
Four Americans died on Jan. 6, 2021, amid the mayhem that took place that day on Capitol grounds—Trump supporters Ashli Babbitt, Rosanne Boyland, Kevin Greeson, and Benjamin Phillips.
Babbitt's death was ruled a homicide. Paul Sperry and RealClearInvestigations in late 2021 identified U.S. Capitol Police (USCP) Lt. Michael Byrd as the person who shot Babbitt prior to her death.
The deaths of Greeson and Phillips were determined to be due to natural causes. Meanwhile, Boyland's death was ruled as an accident, but video unsealed in December 2021 showed that she was struck by one police officer prior as she lay unconscious near the Capitol building.
More than 950 individuals have been dealt charges by the Department of Justice, accusing them of having committed federal crimes on Jan. 6, 2021. Dozens of Americans continue to be held in prison without trial.