Florida parent Shawn Hayston says he just wanted to tour the public middle school his son is expected to attend next year.
What followed, he says, was an act of retaliation that took him totally by surprise.
A threat to his job as a firefighter apparently was sparked because he had asked questions about school policies and expressed disapproval of a mural, he and other parents told The Epoch Times.
After touring Pine View Middle School with four other parents in August, Hayston was stunned to learn—two days later—that the tour triggered an investigation of him by his employer in a neighboring county.
Hayston, the father of two sons, said he was told that the principal of the Pasco County school had called Hillsborough County Fire Rescue and asked the department to do an investigation into his behavior.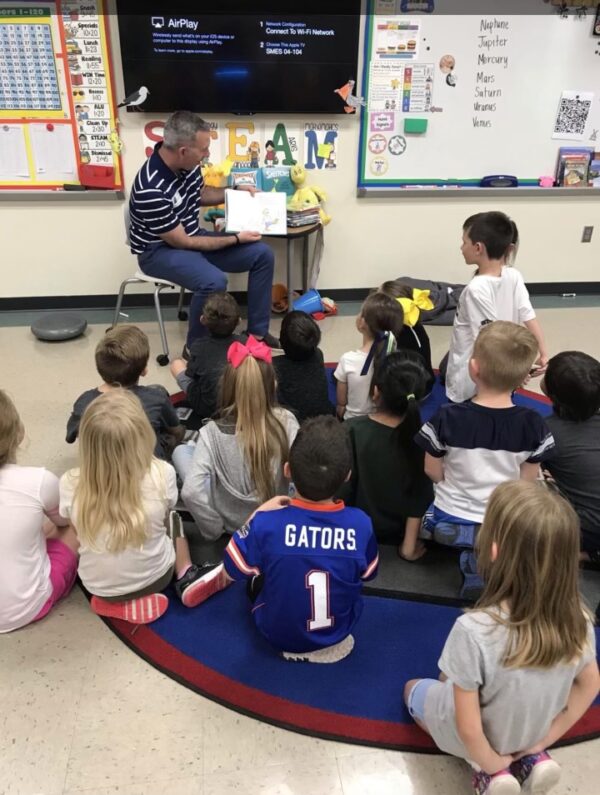 He said he was told the school's principal, Jennifer Warren, complained to fire officials that he had been hostile while touring the school, and that she had requested a formal investigation.
She told fire officials he had entered the school without authorization, and also said he'd been charged with trespassing by the Pasco County Sheriff's Office, the firefighter said he was told.
None of that was true, Hayston said.
And after a two-week investigation by his employer, Hayston, who has been an active parent volunteer in area schools, was told there was no evidence to support Warren's claims, he told The Epoch Times.
Still, he feels certain the accusations have tarnished his reputation and record of his 19 years of service in the department. He feels the debacle will make it unlikely for him to be promoted now, even though he has been honored for performing heroic acts while on duty.
He's humiliated, he says, and angry–so angry that he plans to run for school board in 2024.
Warren and Pasco County Public Schools did not respond to requests for comment by The Epoch Times.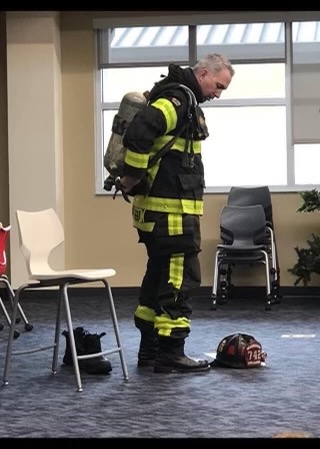 The flap that triggered the investigation arose after Hayston responded to an invitation from fellow parent Jennifer Houston. She'd posted on a citizen watchdog group website that a tour of the Land o' Lakes school had been arranged, and other parents could join her.
Houston, an artist, already had confronted Warren about concerns about a mural at the school. She'd asked for a meeting with Warren after her own child said the mural looked like it represented that "the world is ending," she said.
Another parent, Chelsi Stahr, said her son expressed the same worrisome sentiment, Stahr told The Epoch Times.
Houston posted a video on Facebook, describing her phone call with Warren about the "dark" theme of the mural. After viewing her post, other parents also voiced opposition to the artwork.
"All the reaction from the community got that mural down in three days," Houston reported in a follow-up Facebook video.
But Houston had more questions about the school and arranged a tour, inviting other parents to come along.
Hayston showed up, and like the other parents, presented identification, and supplied the name of his child, who's expected to enroll at the school next year.
After their information was verified by a school worker, Hayston and four other parents were given stickers to wear that identified them as registered visitors, Houston and Hayston told The Epoch Times.
Hayston, a Christian, had been concerned about sending his older son to Pine View after hearing about the school's yearbook profiles of gay and transgender students.
"At this age, kids are confused, and something like this will follow them the rest of their lives," he said.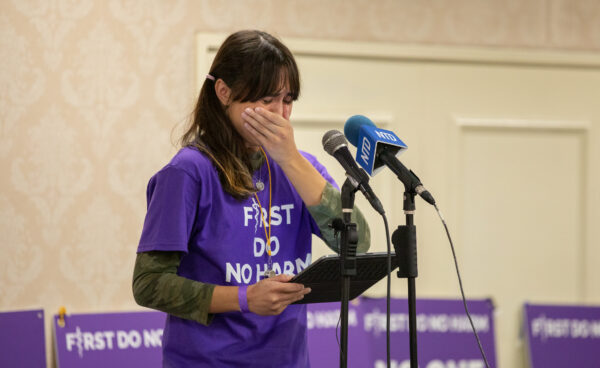 He'd also hoped to see the controversial mural. But by tour time, the mural had been removed.
Still, during the tour, Hayston asked about its theme, hoping to understand the decision that went into displaying it on the school's walls.
"It's art," Warren and another artist who'd done other murals in the school told parents, he said. "It's whatever you want it to be."
Hayston pushed a little harder. Why the mural had depicted a child in grayscale wearing a gas mask and holding a sign saying, "Hate has no home here," and why birds in the mural were wearing tiny gas masks, too?
What was the meaning of those images? he asked again.
"However you want to interpret it," the principal told him, he recalled.
During their phone conversation about the mural, Warren had told Houston that the birds represented  gay, transgender and non-binary students, Houston said.
The group moved on, and later, Hayston questioned the meaning of colorful stickers on doors and on badges teachers were wearing that said, "Safe Space."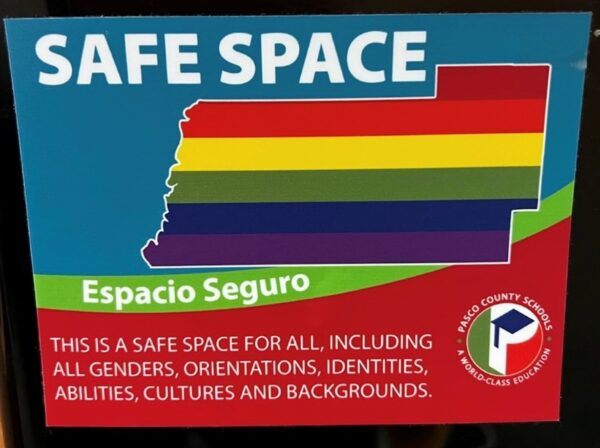 "I refuse to answer that," Warren said, parents told the The Epoch Times.
When Hayston asked again, he said Warren pointed at Houston and replied, "If you want to know the answer, go ask the lady down the hall, because she knows everything."
Hayston and Houston said they were shocked by Warren's hostility and didn't understand.
Hayston retorted, "'With all due respect, you are the principal of this school and I'm asking you what a safe space sticker is,'" he said. "And she just wouldn't answer."
Houston already had asked Warren about the rainbow-colored stickers a few weeks earlier, and had been directed to the school psychologist.
"I was told by the psychologist that the stickers were for everyone and not for any particular subgroup," Houston said. "It's for everyone, I was told."
Houston said she expressed concern the rainbow flag colors on the sticker signaled acceptance of LBGT students, not everybody, she recalled.
The LGBTQ+ Caucus of the National Education Association (NEA), the nation's largest teachers' union, promotes and sells a $2 badge for teachers to wear that says "I'm here." The back of the badge includes a QR code that leads to websites directed at teens, including a Planned Parenthood manual called "Queering Sex Ed" with step-by-step instructions on how to perform sex acts with one or more partners.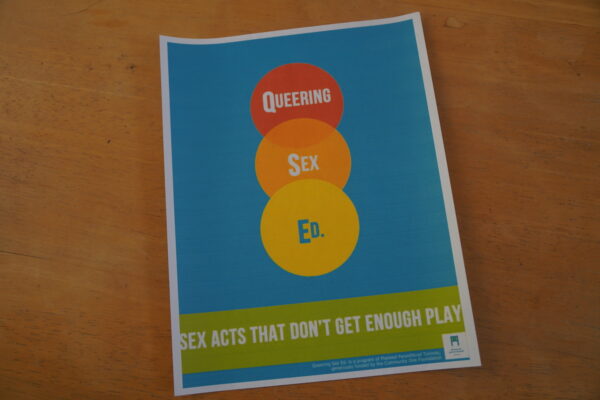 After the tour, Houston wanted more information about the stickers. She'd researched and found info on the NEA website for a teacher training on how to become a "safe space" and use the stickers to signal that.
She requested a list of every teacher who had designated their classroom as a safe space. She was told there was no list, and no additional stickers would be issued, she said. The school removed the safe space stickers from all classrooms a few days later, Houston said.
Throughout the tour, Principal Warren was "combative," Houston said, and "left us with more questions than answers."
At the end of the tour, Pasco County Public Schools public information officer Stephen Hegarty casually asked where Hayston worked.
When he told him, Hegarty responded that knew the department's public information officer well, Hayston said. Hayston thought it was unusual for an official with district administration to be on a tour with parents, but shrugged it off, he said.
Two days later, Hayston said he was rocked by news he was being investigated.
Houston was astonished, too, she said. It was an attempt to get a parent fired "simply for asking questions," she said.
When she heard a complaint against Hayston was that he'd been hostile toward school officials, Houston said emphatically, "I was there. Didn't happen!"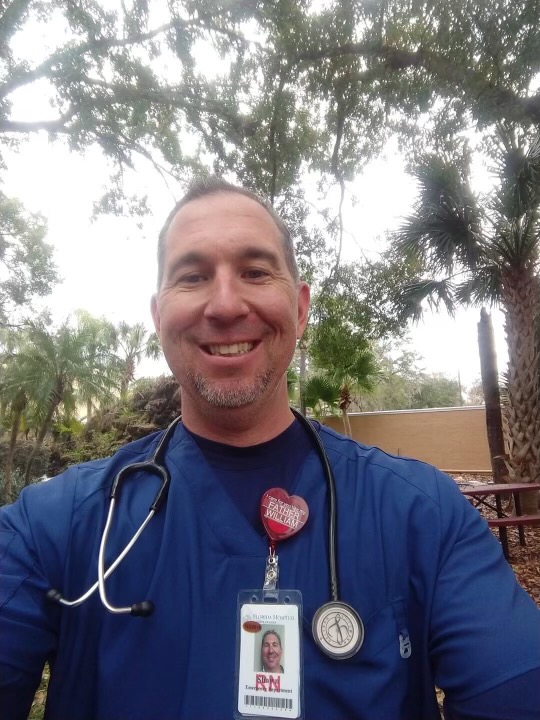 Reeling from the news he was being investigated, Hayston resigned from his new second job as a nurse practitioner, he said. He feared the mental stress would keep him from treating patients safely.
Though it's cut into his income, he's hired an attorney, because he feels targeted by the school board, he said.
The lawsuit will cost about $25,000, Hayston said. He's set up a GiveSendGo account in the hopes of raising money to pay for his "Fight for Parental Freedom."
"I'm a blue-collar person," he said. "I'm struggling. But because of the investigation, I'll probably never get promoted. My reputation is tarnished. Now, whenever someone hears my name, they're gonna think of me as a troublemaker and an activist."
He suspects he caught the school board's attention in 2021, when he spoke against requiring children to wear masks. He complained that masking inhibited the learning process, he said. He also spoke out against the policy of quarantining healthy children after exposure to COVID-19, and against the prospect of mandatory COVID-19 vaccines for schoolchildren.
But he never expected the drama that arose after he asked to tour his child's future school, he said.
"Your conduct is textbook First Amendment retaliation, and your intent to wreck Mr. Hayston's livelihood is so callous and vindictive that you face the prospect of being held liable for punitive damages," attorney Jonathan O'Brien wrote in a letter to Principal Warren. He cited a published district policy that "welcomes and encourages visits to school by parents and other adults."
"You simply intended to ruin his livelihood and make him suffer," O'Brien wrote in the letter.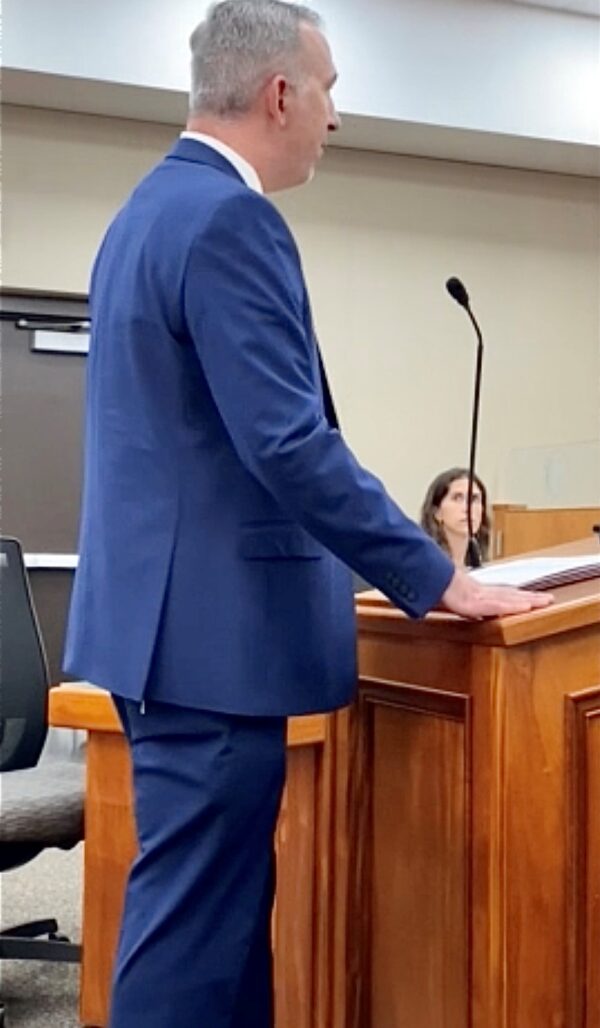 He's asked Warren to apologize in writing for "the pain and suffering" caused by the debacle, and retract accusations that Hayston made "unlawful entry" or had "warrants" for arrest.
The letter goes on to make a legal demand for Warren to allow parents, including the Haystons, to tour the school and see classrooms where their children are taught. And the letter formally warns Warren to "cease and desist from contacting the Hayston's (sic) employers, or the employers of any parents for retaliatory reasons.'
The Epoch Times repeatedly contacted the Florida Department of Education, Pasco County Public Schools, and Pine View Middle School principal, Jennifer Warren, requesting comment. None responded.
"If Ms. Warren cannot operate her school solely focusing on the education that parents expect, she should be terminated from her role as principal," Houston said.
Stahr feels the school district has "gone rogue."
"They are willing to destroy the families they claim to care so much about," she said. "This behavior needs to be stopped before more false allegations from Pasco County Schools destroy another family."
For now, Hayston stands ready to fight. First, he hopes to clear his name fully by receiving a public apology from school officials.
He was advised by a state-level education official to take the fight further, he said. As a result, he said he now plans to run for a seat on the county school board in 2024.
"I want to be that change we all want to see."
Nanette Holt contributed to this report.