Floridians Combating Still-in-Place COVID Policies
KISSIMMEE, Fla.—One billion seconds of being married.
That's the milestone Eric Schrock was planning to celebrate as a surprise for his love, Cynthia, until the 56-year-old real estate broker fell ill with COVID-19.
There won't be a party now. Cynthia Schrock discovered her husband's secret after he was gone.
Now she blames his death on what she believes was improper care during his three weeks of treatment in a Florida hospital. Because he tested positive for COVID-19, the facility followed protocols for treating the virus, as outlined by the Centers for Disease Control and Prevention (CDC).
But a year later, a review of his hospital records by an independent doctor showed he died, not of COVID-19, she says, but from a three-week undiagnosed heart attack.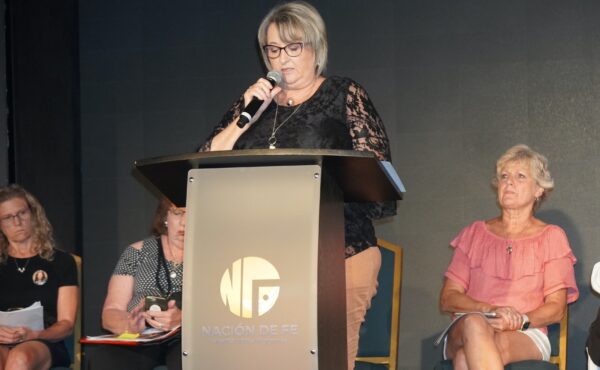 "They ignored the heart attack and went straight to the COVID protocol," she told The Epoch Times.
Schrock and dozens of others with similar stories about loved ones lost have pledged to come together at medical freedom rallies and press events as often as they can to continue telling of their heartbreak.
Through it, they hope to inspire what they say could be lifesaving changes to Florida's laws.
They hope to protect people still being treated for the disease, even though it's too late for their loved ones.
On Oct. 13, they spent an hour in prayer together. They asked for comfort for each other and for wisdom for Florida's lawmakers.
They asked for blessings and protection for the state's top executive, Gov. Ron DeSantis, his wife, and their three children.
Then they spent three hours sharing their stories through tears.
They'd hoped the recorded event, dubbed "Your Story Counts: The Untold Atrocities of COVID-19" would draw a room full of cameras and reporters.
But the sanctuary of Nacion de Fe church in Kissimmee stayed mostly empty.
A public relations service had been hired to blast out a news release to media outlets. But the company abruptly canceled the contract, backing away because of what sounded like a plan to spread "misinformation," according to the notice obtained by The Epoch Times.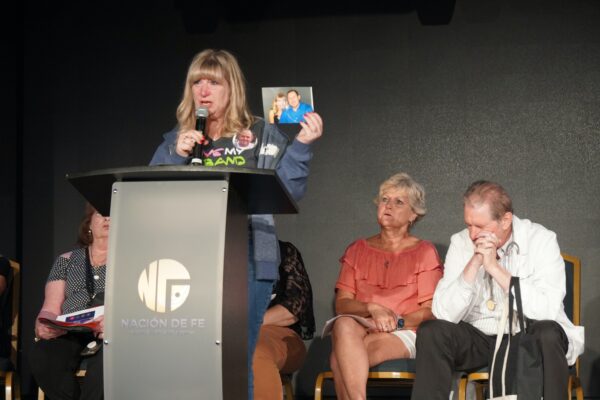 Still, desperate for someone to listen, they told their stories anyway to a lone reporter.
Hoping to spur Florida lawmakers to undo a measure giving hospitals immunity in the treatment of COVID-19, they shared their pain, one by one.
They told of pleading with doctors to try alternative COVID-19 treatments they believed would help their ailing loved ones. They told of directives ignored, even though patients and caregivers vehemently refused mechanical ventilation, Remdesivir, and other treatments they considered harmful.
They told of life-altering ailments they say came from COVID-19 vaccines. And they told of on-the-job mistreatment—and termination, for some—after refusing the jabs.
They still believe DeSantis can help, if they can catch his attention.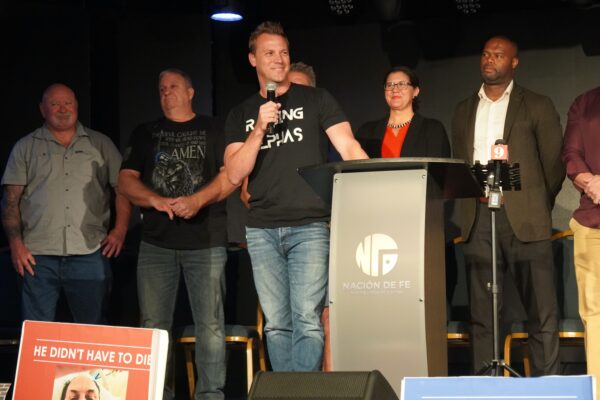 Before signing a law in February to extend immunity from liability for hospitals, DeSantis spoke passionately about the need to protect doctors. He said they should be able to prescribe alternatives not recommended by the CDC for the treatment of COVID-19.
So loved ones left behind said they don't understand why he signed the law that provides immunity only for health care providers strictly adhering to CDC-recommended protocols. They say the measure keeps doctors from doing what's best for some patients with COVID-19.
They haven't given up hope that DeSantis or lawmakers will find a way to reverse course.
For now, that's up to elected officials in the Florida Legislature, the governor's press secretary, Bryan Griffin, told The Epoch Times.
"At this point, I'd be asking the legislature what they intend to accomplish on this matter," Griffin said in an email. "Our standard practice is to decide on the merits of each piece of legislation when it comes to his desk for signature."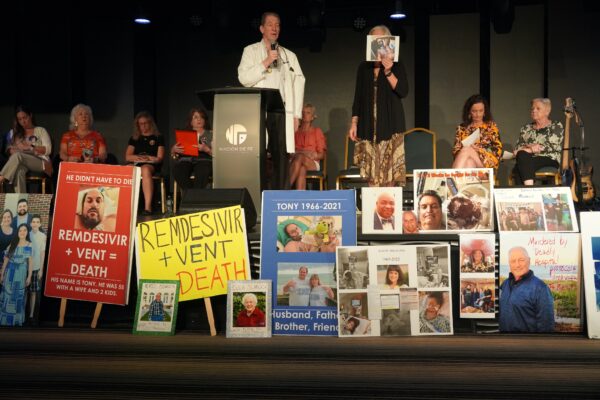 And it's still too early to say what Florida lawmakers will do in the next legislative session, said Rep. Chuck Clemons, a Republican. Clemons was elected within the state House of Representatives to the role of speaker pro tempore, tapped to serve as in the leading role, if the Speaker of the House is not available.
"The [new legislature's] first committee week will be in January, so it is too premature as to what legislation may be introduced regarding the subject," Clemons told The Epoch Times in an email. "As it gets closer to March [7], and the beginning of the 2023 session, things with become more clear."
Until then, Schrock and others plan to keep telling their stories wherever anyone will listen.
Vaccine Troubles
Removing hospitals' immunity from legal consequences related to their treatment of COVID-19 isn't the only change needed in Florida, says Nick Caturano, a long-time worker at Walt Disney World.
Several times, he's brought together speakers to share their stories of suffering related to COVID-19. Among them are colleagues at Disney, who say they've faced burdensome consequences for refusing to take COVID-19 vaccines.
In Florida, companies are required to accept requests for exemption from taking the jab. So Caturano, his colleagues, and coworkers who've lost their jobs have filed a lawsuit against Disney.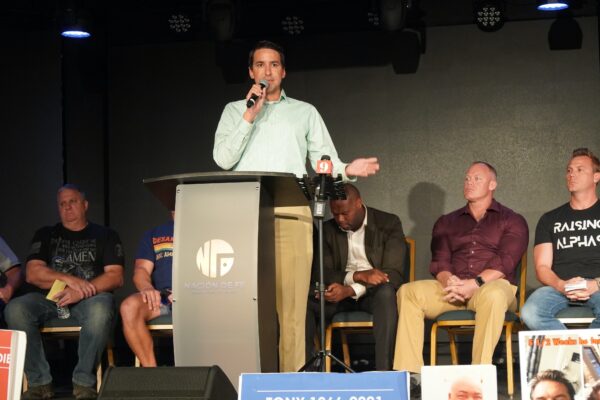 More than 700 complaints against employers in the state have been filed since vaccine mandates were banned on Nov. 18, 2021. About 140 of those are currently under active review.
Investigators found "probable cause" in nine cases, according to Kylie Mason, press secretary for Florida Attorney General Ashley Moody. Under Florida law, that triggers a formal administrative complaint and a hearing before an administrative law judge.
The remaining 550 cases were closed because the facts presented were "insufficient to show a violation of the law," Mason said.
The Epoch Times requested information about how long it takes for complainants to know the disposition of their cases, and whether any penalties had been imposed against employers.
"As our reviews are ongoing, we cannot comment further at this time," Mason said.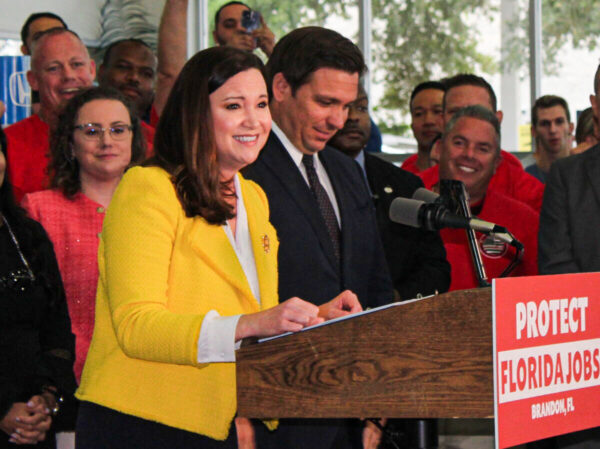 Employees facing discrimination or firing for not taking COVID-19 vaccines need help now, Caturano told The Epoch Times.
And legal measures that keep hospitals locked into strictly following CDC protocols in treating COVID-19 need to be reversed, he said. That way, doctors will be free to do what they think is best for patients.
"We will continue to appeal to Gov. DeSantis to repeal hospital immunity and to get straightforward laws that protect our rights to choose our medical treatments, [to have] informed consent, and to abolish any and all avenues, loopholes, and powers of discrimination based on health status and medical choices," Caturano said.
"The experts have been proven to be outright, compromised liars that have politics in mind, not real science, data, and the welfare of constituents" since the pandemic began, he said.
"They must never have the power to override our consciences, personal choices, and the abilities to protect ourselves and loved ones to the best of our ability. The power and freedom to choose medically what is best for us and our families must be given back to 'we the people.'"
He's determined to see Florida's laws changed to prevent leaders and "so-called experts" from having "special powers" again, he said.
"They had it, grossly abused it, and the system can never be trusted, and so be empowered, again.
"There needs to be real transparency and checks and balances put into place, and it starts with all medical choices being up to the individual, not the state or medical-system machine. Not our employers or service providers. The choices are ours and ours alone, so help us, God."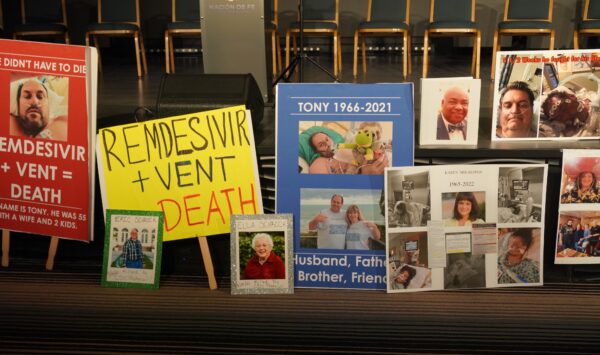 It's too important to stay silent, Schrock said, as she spoke at Nacion de Fe church, surrounded by others still in mourning. Too much was lost when her husband was taken from her. There was too much left uncelebrated.
While he fought COVID-19, his 57th birthday passed, and his first granddaughter was born in the same hospital, a few floors below his room. He never met her.
So now, Cynthia Schrock is the one keeping track of passing moments in time, vowing, along with the others, to use them to keep fighting for changes in Florida's laws.
Because "today," she said, "marks 34,070,400 seconds I have been without the love of my life."