Friends of Newport Beach Animal Shelter Moves Closer to a Forever Home
NEWPORT BEACH, Calif.—Life just got a little easier for lost and stray animals in Newport Beach, as well as those hoping to adopt a forever furry friend.
The Newport Beach Planning Commission approved a conditional use permit in early March submitted by the Friends of the Newport Beach Animal Shelter (FONBAS), moving forward the organization's plans to provide the city with its first permanent animal shelter.
The city previously contracted with other shelters to provide animal care and adoption. But in 2016, that all changed when city council approved opening a dedicated facility.
Since then, the shelter has been run out of a rented property in the Santa Ana Heights area off Riverside Drive, staffed and managed by the Newport Beach Police Department's animal control division and committed volunteers.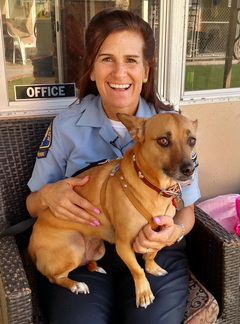 A Community Effort
Led by a dedicated group of community leaders and influencers, including several former mayors and munificent philanthropists, the shelter was in 2017 formed as a non-profit organization to raise funds and awareness.
Since then, efforts have helped supplement the funding of special medical procedures and equipment for the city's animal control services.
But FONBAS' primary goal has been to focus on raising the necessary funds to purchase property and build a state-of-the-art facility befitting the area. Once built, FONBAS intends to donate the shelter to the city, while continuing to raise awareness and funds to offset annual operational costs.
"This is a great example of how a public/private partnership can benefit a community when everyone involved pulls in the same direction," Jon Langford, FONBAS president, told The Epoch Times. "Thanks to an energetic membership drive, our 'Raise the Roof' capital campaign, and particularly several major donors who stepped up, we've successfully reached our $2.5 million goal to purchase the property and hire the architect.  With the recent planning commission approval, we now move to permitting and hope to break ground by late spring or early summer."
The recent approval gives FONBAS the green light to demolish the existing residential kennel and construct a public animal shelter to house cats and dogs in separate buildings.
The approved plans call for a single-story, 1,565-square-foot shelter, and a 755-square-foot kennel housing up to 29 dogs.  The property will also include four surface parking spaces in front, and new gates and fencing that will provide a front-yard greeting area and secure rear-yard exercise area.
If all goes as planned, Langford said the shelter should be open to the public by summer 2022. Services will not only include pet adoption, but also temporary housing for lost dogs and cats until they are reunited with their owners, dog licensing, coyote and wildlife management, quarantine in case of bites, and other animal services.