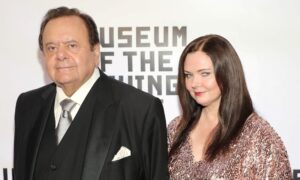 Author and television personality Dee Dee Sorvino is questioning why Sunday's Academy Awards show excluded her late husband, "Goodfellas" actor Paul Sorvino, from their "In-Memoriam" segment. The widow shared concerns that her late husband's conservative political views may have put him at odds with the socially liberal Hollywood gathering and contributed to the snub.
Actor John Travolta presented the "In-Memoriam" segment by paying tribute to his "Grease" co-star Olivia Newton-John, who passed away in August. Actor and song-writer Lenny Kravitz played the song "Calling All Angels" as the awards show paid its tribute to dozens of actors. As the memorial segment came to an end, viewers began to notice several notable actors and actresses were left out of the segment, including Sorvino.
Dee Dee Sorvino has criticized the Oscars snub in the days since the award show aired. She recently told Fox News that her husband's exclusion left her crying and sick to her stomach.
"It's so cold and callous," she said.
Dee Dee Sorvino said her friends and critics of the Academy Awards began to reach out on social media, raising claims that the awards show's organizers had taken issue with Paul Sorvino's past support for gun rights and for former President Donald Trump.
"I don't know if that's the case," Dee Dee said of the allegations that political bias contributed to the memorial snub. "It's just conjecture."
For now, she said she hopes it was a simple oversight by the Academy of Motion Picture Arts and Sciences (AMPAS)—which hosts the awards show—and not a deliberate decision motivated by politics.
"I just want to give them the benefit of a doubt that it was just a mistake," she told Fox News.
A spokesperson for AMPAS told NTD News that the organization receives hundreds of requests to include industry colleagues in the Oscars In Memoriam segment and an executive committee has to narrow down selections for the show to fit a limited time slot. Sorvino has called this defense of her husband's exclusion from the memorial segment "pathetic and ridiculous."
One social media user commented that it would have been easy to feature Paul Sorvino alongside late actor Ray Liotta, who was included in the memorial segment. The two shared screen time together in "Goodfellas" along with Tony Sirico, who was also excluded in the memorial segment despite passing away in July.
AMPAS's website, A.Frame, does feature a more complete list of film industry members who passed away, including Sorvino.
Sorvino's Political Views
In a 2017 Fox Business interview, Paul and Dee Dee Sorvino—who has also worked as a Republican political strategist—described the political alienation they felt in Hollywood for supporting Trump.
"I think the studio people, the business people—I think they are a little cooler about it. But it's these actors, these crazy actors… they are insane… Unless you say you hate Trump, you are not part of their club," Dee Dee Sorvino said at the time.
In that same 2017 interview, Paul Sorvino questioned comments his "Goodfellas" co-star Robert DeNiro made about punching Trump in the face.
Paul Sorvino had pulled out a firearm and warned-off his daughter Amanda's ex-boyfriend during a 2007 confrontation after her ex allegedly approached her at a motel and began pounding on her door.
In June, Dee Dee Sorvino shared a photo of her husband assembling a double-barreled shotgun with the caption, "You liberals who are talking about gun grabs. Try and come get our guns."
Dee Dee Sorvino has said politics shouldn't be a factor in AMPAS's decisions on whether or not to recognize film industry members.
"It should be a meritocracy," she told Fox News. "It should not be about that. And that is why it's so upsetting, because nobody can say Paul is a bad actor. Nobody can say he was mediocre. Everybody said Paul was one of the best actors ever and that's what he should be judged on."
From NTD News