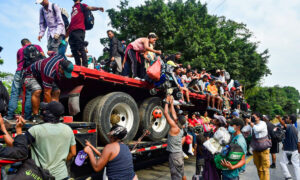 Two House Republicans have asked the Department of Justice to look into accusations that the American Red Cross is distributing packs with maps and other resources to migrants attempting to enter the United States through the southern border.
"Like many Americans, we were shocked but not surprised by recent news reports that the American Red Cross is producing what appear to be 'how to' manuals for migrants seeking to illegally enter the United States," Reps. Tom Tiffany (R-Wis.) and Lance Gooden (R-Texas) said in a letter to Attorney General Merrick Garland (pdf).
"These instructional packets reportedly include a 'list of resources' that incorporate maps showing migrants where they can most easily cross, as well as other 'tips,' such as how to 'safely jump on trains.' If true, this appears to be a clear violation of the law," they say.
The congressmen wrote in response to a March 9 exposé about the packs, published by The Daily Caller, which listed services such as maps, doctors, and shelters throughout Mexico and Central America. Maps with precise lines leading to U.S. border cities were given, as well as a "self-care" handbook with suggestions on how to securely hop on cargo trains and obtain contraception.
"Traveling seated (on trains) is the most recommended. Be careful on your trip, there are branches, electric cables, tunnels that can hit you. Accommodate yourself where you have supporting points," the documents say, according to the outlet.
The Daily Caller reported that the materials included guidelines for U.S.-bound migrants that include a map to the border, supplies along the road, and a paper on what to do when confronting threats along the way.
'Selectively Enforcing' the Law
The American Red Cross serves on the board of the Federal Emergency Management Agency's (FEMA) food and shelter program, which provides millions of dollars in U.S. government funds to nonprofit organizations that assist illegal immigrants who have been released into the country.
In the March 13 letter, the lawmakers say they are "deeply concerned about the Biden administration's dangerous practice of selectively enforcing immigration laws."
"This not only perpetuates a corrosive, two-tiered system of justice that has encouraged a tidal wave of migrants to violate our laws with impunity, it has also contributed to an unprecedented crisis at our southern border, leading to record numbers of both illegal crossings and suspected terrorist encounters," they went on.
In December, Republican lawmakers also sent letters (pdf) to Catholic Charities, Lutheran Immigration and Refugee Service, and Jewish Family Services expressing their concern about "the growing role non-governmental organizations (NGOs) play in fueling the drastic increase in illegal aliens crossing the southern border."