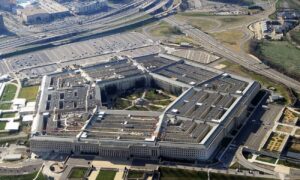 Congress needs to take conversations about UFOs seriously and provide Americans with greater transparency regarding what the Pentagon is hiding in the name of national security, said Rep. Tim Burchett (R-Tenn.).
"It turns out we've been spending money researching it for years," Burchett said in an interview for EpochTV's "Crossroads" program ahead of an anticipated House Oversight Committee hearing on UFOs, formally referred to as unidentified anomalous phenomena or UAPs.
The hearing is prompted by a government whistleblower's extraordinary claims that the U.S. government had obtained not only "intact and partially intact vehicles of non-human origin," but also their occupants' bodies. The whistleblower, David Charles Grusch, told science website The Debrief that there is a decades-long, ongoing competition with other countries to "identify crashes/landings and retrieve the material for exploitation/reverse engineering."
Grusch, a 36-year-old combat air veteran of Afghanistan, was also part of the UAP Task Force, a program run by the Office of Naval Intelligence to investigate UFO sightings. From 2019 to 2021, he served on the task force as the representative of the National Reconnaissance Office, one of the "Big Five" U.S. Intelligence agencies, which is in charge of designing and operating spy satellites.
In a later interview with NewsNation, Grusch even claimed that the government has found dead alien bodies from crashed spacecraft.
"Naturally, when you recover something that's either landed or crashed, sometimes you encounter dead pilots," he said. "And believe it or not, as fantastical as that sounds, it's true."
If the whistleblower claims are true, it would be hard not to expect the nation's military establishment to seek profit out of the extraterrestrial debris in the Pentagon's possession, according to Burchett.
"And now of course, the military-industrial complex smells dollar bills," he said, noting that the Defense Department isn't exactly known for keeping its books straight.
Poor Financial History
Since the 1990 congressional mandate, the Defense Department has undertaken and failed five audits aimed to track how it spent taxpayers' money. The latest audit process concluded last year, yielding yet another failed result.
"I've been in Congress for five years. I don't think they passed an audit yet," Burchett said.
"And then you have congresspeople making 75 percent return on their investments. And a lot of it has to do with war-type stocks," he continued. "So there's a lot going on, a lot of moving parts in this thing."
Asked why the UAP issue deserve more attention, Burchett replied that the fact that they're penetrating the U.S. airspace is a reason compelling enough to take them seriously.
"Bottom line: We have something in our military airspace that we do not control," he said.
When it comes to the possible origin of the UAPs, the congressman said he believes they come from other planets, as opposed to hostile countries on Earth, which would have already used such technology against Americans.
"Let's be honest: If this is some foreign entity, they would own us," Burchett told Phillip. "We wouldn't be spending billions of dollars on Ukraine."
"If it was China, they would control us," he added. "If it was Russia, with Putin's ego, he would have landed a UFO on the front steps of the White House, got out bare chested, rode a unicorn across the lawn and wrestled Joe Biden, and got back in the UFO and headed back to Mother Russia."
Burchett then brought up the spiritual aspect of the universe and creation, saying the light from the stars was illuminated before the time of Christ.
"That's how vast God's great universe is," the congressman said. "In God's vast universe, do you honestly think we're the best that he can do?"
He said Americans can handle the truth and they deserve to learn the truth from the government.
Government Denies Claims
So far, the Pentagon has issued an unequivocal denial to Grusch's claims.
The All-Domain Anomaly Resolution Office (AARO), which is tasked with examining reports of UAP encounters filed by all service members, said it "has not discovered any verifiable information to substantiate" the claims about crashed vehicles of extraterrestrial origin.
"To date, AARO has not discovered any verifiable information to substantiate claims that any programs regarding the possession or reverse-engineering of extraterrestrial materials have existed in the past or exist currently. AARO is committed to following the data and its investigation wherever it leads," Sue Gough, a spokesperson for the Defense Department, said in a statement.
"AARO, working with the office of the general counsel and the air force office of special investigations, has established a safe and secure process for individuals to come forward with information to aid AARO in its congressionally-mandated historical review," she added, noting that the office's historical review of records and testimonies is due to Congress this month.
"AARO welcomes the opportunity to speak with any former or current government employee or contractor who believes they have information relevant to the historical review."