Governor Sununu Asks Biden Administration For Help and Cooperation in Securing Northern Border
[ad_1]

New Hampshire Governor Chris Sununu appealed in a March 13 letter to the Biden administration for financial assistance and the authority to use state resources and personnel to help and work with U.S. Border Patrol (BP) to stop illegal immigration into the country from Canada.
Some of the money that Sununu seeks would be used to train state law enforcement officers so that they could effectively partner with BP staff to bolster border security.
The 51-mile New Hampshire-Canada border is part of the federally-designated Swanton Sector, a 24,000-square-mile region that takes in all of Vermont, five New York counties, and three New Hampshire counties.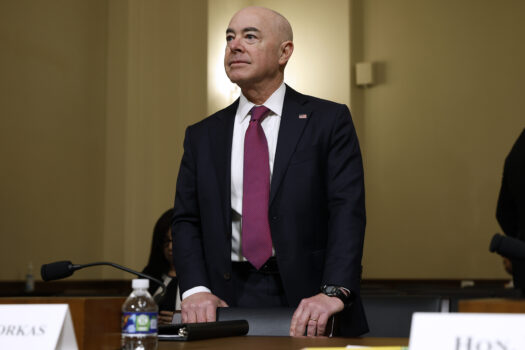 BP monitors and provides law enforcement support across the sector.
"While the recent announcement that 25 additional border control agents will be stationed in the Swanton Sector is a good first step, more can and should be done in collaboration with state and local authorities, to address the alarming rise in border crossings," wrote Sununu in the March 13 letter addressed to Department of Homeland Security (DHS) Secretary Alejandro Mayorkas.
Presidential Rebuff
Sununu stated in the letter that over the past few months, New Hampshire has tried to help with security on the northern border, but the Biden administration rebuffed the effort. He also noted that the administration cut funding that the state could use for border control efforts.
The governor wrote that if the administration "truly believes that securing the border is a priority, I hope you will partner with … New Hampshire to make it a reality."
Sununu also informed Mayorkas that New Hampshire is prepared to take on and pay for additional border security duties itself if the federal government will not.
"In my budget proposal this year, I have put forward $1.4 million toward the creation of a Northern Border Alliance Program," wrote Sununu. "If enacted, this program will establish a task force of state, county, and local law enforcement to patrol the roads, highways, and state forest land along the border … "
Securing the border is a public safety initiative, the governor noted, with much of the area forested and difficult to access and navigate, which puts illegal immigrants at peril, as well as agents when called in for rescue missions.
He mentioned an illegal immigrant from Mexico who died in February in the Swanton Sector.
The man collapsed late in the evening of Feb. 19 in Vermont, about a mile over the border. Border Patrol agents took him to a hospital, where he was pronounced dead.
"As your department acknowledged, due to the cold weather, rough terrain, and ill-equipped individuals, your agents have been required to administer emergency medical aid to those individuals who have crossed the border illegally," wrote Sununu.
Growing Problems in the North
A U.S Border Patrol report documents a dramatic rise in interventions with illegal immigrants in the Swanton Sector.
BP data showed that from Oct. 1, 2022, to Jan. 31, 2023, the agency experienced "an approximate 846 percent increase in encounters and apprehensions compared to the same period in FY22."
"Despite sub-freezing temperatures, Swanton Sector continues encountering family groups with young children, including infants, illegally crossing from Canada into the United States," says the BP report.
"In December 2022, Border Patrol Agents led search-and-rescue efforts, providing life-saving aid in separate incidents occurring in Newport, Vermont, and Burke, New York state.
"These incidents demonstrate BP Agents' priority to preserve life, even at the risk of jeopardizing their own safety."
[ad_2]

Source link