Governors and senators including California Gov. Gavin Newsom are pushing pharmacy retailers to continue providing customers with access to the abortion drug, mifepristone.
In a March 14 letter to CVS, Rite-Aid, Walmart, Safeway, Kroger, Costco, and Health Mart, 14 Democrat governors questioned how the pharmacy giants plan to distribute the abortion medication and "safeguard access to reproductive health care."
"As companies that dispense critical, life-saving medications, we urge that your decisions continue to be guided by well-established science and medical evidence and a commitment to the health and well-being of patients – not politics or litigation threats," wrote the governors.
"As you know, the FDA [Food and Drug Administration] determined more than 20 years ago that Mifepristone is safe and effective, and as health care providers, we hope you will see this attempted interference in the private market for what it is: a threat to the rights of Americans to access basic health care," they added.
The letter was signed by the governors of California, Illinois, Maine, Maryland, Massachusetts, Michigan, Minnesota, North Carolina, New Jersey, New Mexico, New York, Oregon, Washington, and Wisconsin.
The governors are members of the Reproductive Freedom Alliance, a non-partisan coalition of governors aimed at ensuring access to abortion and reproductive health care access.
Elsewhere on Monday, 18 Democratic senators, led by Sens. Patty Murray (D-Wash.) and Debbie Stabenow (D-Mich.), sent a letter to seven of the nation's largest retail pharmacies calling on them to provide the "strongest possible legal access to mifepristone for patients" and clearly detail their plans and policies regarding dispensing the drug.
Walgreens Causing 'Widespread Confusion'
Mifepristone works by blocking the hormone progesterone, which is needed for a pregnancy to continue. It is used in combination with another medicine called misoprostol to end a pregnancy up to 10 weeks after conception.
The letter to Walgreens, Albertsons, Costco, Kroger, Walmart, CVS Health, and Rite Aid noted that Walgreens and a string of other pharmacy chains had said in January that they planned to seek certification with the FDA to distribute mifepristone in physical stores and via mail after the agency lifted certain requirements, allowing retail pharmacies to dispense the drug to people with a prescription, provided they were certified under special safety rules.
Prior to the regulatory change, only doctors and mail-order pharmacies or clinics were allowed to provide the pill.
Democrats noted that Albertsons, Costco, Kroger, and Walmart have not yet announced any plans to seek certification.
In a press release accompanying the letter, the senators accused Walgreens of causing "widespread confusion about its plans by appearing to cave to the threats" of Republican attorneys general who previously sent a letter (pdf) to the company informing it that it risked breaking the law if it were to distribute mifepristone by mail.
Dozens of states have banned abortions following the Supreme Court's ruling on Roe v. Wade in June last year.
Walgreens subsequently responded to the attorneys general noting that while it has publicly said it intends to become a certified pharmacy under the FDA's program, it has "made clear that it would do so consistent with all applicable laws and as a result would not be able to dispense Mifepristone in all locations."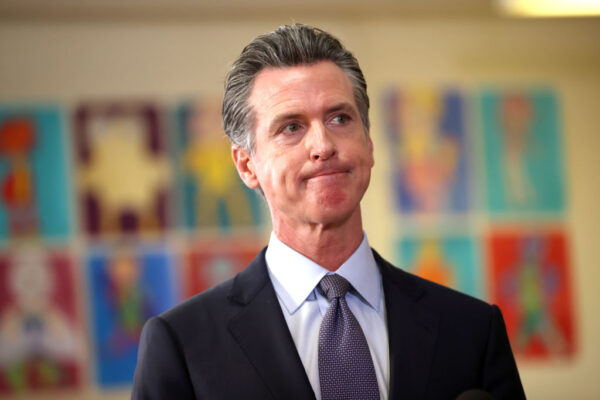 California Cuts Business With Walgreens
"At a time of great confusion about abortion access, your company has done the disservice of adding to it," the senators wrote in their letter on Monday.
"While we are well aware of threatening letters you received with regard to the distribution of mifepristone in certain states, the response to those pressures was unacceptable and appeared to yield to these threats—ignoring the critical need to ensure patients can get this essential health care wherever possible," they added.
The latest letters come after Newsom vowed that California would no longer do business with Walgreens after it announced plans not to distribute abortion pills in some states across the United States.
Medical abortions account for more than 50 percent of pregnancy terminations in the United States, according to the Guttmacher Institute, a pro-abortion research group.
Newsom has since announced that the state's Department of General Services has given Walgreens formal notice of its withdrawal from a planned contract renewal set to take effect on May 1, 2023.
Under that contract, Walgreens has received about $54 million from the state, according to the governor.