Growing Support For Pennsylvania Senate Candidate Kathy Barnette Sparking Twitter Attacks
A Twitter firestorm directed at Kathy Barnette on May 11 suggests that the campaigns of Dr. Mehmet Oz and David McCormick, and their supporters, are in a panic over the black U.S. Army veteran's recent surge in the polls.
Oz, a celebrity doctor endorsed by Donald Trump, and McCormick, a hedge fund executive and former U.S. Treasury Dept. official backed by Sen. Ted Cruz, have engaged in an expensive and bitter slugfest in Pennsylvania's GOP U.S. Senate primary.
Barnette, who is also an author and a conservative political commentator, has ascended in the polls and has almost caught Oz with less than a week to go before the May 17 primary.
On May 8, The Trafalgar Group released a poll that showed Barnette at 23.2 percent among 1.080 likely GOP primary voters, just behind Oz (24.5 percent) and ahead of McCormick (21.6 percent).
The poll's margin of error is 2.99 percent, which indicates that the race is too close to call.
According to the survey, 15.1 percent remain undecided.
Until Barnette's climb, Oz and McCormick—and their respective supporters—directed their attacks on each other. Barnette is now a target.
On May 11, former U.S. National Intelligence acting director and Oz supporter Richard Grenell shared a July 14, 2020, tweet from Barnette where she used BLM and Defund the Police hashtags.
Good God. Yikes. https://t.co/N8G4cyui7X

— Richard Grenell (@RichardGrenell) May 11, 2022
Grenell wrote "Good God. Yikes." and gave the impression that Barnette was speaking out against law enforcement in a video that he attached. In the video; however, Barnette delivers an impassioned plea for black people to not support the "defund the police" movement.
"Defunding the police is stupid, people," she said.
"Black people, do not fall for these white liberals who are coming into our communities and telling us we need to remove law enforcement," she added.
Also on May 11, conservative podcaster Greg Kelly posted part of an edited video Barnette streamed on Facebook in May 2020 after the George Floyd murder in Minnesota.
The edited excerpt gives the impression that Barnette supported the riots and paints a portrait of a black woman vilifying law enforcement.
Kelly accompanied the video with comments that include "Here she is saying how great [the] Black Lives Matter summer was" and "Kathy needs to do more thinking and less speaking."
KATHY BARNETTE is NOT ready. Here she is saying how GREAT Black Live Matter Summer was. And how she feels COPS just want to SHOOT AND KILL black people. Kathy needs to do more THINKING and less Speaking. TOTALLY SILLY AND UNINFORMED ! pic.twitter.com/WqYG4VCuR6

— Greg Kelly (@gregkellyusa) May 11, 2022
Part of the edited video features Barnette saying,
"… In broad daylight. It's just absolutely reprehensible. And in that moment, I felt an entire nation come to the aid of what so many of us in the black community feel happens often enough. Some of us feel as though on every street corner there's a police officer. They're ready and waiting to shoot a black man."
Jeff Charles, a contributor to Red State and podcast host of "A Fresh Perspective," reported about Kelly's tweet and posted the entirety of Barnette's comments about Floyd, which include:
"What happened to George Floyd. My heart goes out to his family. I cannot imagine. In fact, I couldn't fully listen to the entire video that went viral that I'm sure so many of you watched. It's sad. It's sickening to see the indifference, deliberate indifference that was displayed there on that particular day. And in broad daylight. It's just absolutely reprehensible.
"And in that moment, I felt an entire nation come to the aid of what so many of us in the black community feel happens often enough. Some of us feel as though on every street corner there's a police officer. They're ready and waiting to shoot a black man. I do not believe that that is the case. And we'll talk about that."
Here are @Kathy4Truth's full comments in context so you can see the part @GregKellyUsa's and @RichardGrenell's tweets left out of the video clip.

She clearly says she does NOT believe police officers are waiting on every corner to murder black men.

They are lying to you. https://t.co/cx7uyNVkJM pic.twitter.com/ptyNDlaqR2

— Jeff Charles (@JeffOnTheRight) May 11, 2022
Grenell also tweeted a video that featured splices of Barnette's comments that make it appear she is a social justice warrior who believes there is systemic racism, specifically among police officers,.
J.D. Rucker of The Liberty Daily wrote that, "Ric Grenell doubled-down after being called out by hundreds. Instead of deleting the original tweet, he posted a heavily-edited video again trying to disparage Kathy Barnette.
"This time, it takes her out of context multiple times to make it seem in very short clips that she's a BLM racist. It's quite sloppy; there's a part where she says 'systemic racism' and then the video skips to 'specifically amongst police officers.'"
Barnette has run her campaign on a shoestring budget, raising $1.7 million compared to McCormick's $15.9 million and Oz's $15 million cash on hand.
McCormick has spent $11 million of his own money to fund his campaign while Oz has provided $12 million of his own funds.
Barnette climbed in the polls after a May 4 debate where she called out Oz and McCormick for their ties to the World Economic Forum, adding that they are "pushing globalism."
Barnette opened by talking about Oz's pro-choice past and she discussed how she was conceived from a rape when her mother was 11 and her father was 21.
"I've seen Oz saying that my life was nothing more than an acorn with electrical currents," Barnette said.
"I am the product of rape and I am here to tell people like Dr. Oz that I am not a clump of cells, my life matters," she added.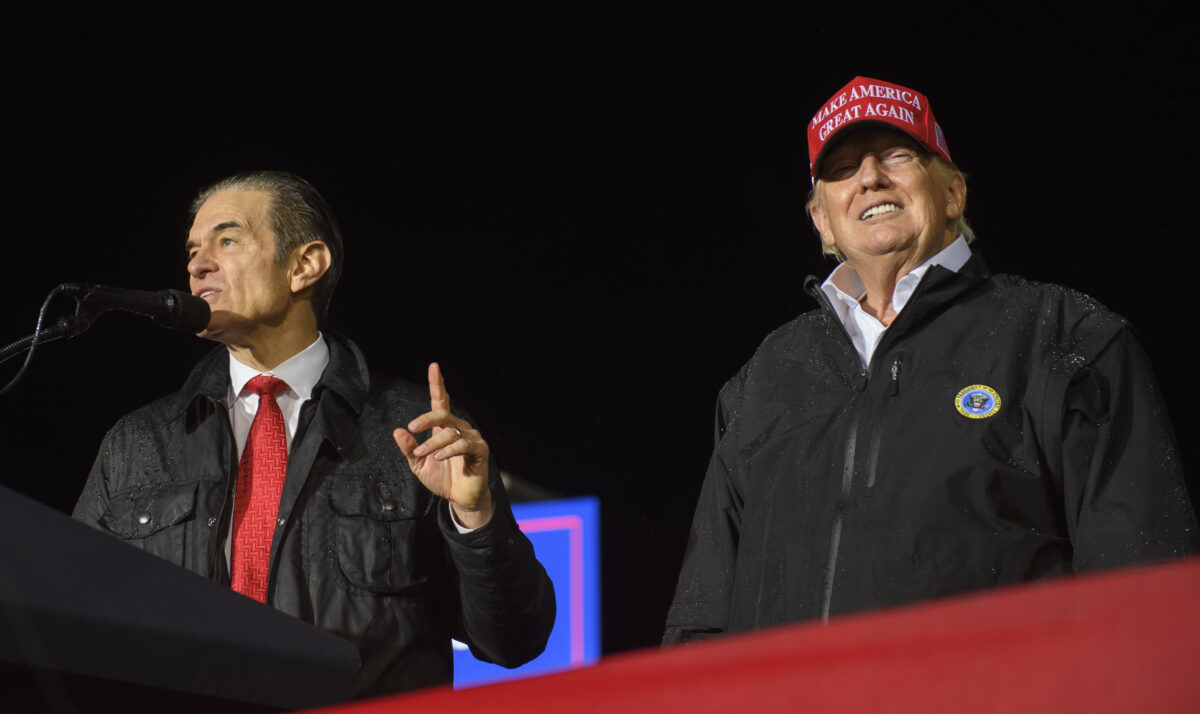 Oz and McCormick are "pushing globalism" and have ties to the World Economic Forum, which intends to implement a Chinese-style social credit system in the United States, Barnette also said at the forum.
When the debate was held on May 4, Barnette was in third place behind Oz and McCormick. The Trafalgar Group survey released on May 8 told a different story.
The U.S. Supreme Court draft claiming the landmark 1973 Roe v. Wade ruling could be overturned that was leaked last week may have played a role in Barnette's rise.
A video she released titled "It wasn't a choice. It was a life" has gained attention. It tells her story of being a child conceived from rape.
All of the Republicans currently running to replace retiring Republican Sen. Pat Toomey have promised to ban abortion, most making exceptions where the life of the mother is concerned and a few including cases of rape or incest.
Barnette has said she will support exceptions only if the mother's life is at risk.
Steve Bannon, who served as an adviser to Trump, called Barnette's platform "Ultra-MAGA."
He has praised Barnette for not stopping discussion about decertifying the 2020 presidential election and for refusing to concede her defeat in a 2020 U.S. House race.
"The reason she has struck a chord is she never conceded her House race loss," Bannon told Axios. "Pennsylvania is MAGA vs. Ultra MAGA."
With the U.S. Senate in a 50-50 split, and Pennsylvania's track record as an important swing state, the race to fill Toomey's seat is deemed crucial by both parties.
The GOP nominee will likely face Pennsylvania Lt. Gov. John Fetterman (D) in the general election on Nov. 8.