Hand Vote Count on Hold After Nevada High Court Says Illegal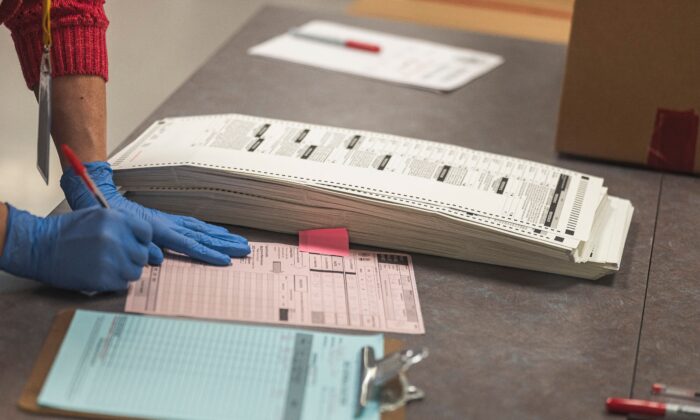 A poll worker handles ballots for the midterm election, in the presence of observers from both Democrat and Republican parties, at the Maricopa County Tabulation and Elections Center (MCTEC) in Phoenix, Ariz., on Oct. 25, 2022. (Olivier Touron/AFP via Getty Images)
The latest on the midterm elections.
___
Hand Vote Count on Hold After Nevada High Court Says Illegal
An unprecedented hand-count of mail-in ballots in a rural Nevada county is on hold and may not resume after the Nevada Supreme Court said in an after-hours ruling the current process is illegal and the Republican secretary of state directed the county clerk to "cease immediately."
Volunteers in rural Nye County had wrapped up a second day of hand-counting the ballots on Thursday by the time the Supreme Court issued a three-page opinion siding with objections raised by the American Civil Liberties Union of Nevada.
Secretary of State Barbara Cegavske, who is in charge of elections and has been a vocal critic of the hand tallying of ballots, she said the "hand-counting process must cease immediately."
She requested in a letter to Nye County Clerk Mark Kampf that he confirm to her office Thursday night that the hand count process "had been stopped."
Cegavske's office didn't immediately respond to requests from The Associated Press for an update. But the ACLU said in a statement that Nye County's attorneys had informed the organization's legal staff that "its hand-count process has been shut down."
Nye County officials and their lawyers did not immediately respond to requests for comment.
Cegavske, citing the court's latest ruling, said in the letter the current hand-count procedure was prohibited at least until after the close of polls on Nov. 8.
She said "no alternative hand-counting process may proceed" until she and the county can determine if there are any feasible alternatives that would comply with the Supreme Court order.
The Associated Press and Reuters contributed to this report.