Provocateurs infiltrated the crowd that marched to the U.S. Capitol on Jan. 6, 2021, a U.S. Capitol Police (USCP) official testified during a criminal trial in U.S. District Court in Washington D.C. on Jan. 11.
"Isn't it true that you had a lot of people, a large quantity of people walking down two streets that dead-ended at the Capitol?" Bradford Geyer, one of the lawyers representing defendant Richard Barnett, asked Capt. Carneysha Mendoza, the official.
"Yes, sir," she said.
"Okay. And would it be fair to say that at least at some of the leading edges of that crowd, they contained bad people or provocateurs; is that fair?" Geyer asked.
"It's fair," Mendoza said.
She agreed with Geyer that the people were dangerous, violent, and highly trained.
"Highly trained, violent people who work and coordinate together?" Geyer asked.
"Yes," Mendoza said.
"Highly trained violent people who work and coordinate to remove barriers, overwhelm police, and attack police?" Geyer asked.
"Are you talking about did they do that during the event?" Mendoza wondered.
"Yes," Geyer said.
"They did," Mendoza said.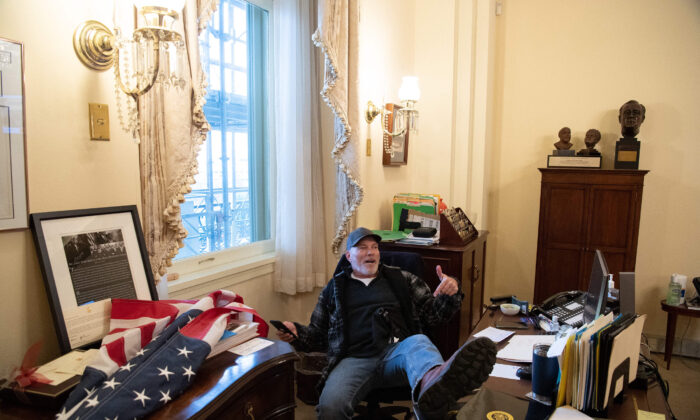 The 20-year veteran of the USCP, who oversees approximately 300 full-time officers, said that intelligence came in before Jan. 6 that indicated certain groups were planning to attend the demonstrations to agitate the crowds.
"Affirmative; that's correct," Mendoza said.
"That's typical for any protest that we do. I've been doing protests for 20 years, and that's typical of any protest. There's usually a group and a counter-group or a group and several counter-groups. So that's typical, yes," she added.
Barnett, of Gravette, Arkansas, was photographed with his foot on a desk in the office of then-House Speaker Nancy Pelosi (D-Calif.).
He is on trial on three charges stemming from the U.S. Capitol breach, including knowingly entering or remaining in any restricted building or grounds while armed with a dangerous weapon, violent entry and disorderly conduct on Capitol grounds, and theft of public money, property, or records. Barnett pleaded not guilty and in 2022 rejected a plea offer from prosecutors.
The USCP intelligence division has been roundly criticized since Jan. 6 for failure to disseminate its late-breaking threat analyses beyond the top echelon of commanders.
A December 2022 report created by Republican members of the U.S. House (pdf) said the Capitol Police Intelligence and Interagency Coordination Division (IICD) should have anticipated better.
"Prior to that day, the U.S. Capitol Police (USCP) had obtained sufficient information from an array of channels to anticipate and prepare for the violence that occurred," read the report, developed by Republican Reps. Jim Banks of Indiana, Rodney Davis of Illinois, Jim Jordan of Ohio, Kelly Armstrong of North Dakota, and Troy Nehls of Texas.
"However, officers on the front lines and analysts in USCP's intelligence division were undermined by the misplaced priorities of their leadership," the report said. Intelligence was under the purview of then-Assistant Chief Yogananda Pittman and administered by Julie Farnam.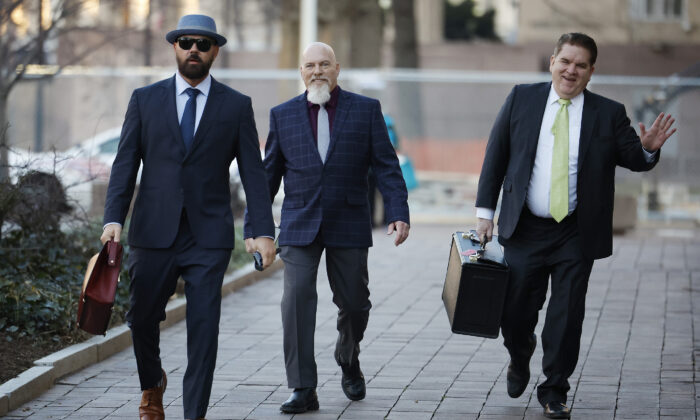 Perimeter Impacted
Key portions of the Capitol complex were cordoned off with bike racks linked together and snow fencing, with people being warned that the area behind the barriers was restricted. A map shown during the trial showed a red line around the area, indicating the perimeter.
Mendoza said she walked around the perimeter the night before the Capitol was breached.
Defense lawyers played footage and showed images while Mendoza was on the stand that featured multiple people tearing down the fencing and signs. Mendoza agreed that video footage showed people breaking up the perimeter USCP had established.
"Some of the integrity of the perimeter was changed," during the day of the breach, Mendoza said on the stand.
Mendoza was scheduled to return to work after a late night in the 3 p.m. hour but received a call at about 1:30 p.m. from a colleague, who asked where Mendoza's team was situated. Mendoza commands the force's civil disturbance unit. The peer told Mendoza that she might want to come in early, prompting the official to jump in her car and head to work.
Mendoza did not know the Capitol was breached until she reached the building. She was let inside a little-known door and pushed her way to a line of officers, but they were soon "overrun." The officers dispersed to other points and tried to prevent the rioters from getting past them. They also worked to expel rioters from the building using what was described as "less lethal" force, or techniques that wouldn't kill.
Officers, assisted by federal and local law enforcement, eventually succeeded and Congress was able to reconvene and certify the electoral vote from the 2020 election.
"So in your experience on that day and based upon what you learned from your colleagues earlier in the day, were there people there who pushed through barriers, removed barriers, threw barriers over the side, removed fencing, and eased the flow of people into places where they shouldn't be?" Geyer asked at one point.
"Yes," Mendoza replied.