Historic Plaza Park Fountain in Orange Smashed by Vehicle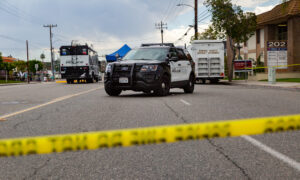 The historic fountain at Plaza Park, in Orange, was partially destroyed Mar. 13 after a man driving a stolen car fleeing police crashed into it.
In a surveillance video provided by the city, the car can be seen going at high speed directly at the fountain, crashing into it, and then flipping over twice before landing upright.
The driver of the car, Raymond Salazar Felix, 24, was transported to a local hospital where he was being treated for at least a compounded fractured leg, according to Orange Police Sgt. Phill McMullin.
Upon his release, he will be booked into Orange County jail.
According to authorities, the incident began around 5 a.m. when a patrol officer observed Felix driving without headlights on the 100 block of South Parker Street near Chapman Avenue, which runs directly into Plaza Park.
After police tried to pull Felix over, he fled, at a high rate of speed, authorities said, ultimately driving onto the plaza and hitting the fountain.
According to authorities, Felix was on probation for vehicle theft in Kern County and was in possession of an "unserialized handgun" and a "high-capacity magazine" when apprehended.
The fountain had been slated to have additional protective barriers installed about two weeks ago, but the work was delayed due to rain, Orange Mayor Dan Slater said in a social media post.
The city council had approved an estimated $310,000 in September toward installing additional bollards around the park's perimeter. Some already at the location are to be reinforced by concrete and steel.
"The fortunate thing is no one was killed," Slater said, referencing how pedestrians often walk their dogs inside the park early in the morning.
Designed in 1886, Plaza Park is described as the "heart and soul of our city," Slater said.
According to authorities, some historic tilework around the base of the fountain was destroyed by the crash. Installed by Charles McCandless in 1937, his grandson Mark McCandless has offered to help with repairs and restore the fountain.