House Votes to Hold Navarro and Scavino in Contempt of Congress
Former Trump aides Peter Navarro and Dan Scavino were held in contempt of Congress on Wednesday for refusing to comply with subpoenas from the House committee investigating the Jan. 6 breach of the U.S. Capitol building.
In a near party-line vote of 220-203, the House voted to refer the charges against Navarro, former White House trade advisor under the Trump administration, and Scavino, Trump's deputy chief of staff for communications to the Justice Department for possible prosecution.
The vote came after both Navarro and Scavino refused to testify before the committee, citing their claims of executive privilege as former White House advisers.
During the floor debate, House Republican leader Kevin McCarthy accused the Jan. 6 committee of "criminalizing dissent," defended Scavino as a "good man" and criticized members of the committee, some by name. "Let's be honest, this is a political show trial," McCarthy said.
The nine-member Jan. 6 committee was formed in June in a mostly party-line vote, and all but two Republicans—Reps. Adam Kinzinger (R-Ill.) and Liz Cheney (R-Wyo.)—voted against forming the commission. The committee is led almost exclusively by Democrats, with Kinzinger and Cheney the only Republicans sitting on the panel.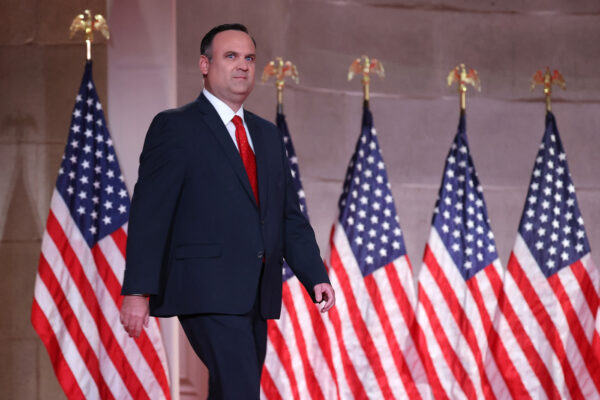 Rep. Bennie G. Thompson (D-Miss.), chairman of the committee probing the Jan. 6 breach said that the pair "must be held accountable for their defiance of the law."
"Even if you do it on your own time, trying to overturn an election is still trying to overturn an election," Thompson added. "This kind of cynical behavior as we investigate a violent insurrection is just despicable. It can't stand. Dan Scavino and Peter Navarro must be held accountable for their abuses of the public trust."
Rep. Jim Banks (R-Ind.) said Wednesday's vote reflected "the character of this House."
"Today's vote is not about wrongdoing, and it isn't about anybody's character, no matter what they say," said Banks. "It's about abusing the seat of our democracy to attack American democracy."
The House previously voted to hold Trump chief of staff Mark Meadows and adviser Steve Bannon in contempt.
Navarro was subpoenaed by the committee in February and is accused of being involved in a plot to delay Congress' certification of the 2020 presidential election. He was ordered to hand over documents by Feb. 23 and appear for a deposition on March 2.
Navarro last year detailed in his book "In Trump Time: My Journal of America's Plague Year" detailed in his book his so-called "Green Bay Sweep" strategy for Jan. 6, which he said he coordinated with former chief White House strategist Bannon.
According to an excerpt from the book, Navarro wrote of Jan. 6, "The goal is not to get the election overturned today. The goal is to subject the ballots—the legal votes of American citizens along with what we believe to be a flood of illegal ballots—to careful scrutiny and investigation."
Scavino was issued a subpoena in September, with the panel saying he attended multiple meetings with Trump.
The pair could face up to a year in federal prison, fines of up to $100,000, or both, should the Justice Department secure a conviction against them.
Joseph Lord contributed to this report.