Housing Affordability, One Key Issue for Irvine City Council Candidate
For some Irvine parents, the thought of their children returning home from college to start their adult life back in their hometown, seems an impossibility, due to the area's high cost of living.
One Irvine father hopes to change that if he is elected to the Irvine City Council in the upcoming Nov. 8 election.
Scott Hansen is an intellectual property attorney, member of the city's transportation commission and president of his homeowner's association. After seeing no other candidates advocating for solutions that concern him, he announced his candidacy in the beginning of the year.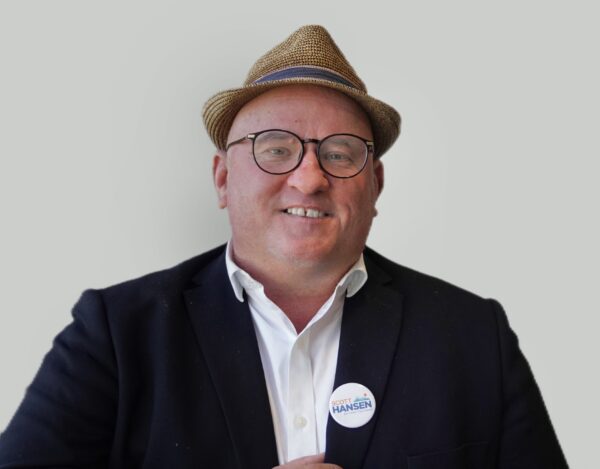 His daughter is a college student in Illinois who will most likely struggle to return to the city without parental help.
"She grew up in Irvine; she was born in Irvine but coming back for her and probably thousands of kids like her really isn't an option financially unless they live at home," Hansen said. "We are putting hundreds of thousands per kid into schooling, into their activities, into everything and then we wind up exporting them to the rest of the country … I'd like to see them stay here more."
With the state now requiring 24,000 new single-family homes or apartments to be zoned in Irvine by 2029, Hansen said it's a great opportunity to produce more affordable housing.
"We have a big opportunity in Irvine now because the city is under state mandate to plan for tens of thousands more housing units," he said.
Hansen would also like to bring more art into the city and would like to make the town more colorful.
"Irvine is the city of beige. You could paint your house any color you want, as long as it's a shade of beige," he said.
He said he would like to see the city create an arts district, which he said, could help attract businesses and residents and change the dynamic of the city.
"Really creative, edgy professionals like to be in more of a vibrant, art-centered city. Something much different than the city of beige," Hansen said.
A public-private partnership with the city and investors for such is a proposal, Hansen said, he would be willing to recommend if elected.
He said Coronado, a small town across the bay from San Diego is a good example of what he would like to bring to Irvine.
"They have a lot of public art. The businesses provide most of the money, the city helps with right of way, aid, and maintenance. So, I'd like to see that come here," he said.
Hansen also has experience serving the community through volunteering in school foundations.
As a five-year board member of Team Kids Incorporated, which teaches children social entrepreneurship, through a service and leadership directed program, he said he has helped coordinate and implement strategies for the organization's success.
In one instance, he said, children in the program helped produce a carnival where the proceeds went to Ukrainian refugees living in Orange County.
Hansen has also served as a board member on the Irvine Unified Finance Committee where he helped advocate for funding for kids in need.
He now serves on the city's transportation commission which helps advise the city council on traffic, transit, and transportation-related issues.
As a 20-year resident, Hansen has raised two children in Irvine with his wife Genée, who is a long-time Spanish teacher in the city.
According to the city's most recent filings, he has raised about $2,400 in campaign contributions through the end of June, and has made a $7000 personal loan to his campaign.