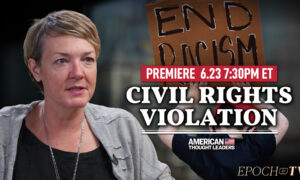 This episode will premiere on June 23 at 7:30 p.m. ET. 
"We were asked to go around the room and talk about our race/culture. … And the hired facilitators said any white person who displays discomfort or distress when asked to discuss their race is not actually feeling distress. What they're exhibiting is a power play. And that is white fragility."
I sit down with Jodi Shaw, who has become an influential figure in the growing movement opposing training based on critical race theory, in academia and beyond. She made waves when she started speaking out in 2019 about the increasing illiberalism she saw at her then-employer and alma mater, Smith College.
"It takes a while to build the conviction and to understand that there's nothing actually wrong with you—that this feeling that you have, the feeling that something's not right, is because something isn't right."
Subscribe to the American Thought Leaders newsletter so you never miss an episode.
* Click the "Save" button below the video to access it later on "My List".
Follow EpochTV on social media:
Twitter: https://twitter.com/EpochTVus
Rumble: https://rumble.com/c/EpochTV
Truth Social: https://truthsocial.com/@EpochTV
Gettr: https://gettr.com/user/epochtv
Facebook: https://www.facebook.com/EpochTVus
Gab: https://gab.com/EpochTV
Telegram: https://t.me/EpochTV