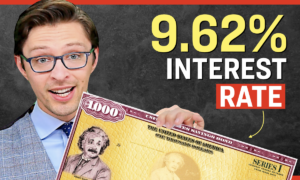 As inflation is spiraling out of control, there is actually a U.S. Treasury Bond very few people know about that you can buy in order to make use of the inflation rate to make yourself thousands of dollars in profit.
However, you can only kick the can down the road for so long, until real trouble starts bubbling up.
Case in point, right now, not only is the inflation rate at the highest that it's been in 40 years, but also, besides that, you have many mainstream economists, as well as the CEOs of many major companies, openly worrying about a looming recession.
---
Stay tuned for our newsletter so you won't miss out on our exclusive videos and private events.
Listen to Podcasts:
iTunes Podcast: https://ept.ms/FactsMatterApplePodcast
Spotify Podcast: https://ept.ms/FactsMatterSpotifyPodcast
Google Podcast: https://ept.ms/FactsMatterGooglePodcast
Follow Facts Matter on social media:
Twitter: https://twitter.com/FactsMatterRB
Truth Social: https://truthsocial.com/@FactsMatterRoman
Gettr: https://gettr.com/user/factsmatterrb
Gab: https://gab.com/factsmatterroman
Telegram: https://t.me/FactsMatter_Roman
Instagram: @epoch.times.roman
Click the "Save" button below the video to access it later on "My List".
Follow EpochTV on social media:
Twitter: https://twitter.com/EpochTVus
Rumble: https://rumble.com/c/EpochTV
Truth Social: https://truthsocial.com/@EpochTV
Gettr: https://gettr.com/user/epochtv
Facebook: https://www.facebook.com/EpochTVus
Gab: https://gab.com/EpochTV
Telegram: https://t.me/EpochTV