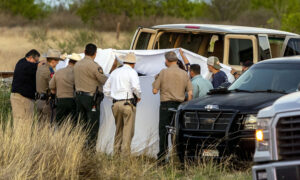 Two people found dead in a railroad car in south Texas were Honduran men, the U.S. Department of Homeland Security said in a statement Saturday, indicating it was investigating the case as possible human smuggling.
"We will continue to address the serious public safety threat posed by human smuggling organizations and their reckless disregard for the health and safety of those smuggled," department spokesperson Nina Pruneda said in the statement.
Pruneda declined to comment beyond the statement, which said the investigation is ongoing but did not say whether any of the illegal immigrants were in custody.
The two dead were among 17 people—15 men and two women—found Friday in what Union Pacific railroad said were two rail cars near Knippa, Texas, about 70 miles west of San Antonio and less than 100 miles from the U.S. border with Mexico, according to Pruneda's statement.
Union Pacific said in a statement Saturday that it is working with authorities to determine what happened and how the migrants boarded the train. The statement said the company is "deeply saddened" by the loss of life.
"Safety is our focus, and we have strict policies in place to prevent unauthorized access of our trains," the statement from company spokesperson Robynn Tysver said.
Four of the survivors found in the cars were taken to hospitals, Pruneda said. Their nationalities and conditions were not released.
University Health in San Antonio wrote on Twitter that two male survivors were in critical condition Saturday.
Spokesperson Leigh Strope from Christus Health in San Antonio said one survivor was hospitalized there in undisclosed condition.
Officials at other hospitals in the area either had no patients from the train or did not respond to messages seeking comment Saturday.
Uvalde police Chief Daniel Rodriguez had said dispatchers received a 911 call about 3:50 p.m. Friday from an unknown person seeking help for "numerous undocumented immigrants 'suffocating' inside of a train car."
Rodriguez told local media it was believed the call came from inside one of the two rail cars where the illegal immigrants were found, a shipping container where the two dead men were found and a freight car.
A suspected cause of the deaths has not been released. Highs in the area neared 90 F, and shipping containers often get much hotter than the surrounding temperature.
Last summer, more than 50 illegal immigrants died after dozens of people were found in the back of a sweltering tractor-trailer that had been abandoned on the outskirts of San Antonio. The tragedy was the nation's deadliest smuggling episode on America's southern border, which led to officials vowing to step up policing efforts.
A 17-year-old was charged Friday with kidnapping two illegal immigrants whose rescue this week from a Houston hotel by FBI agents ended in gunfire that killed another suspect.
The illegal immigrants were stopped on a highway northwest of Houston on Saturday and were forced into another vehicle by the kidnappers, according to a prosecutor. Officials have said little about what happened between then and Thursday morning, when the FBI says its agents rescued two illegal immigrants following the shooting in north Houston.